Film and TV drama
Production designer (Film and TV Drama)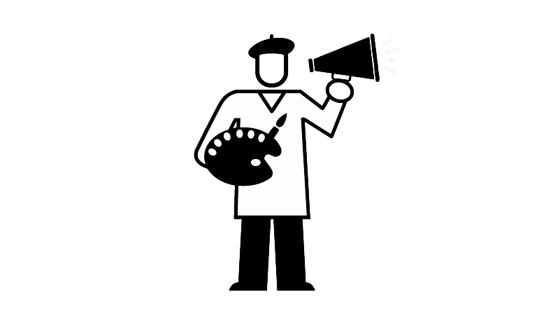 What does a production designer do?
Production designers create the way a film or TV drama looks. Films can be set in any number of places; a Victorian orphanage, a Caribbean cruise ship, or another planet, for example. They work with all the other visual departments, costume, lighting, visual and special effects, and graphic design. They help create the visual world in which the story is set. 
Production designers start with the script. Researching and collaborating with the director, director of photography and other heads of department, they imagine the screenplay visually. They draw sketches showing mood, atmosphere, lighting, composition, colour and texture, which are given to the art director to develop.
Then they work with other art department members to draw up a budget.  They prioritise the work schedule and allocate the management of finances to team members performing different tasks. They are usually freelancers.
Watch and read
What's a production designer good at?
Creativity: visualise the whole look of a film or TV drama, starting with words on a page
Art: draw by hand to scale, do technical drawings and computer-aided design
Design: understand colour theory, know the history of architecture and interior design
Knowledge of photography: understand cameras, lenses and lighting and their effect on a film's look and mood
Organisation: manage budgets, draw up schedules, prioritise and meet deadlines
Communication: share the vision with a wide number of different people and keep a team working together well
Who does a production designer work with?
Supervising art director
During pre-production supervising art directors work with the production manager to estimate the costs of set construction, set decoration and art department labour. They analyse the shooting schedule and plan set building and dismantling (or 'striking') of sets. They oversee the entire art department during shooting to ensure the production stays on schedule and on budget. 
Set decorator
The set decorator is responsible for the decoration of a set, including furnishings and all objects that are on view. See separate profile: set decorator
Production buyer
Before the start of shooting, production buyers prepare orders for props. They are sometimes assisted by a petty cash buyer. See separate profile: production buyer
Art director
On big productions, art directors may start work four or five months before shooting starts. They analyse a script to identify all the props or special items that will be needed and find cost-effective creative solutions to construction and decorating problems. Art directors are usually freelancers, work long hours, and may spend long periods travelling with productions away from home.
Standby art director or on set art director
Standby art directors are present on set throughout the shooting day, and it's their job to find quick and creative solutions to any art or design problems that arise during the shoot. They break down the script, list all props required, including graphics, animals, vehicles, food and drink, and give this checklist to the props master. Standby art directors may fulfil multiple roles on set, working as draughtspersons or assistant art directors, or even stepping in to make a prop last minute.
Assistant art director (first assistant, second, third)
Assistant art directors' responsibilities vary depending on the size of the production. They may help the art director with research, surveying locations, model making or producing sets. On large productions with multiple sets, an assistant art director will take responsibility for some of the smaller sets and manage the cleanliness and props for that set. Assistant art directors also sketch ideas, refine them, and work on 3D models. During shooting some assistant art directors may work as standby art directors, monitoring video playback to see what the camera is shooting and how this impacts on set requirements.
Art department coordinator
The art department coordinator helps with the smooth running of the art department during pre-production, filming and wrap-up by providing day-to-day administration and support. This could mean writing schedules, organising meetings or helping with the budget.
Specialist researcher
Specialist researchers are only required on a few big-budget films, usually historical epics or sci-fi and fantasy, to do highly specialised research by talking to curators, academics and other experts to gain as much insight into a particular subject. They provide production designers with the original source material to inspire the look of a film and work alongside draughtspersons in the drawing studio. They are employed for the entire duration of pre-production and filming and usually work on a freelance basis.
Concept artist
Big studio productions usually hire a number of concept artists to design specific elements, such as fantasy creatures. Concept artists may analyse source material and work on illustrations that are both striking and accurate to be presented to the producer, director, and effects supervisors. Many concept artists start their careers as graphic artists or illustrators before moving into the screen industries.
Graphic artist or graphic art director or graphic designer
Graphic artists may build specialist props which will be on screen for a large part of the film. They often meet with the production designer during pre-production to discuss their exact requirements and work closely with specialist researchers and effects departments. Graphic artists are always employed on a freelance basis.
Draughtsperson or set designer
Draughtspersons provide hundreds of technical drawings that serve as a template for the construction department. Drawings are often still produced by hand, but CAD software like Sketch-Up, Cinema 4D and Vectorworks are also used. Draughtspersons work closely with the effects departments and on smaller productions are often actively involved in supervising set construction. Junior draughtspersons are responsible for specific construction details across a range of sets, such as window or door detailing, and for making accurate models of all sets enabling the production designer and director to visualise camera positions and movements. Draughtspersons are always employed on a freelance basis.
Art department assistant or art department runner
Runners usually start work in the early stages of pre-production and can be both trainee and assistant to the art department. See separate profile: art department trainee
How do I become a production designer?
Most production designers have worked in the art department for many years. Aim to start as a runner or trainee and work your way up through the ranks outlined above. You can to apply to ScreenSkills' Trainee Finder.
At school or college:
If you want to go to university, A-levels or Highers in art and design, architecture, photography, theatre graphic design or graphic communication are useful. Or you might want to take the following Level 3 vocational qualifications:
NCFE Applied General Certificate in Art and Design
BTEC National Diploma/Extended Diploma in Art and Design
UAL Applied General Diploma/Extended Diploma in Art and Design
If you want to go straight into a job or apprenticeship, the following Level 3 vocational qualifications will equip you:
OCR Cambridge Technical Diploma in Art and Design (3D Design)
OCR Cambridge Technical Diploma in Art and Design (Graphic Design)
OCR Cambridge Technical Diploma in Art and Design (Photography)
BTEC National Diploma in 3D Design and Crafts
BTEC National Diploma in Photography
UAL Diploma/Extended Diploma in Art and Design
Get an apprenticeship:
An apprenticeship is a job with training, so it's a great opportunity to earn as you learn. However, it can be challenging to find jobs as an apprentice within production companies. It might be worth looking for a job as an apprentice in an industry that uses similar skills, such as being an illustrator in publishing or a graphic artist in advertising or an architectural assistant. This will help you develop your craft and create a body of work for a portfolio that you can use to find your way into film and TV drama at a later point. Check out What's an apprenticeship?  to learn more about apprenticeships and find an apprenticeship to learn how to find one in your region, or approach companies directly. Go to ScreenSkills information on apprenticeships for the main apprenticeship schemes in film and television.
Get a degree:
Most production designers have got degrees in art, architecture, theatre, theatre design, interior design or 3D design. Have a look at ScreenSkills' list of recommended courses in film and TV. We recognise courses with our ScreenSkills Select award where they offer training in the relevant software, dedicated time to building a portfolio and have strong links with the film and TV industries.
Build a portfolio:
This is essential for impressing admissions tutors and people in the film industry. Go to Build your art portfolio to learn how.
Network:
Go to ScreenSkills' events like Open Doors to meet people working in art departments. Show them your portfolio and give them your number. Network on the web.
Network online:
Create a LinkedIn profile. See if there's a Facebook page or other social media group for people making films or videos in your area. Join it. Create a ScreenSkills profile.
Become a trainee:
Get onto ScreenSkills' Trainee Finder scheme. Get the skills, make contacts and start working in an art department.
You might also be interested in…
Being a production designer in TV documentaries, working as a production designer in theatre, or working in the art department of games, VFX or animation. Alternatively, you could consider being a production designer or costume designer in the unscripted TV industry.
Further resources