Film and TV drama
Construction manager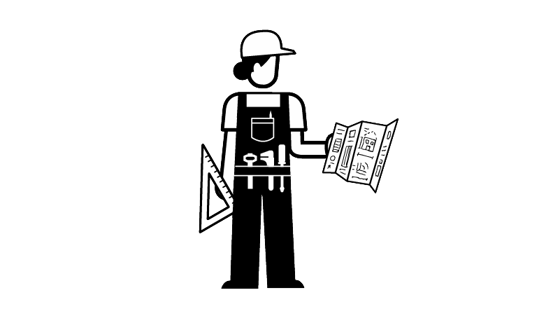 What does a construction manager do?
Construction managers look after the building of studios and sets. They make sure that sets look as realistic or otherwise as desired.  They interpret the drawings of the production designer, art directors and draughtspersons and work out how to build them in ways that are safe and environmentally friendly.
Then they hire the workforce, the carpenters, painters, riggers and plasterers, and ensure everyone knows what needs to be done and by when. They are responsible for getting the necessary materials and tools on site and for the safety of the crew working with machines and at heights.
Construction managers are responsible for dismantling the sets, known as 'striking' the set, and ensuring all the materials are recycled as far as possible, or put into storage, taking into account Albert and other environmental considerations.
What's a construction manager good at?
Construction: know all aspects of building work
Reading drawings: interpret drawings to plan size and scale, understand the designer's vision, work out what this means in terms of building requirements
Organisation: manage a budget, work to a schedule, recruit hundreds of constructors within a tight timeframe
Communication: be able to liaise between the artists and the construction workers, get a team to work well together
Staying safe: ensure all health and safety measures are in place
Who does a construction manager work with?
Chargehand painter
Chargehand painters are responsible for all the work carried out by the painting team. They talk to production designers and construction managers to establish the amount of work required, how long it will take, what finishes are needed, colour schemes, textures, and any other special requirements. They calculate the number of painters a production needs and hire them. Once the painting team is in place, chargehand painters brief them and supervise their activities.
Scenic artist
Scenic artists may be asked to paint cloud or city backdrops, murals or other on-set paintings. They are skilled painters capable of intricate detailing and painting techniques such as marbling, wood graining and ageing. They may create complex prop pieces. They are responsible for scheduling their own work and buying necessary supplies. 
Standby painter
Usually selected by chargehand painters or construction managers, standby painters must be present on-set during filming to deal with any painting problems or touch-ups. They are also responsible for resetting the environment to its original condition after each take to help maintain continuity.
Painter
Painters may be responsible for a range of artistry, from painting cars with a metallic finish, using a spray gun to cover a huge background surface, applying fine specialist finishes such as replica marbling and graining effects to sets, applying paint to pipes to make them look old and rusty, and hanging large wall coverings. They usually supply their own tools and specialised brushes.
Carpenter
Carpenters produce a variety of structures, from onscreen props like windows and furniture to replica spacecraft or medieval ships. They also do a great deal of off-screen building to create support structures for the crew. Chargehand carpenters are responsible for all the work carried out by the carpentry team. This includes all the wooden structures required by film production, from doors and windows to the raised platforms that may be required by the crew. They set up the workshop, ensuring that it provides a safe working environment, and once the team is in place they supervise the workshop. 
Most carpenters will employ trainees to learn how to interpret technical literature, to organise suitable resources such as timber and tools, ensure a safe working environment, assemble joineries such as doors, frames and stairs and to hone skills like measuring, sawing, panelling, chiselling, drilling, finishing, boring, fitting and securing. Wooden structures are struck at the end of shooting and safely disposed of. 
Plasterer
Plasterers' work involves the traditional job of applying wet finishes to walls, ceilings and floors. It also involves fibrous plastering, making moulds and model casts from solid plaster or fibreglass in workshops. Chargehand plasterers are responsible for all the work carried out by the plastering team. They liaise with the construction manager to look at production designer's drawings and establish the amount of plastering work involved. Then they hire plasterers and supervise their work. The team may be responsible for reproducing numerous 'fake' items that would otherwise be difficult or expensive to get including cars, cobbled roads, castle walls or rock formations.
Rigger
Rigging is the fastening or securing of items at height in a safe way. Head riggers are responsible for the work of the entire rigging department. They liaise with construction managers and other heads of departments to determine the project's rigging requirements and plan a schedule. Supervising riggers act as the eyes and ears of head riggers on set and ensure safe and smooth operations. They coordinate rigging gangs on different sound stages or location buildings and make sure the right crew are on the right rig at the right time. 
See case study: Rigger Ginger McCarthy
Model maker
Model makers are responsible for building models and miniatures. They could work with clay, plaster of Paris, plastic or metal and a range of techniques. They include polystyrene carvers and sculptors who make lightweight and large sculptures, trees, rocks and other oversized complex items. They may use freehand drawings skills or computer-aided design (CAD) to create designs.
How do I become a construction manager?
Construction managers have years of experience in film and TV drama production. Typically, they start off in one of the trades, usually carpentry, and work their way up. 
At school or college:
If you want to go to university, A-levels or Highers in art, architecture, photography, graphic design or graphic communication are useful.
If you want to go straight into a job or apprenticeship, the following Level 3 vocational qualifications will equip you for particular trades within the construction department:
Advanced Technical Diploma in Architectural Joinery
Advanced Technical Diploma in Painting and Decorating
Advanced Technical Diploma in Plastering
Advanced Technical Diploma in Site Carpentry
NOCN Cskills Awards Diploma in Accessing and Rigging
NOCN Cskills Awards Diploma in Accessing and Rigging
NOCN Cskills Awards Diploma in Bench Joinery
NOCN Cskills Awards Diploma in Decorative Finishing (Painting and Decorating)
NOCN Cskills Awards Diploma in Plastering
NOCN Cskills Awards Diploma in Site Carpentry
Edexcel NVQ Diploma in Accessing Operations and Rigging
Edexcel NVQ Diploma in Decorative Finishing (Painting and Decorating)
Edexcel NVQ Diploma in Plastering
Edexcel NVQ Diploma in Wood Occupations
National Diploma/Extended Diploma in Construction and the Built Environment
Get an apprenticeship:
An apprenticeship is a job with training, so it's a great opportunity to earn as you learn. However, it can be challenging to find jobs as an apprentice within production companies. It's worth looking for an apprenticeship within the construction industry in areas like carpentry, building or plastering. This will help you develop your skills that you can bring into film and TV drama at a later point. Check out What's an apprenticeship?  to learn more about apprenticeships and find an apprenticeship to learn how to find one in your region, or approach companies directly. Go to ScreenSkills information on apprenticeships for the main apprenticeship schemes in film and television.
Get to know people in the industry:
Once you are qualified and have a couple of years' experience in your chosen trade, you will be handy constructing a film set. Try to get to know people in the industry and ask if they need your skills. A good way to do this is through ScreenSkills' events, especially Open Doors. Or use Production Base to find out what's being made, contact production companies and ask about jobs.
You might also be interested in…
Working in the construction department for unscripted TV or working in a similar role in theatre.
Further resources