Film and TV drama
Prop master
Also known as: Property master, Prop professional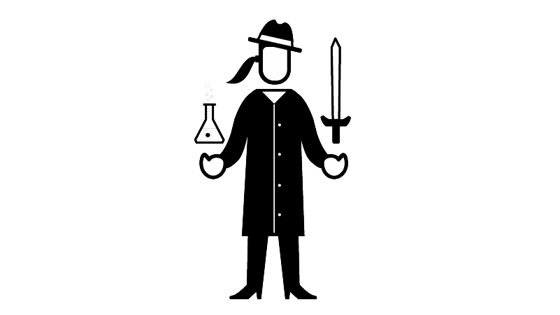 What does a prop master do?
A prop, or property, is any moveable item that can be seen on a film. It could be a hat, gun, cushion, wine glass, lightsaber, carpet, kitchen unit, tree or aircraft. Prop masters run the property department which makes, stores and transports the props as well as preps the props for each day's shoot.
Prop masters usually start work a few weeks before shooting begins. They work with production designers, set decorators and art directors to work out what props are needed. They do research and then draw up properties lists, deciding which are to be hired and which are to be made. They create a 'set and strike' schedule to share with location and construction departments
Where props are to be made, prop masters recruit the carpenters, artists and prop makers and manage the schedule for production. Where they are hired, they work with the production buyers to source them.
When shooting is finished, they return of all hired props and organise the sale or safe disposal of everything else.
Watch
What's a prop master good at?
Understanding film: pick up the director's vision, break a script down for props requirements take account of the need for continuity
Historical knowledge: research different eras, dress a set authentically
Craftsmanship: work with a wide variety of materials, craft and repair items
Moving items: handle large, heavy but fragile items
Communication: work closely with the production designer and other departments, share the vision with the props team
Organisation: manage staff, budgets, complex schedules, transport and storage
Who does a prop master work with?
Prop masters report to production designers and set decorators as part of the art department. They work closely with the director, art director, set decorator, prop buyer, location manager and construction manager. Their team usually includes:
Standby prop
Standby props are on hand while the film or TV drama is being shot. They are ready to make any changes to prop requirements and provide whatever's needed during filming. For example, if a character smashes a glass, standby props will clear up the mess and give the actor the replacement fake glass. They keep the prop master updated with the changes.
Prop hand
Prop hands organise the transporting of all the hired props. They make sure the props that are ordered get to the unit safely and are stored logically. When the props are no longer needed, they get them back to the hire company and complete the paperwork.
How do I become a prop master?
This is a senior role. Most people become a prop master having worked their way up from standby props, dressing props, props storeman, and assistant props master. A good route is to get onto ScreenSkills' Trainee Finder scheme and become an art department trainee. This will help you make the contacts and build up the industry knowledge to get work in the art department of a film or TV drama.
At school or college:
If you want to go to university, A-levels or Highers in art and design, photography, theatre, graphic design or graphic communication. Or you might want to take the following Level 3 vocational qualifications:
NCFE Applied General Certificate in Art and Design
BTEC National Diploma/Extended Diploma in Art and Design
UAL Applied General Diploma/Extended Diploma in Art and Design
If you want to go straight into a job or apprenticeship, the following Level 3 vocational qualifications will equip you:
OCR Cambridge Technical Diploma in Art and Design (3D Design)
OCR Cambridge Technical Diploma in Art and Design (Graphic Design)
OCR Cambridge Technical Diploma in Art and Design (Photography)
BTEC National Diploma in 3D Design and Crafts
BTEC National Diploma in Film and Television Production
BTEC National Diploma in Photography
UAL Diploma/Extended Diploma in Art and Design
Get an apprenticeship:
An apprenticeship is a job with training, so it's a great opportunity to earn as you learn. See if you can find a job as a junior prop master or props technician. If you can't find one in film and TV drama, it's worth looking for one in theatre. It might be worth looking for a job as an apprentice in an industry that uses similar skills, such as being a furniture maker. This could help you develop your craft and create a body of work for a portfolio that you can use to find your way into film and TV drama at a later point. Check out What's an apprenticeship?  to learn more about apprenticeships and find an apprenticeship to learn how to find one in your region, or approach companies directly. Go to ScreenSkills information on apprenticeships for the main apprenticeship schemes in film and television.

Learn how to drive a van or a lorry:
Being a prop master can often involve moving heavy props and travelling around different locations. Learning to drive is essential for this, as is learning how to move large, heavy but fragile items safely.
Get a degree:
You don't have to have a degree, but you might want one. Have a look at ScreenSkills' list of recommended courses in film and TV. We recognise courses with our ScreenSkills Select award where they offer training in the relevant software, dedicated time to building a portfolio and have strong links with the film and TV industries.
Network:
Go to ScreenSkills' events like Open Doors to meet people working in art departments. Show them your portfolio and give them your number.
You might also be interested in…
Being a production buyer or a set decorator in film and TV drama or in unscripted TV.
Further resources