Film and TV drama
Sound trainee
Also known as: Sound assistant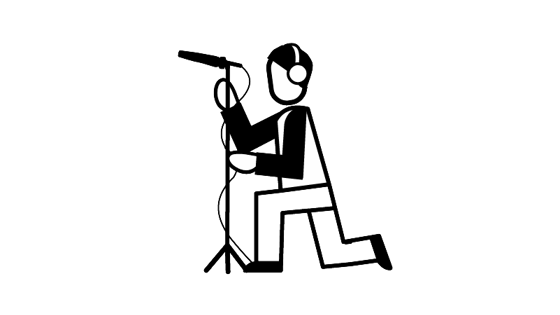 What does a sound trainee do?
Sound trainees charge batteries, distribute headphones and look after cables and kit as well as the rest of the team.  They work under the supervision of the sound mixer and sound assistants.
Sound trainees help unload the sound van, check that all the equipment is prepared and move the sound trolley, kit boxes and boom equipment when required by the sound mixer. A more experienced trainee might, under close instruction of an assistant, help with the attaching of radio mics or use the boom microphone to record background sounds. 
They are often asked to be responsible for making sure the rest of the crew is keeping quiet at the necessary moments.  They also take messages to other departments.  They might go offset to talk to costume about where to hide a microphone, for example.
At the end of each shooting day, they help pack up, make sure the rushes are correctly labelled and that all the paperwork is handed over to the production office. Sound trainees make the tea and order extra supplies of whatever is needed.
Watch and read
What's a sound trainee good at?
Hearing: be able to hear precisely, concentrate on listening to sound in a distracting environment
Sound and equipment: know how sound moves, understand electronics, microphones, recording, playback and editing gear
Watching film and TV drama: have a passion for the genre and a love of the industry
Learning by watching and asking: be able to observe what's happening and ask questions at the appropriate moments
Reliability: get to set on time
Communication: be able to follow instructions from the sound mixer and listen to and share information with other departments and members of the team such as costume and make up
Who does a sound trainee work with?
Sound trainees report to the sound mixer. They also work with the boom operator and the entire sound department.
How do I become a sound trainee?
The key thing is to have a passion for sound, be it through being a musician, DJ or sound engineer in live music or radio. Once you've got some experience of producing sounds or music under your belt, you can to apply to ScreenSkills' Trainee Finder.
At school or college:
To go to university for a sound-related course, you might want to study A-levels or Highers in maths, physics and music.
If want to go straight into a job or apprenticeship, then the following Level 3 vocational qualifications are relevant:
BTEC Diploma/Extended Diploma in Electrical and Electronic Engineering
BTEC National Diploma/Extended Diploma in Music Technology
BTEC National Diploma in Film and Television Production
BTEC National Diploma in Music
BTEC National Diploma in Sound Production
BTEC National Extended Certificate in Sound Engineering
BTEC National Extended Diploma in Electrical and Electronic Engineering
RSL Subsidiary Diploma for Music Practitioners (Technology)
OCR Technical Diploma in Digital Media (Moving Image & Audio Production)
UAL Diploma/Extended Diploma in Music Performance and Production
Build a portfolio:
Create work that you can show off to employers. This is essential. Go to Build your music portfolio and Build your sound portfolio to learn how.
Get an apprenticeship:
Apprenticeships are jobs with training, so they're a great opportunity to earn while you learn. However, it can be challenging to find jobs as an apprentice with production companies as many are not able to take on people for a whole year, which is an apprenticeship requirement at the moment. But in England, there's a Level 3 apprenticeship as a creative venue technician. You might be able to find a job through that standard with an employer in another sector, such as the theatre. Think about taking that job, learning the core skills of sound and transferring those skills into film and TV drama at a later point.
Before taking any apprenticeship, check what you'll be learning with your prospective employer and college, so you can be sure it will be giving you the skills you want. Go to Find an apprenticeship to learn how to find apprenticeships in your region or approach companies directly.
Get a degree:
It's not necessary to have a degree, but you might want one in sound engineering or music technology. Have a look at ScreenSkills' list of recommended courses in film and TV. We recognise courses with our ScreenSkills Select award where they offer training in the relevant software, dedicated time to building a portfolio and have strong links with the film and TV industries.
Take a short course:
Take the National Film and Television School's short course in location sound recording. Go to the list of training courses recommended by ScreenSkills and search for "sound".
Volunteer:
Work for hospital radio. See what kit is used. Practise recording and editing sound wherever you can.
Make films:
Do the sound on student productions. Make a showreel of your work and build your sound portfolio. This is evidence of your practical skills and creativity that you can show admissions tutors and employers.
Get a job in a kit-hire company:
This will give you experience in handling the equipment and also help you make contacts in the industry. Read ScreenSkills advice on how to approach employers.
Network:
Go to ScreenSkills' events like Open Doors to meet people working in art departments. Show them your portfolio and give them your number.
Network online:
Create a LinkedIn profile. See if there's a Facebook page or other social media group for people making films or videos in your area. Join it. Create a ScreenSkills profile. See our advice on how to network well.
Become a trainee:
Apply to be on ScreenSkills' Trainee Finder scheme. Get the skills, make contacts and start working in the sound department.
You might also be interested in…
Sound assistants are needed in unscripted TV, commercials and corporate and music videos. You will be able to get experience and stay employable if you work in these areas as well as film.
You might also want to move into post-production and become a sound designer or a dubbing mixer or work in ADR (automated dialogue replacement, re-recording speech in a studio after filming).
Further resources