Film and TV drama
Gaffer (Film and TV Drama)
Also known as: Chief electrician, Supervising or chief lighting technician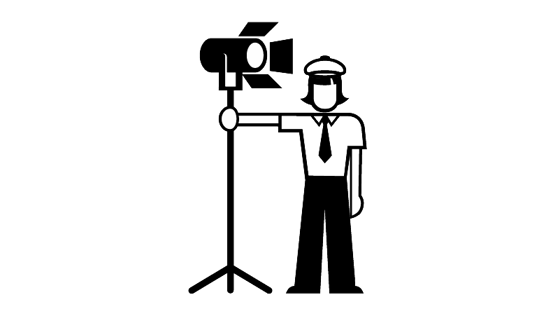 What does a gaffer do?
Gaffers work closely with the director of photography (DoP) to bring to life the overall look of a film by creating and controlling light.
They work with the DoP to understand the desired light effects and figure out how to achieve them. They go on recces too see how the lighting will work on location and draw up a list of the kit that will be needed to achieve the artistic vision.
Then they pitch for the kit. They put in a request to the line producer for the equipment they need and appoint a best boy to hire the crew and order the gear.  During filming, they work out the positioning of the lights and fastest way to change the lighting setups between shots. Gaffers mediate between the DoP and the rest of the lighting crew. 
They're also responsible for safety and need to comply with the law on electricity, driving and employment.
Watch and read
What's a gaffer good at?
Understanding light: have an artistic eye, know the techniques required to achieve different lighting effects and the kit needed to achieve them
Electrical knowledge: have an in-depth understanding of circuits, power supplies, motors, cables, fuses, thermal relays, fault current protection switches, heating, lighting, air conditioning and more
Knowledge of film-making: be able to understand the production process, particularly the roles of the director of photography and how the gaffer role fits in
Communication: be able to draw up plans and explain them to the crew, communicate well with the director of photography and the lighting crew, be clear and approachable even when making quick decisions under pressure
Organisation: work within budget, schedule the crew and the kit requirements, prioritise and meet deadlines
Working at heights: be good at climbing ladders as most lights are set up above head height
Who does a gaffer work with?
Best boy
Best boys (a generic term referring to technicians of any gender) are mainly responsible for logistics. They get the right lights in the right places at the right time with the right people to operate them. They also deal with paperwork, including stock and equipment ordering, risk assessment, schedule changes and timesheets. Bests boys may work very long hours. Many best boys work freelance, though will continue to work with the same few gaffers.
Lighting technician/spark
Lighting technicians set up lighting equipment, carry out tests, position lights, and manage all light bulbs and traces or filters fitted over lights to create effects. They work to the instructions of the gaffer and best boy. Work may be long and physically demanding and require a good head for heights. They are also responsible for the safe installation and operation of lighting. They access and monitor power supply systems and install wiring.
Console operator
Console operators operate the dimmers and intelligent lighting (computerised lighting that reacts to a lighting desk). They set up the dimmer board and control cables, programme and operate it to mix the lighting effects during filming and achieve the director of photography's desired look. Many start their careers in light entertainment and theatre before working on feature films and TV drama.
Practical lighting electrician
Practical lighting electricians are qualified electricians who safely access the building's power supply by taking a feed from the fuse box. They may also remove existing lighting fittings and temporarily replace them as well as wiring 'practical' props like table lamps, kettles or fires. They must be able to run portable appliance tests (PATs) and test the circuitry of the building before handing back control to the owner.
Generator (Genny) operator
Generator operators load and transport generators, ensuring they are fully operational and meet the specifications of the production. They must be qualified electricians. Some have HGVs licences so they can drive the truck for the generator. Once it's set up, they work as practical lighting electricians.
Electrical junior or trainee
How do I become a gaffer?
Gaffers should be fully qualified electricians, so your first step is to get yourself qualified and experienced in electrical installation. Then you need to develop contacts in the film and TV drama industry to get experience working on film sets. Look at the lighting trainee job profile to learn more about how to do this. Once you have found your way into the lighting team, you need to work your way through roles outlined above.
At school or college:
If you want to go straight into a job or apprenticeship, the following Level 3 vocational qualifications will help you:
BTEC Diploma/Extended Diploma in Electrical and Electronic Engineering
City & Guilds Advanced Technical Diploma in Electrical Installation
EAL Diploma/Advanced Diploma in Electrical Installation
You don't need to go to university to become an lighting trainee, but if you want a degree you could either study electrical engineering and learn about making films alongside that, or you could study film production and qualify as an electrician as you do. If you want to study electrical engineering, take A-levels or Highers in maths and sciences.  If you want to study film production, choose whichever subjects you enjoy the most.
Get an apprenticeship:
An apprenticeship is a job with training, so it's a great opportunity to earn while you learn. In the past, it has been challenging to find jobs as an apprentice within production companies, although there is now a Creative venue technician apprenticeship standard, with a specific pathway designed for people working as trainee lighting technicians. It might also be worth looking for a job as an apprentice that will give you a qualification as a domestic or commercial electrician.  This will make you handy on film sets at a later point.
These are the relevant apprenticeships throughout the UK:
Before taking any apprenticeship, check what you'll be learning with your prospective employer and college, so you can be sure it will be giving you the skills you want. Check out What's an apprenticeship?  to learn more about apprenticeships and find an apprenticeship to learn how to find one in your region, or approach companies directly. Go to ScreenSkills information on apprenticeships for the main apprenticeship schemes in film and television.
(If you're already a qualified electrician:)
Learn about film:
Take a photography course to learn about light. Learn as much as you can about the role of the director of photography.
Network:
Go to ScreenSkills' events to meet people working in the lighting department. This is a key way of getting a job. Try to find someone who will take you on for paid work or unpaid work experience. Look at our page that explains how to network well.
Work with a kit hire company:
Get work experience with a kit rental company. Look for companies that supply equipment to the theatre, film, TV and events industries. Get to know the best boys coming in and ask if they would take you on as a trainee. See our advice on approaching employers for how to do this.
You might also be interested in…
Be a lighting designer in theatre. There are also opportunities in commercials, music videos, stop-motion animation. Or you might be interested in work as a moving light operator, setting up moving lights and programming computer cues.
Further resources