What's an apprenticeship?
An apprenticeship is a job with a structured training programme to support the employee in their role.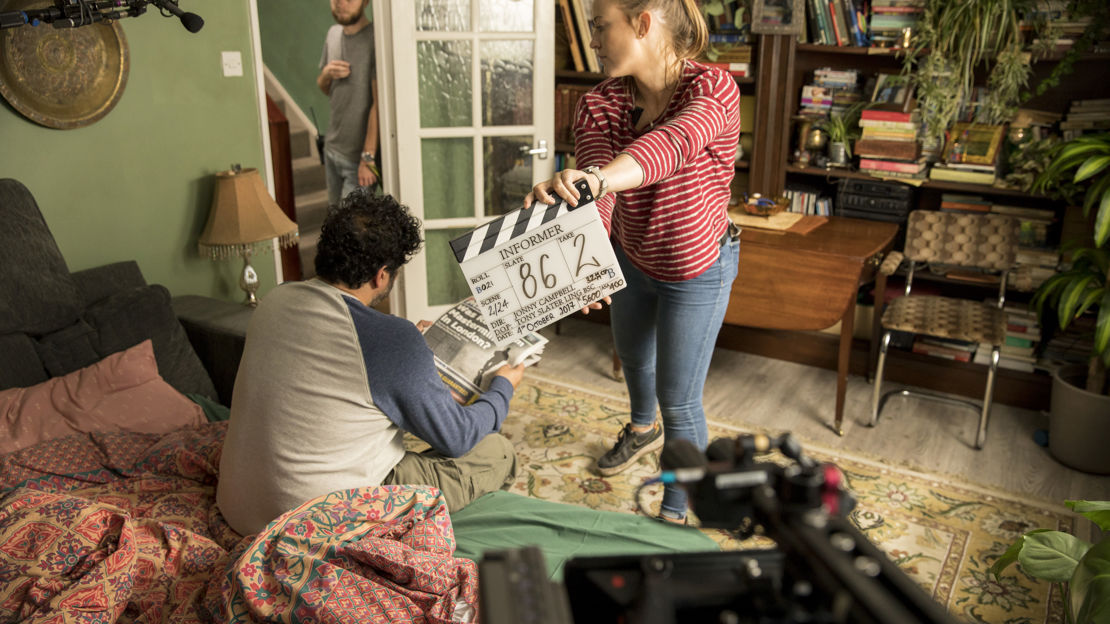 Informer © Neal Street Productions
Apprenticeships are jobs with a structured training programme that takes up 20 per cent of the employees time. They are about supporting people to become capable professionals, building personal development and adding real value to businesses.
There are different levels of apprenticeship. They all have to last a minimum period of 12 months. Some involve study equivalent to that of an A-Level or Higher.  Others involve study equivalent to a degree and can last for up to three years.
Apprenticeships involve working with 'apprenticeship standards' - a set of knowledge, skills and behavioural standards, agreed by employers, that a person needs to be competent in a specific role.
Employers who want to take on apprenticeships then create their own training programmes, designed around the standard, in collaboration with a dedicated training provider.
How apprenticeships work:
An actual job
Employers offer a real job that needs doing in their organisation with the understanding that the employee is in training. This option can be for a new recruit or an existing member of staff
Apprentices carry out their day-to-day job for about 80% of their paid time
Apprentices learn the role through the experience that employers give them, picking up the knowledge, skills and behaviours from the apprenticeship standard that are needed to become competent in their profession
Training
At least 20% of paid time is spent in "off-the-job training". Off-the-job training is time that apprentices spend away from their usual duties to develop their skills. Off-the-job training can take place at a college or training provider, or be delivered in the workplace
Employers design a training programme with an external training provider, deciding how much training the employer will deliver and how much is delivered by the training provider
Many employers say this percentage isn't too dissimilar from the informal training regular employees need to get up-to-speed
End-Point Assessment (EPA)
At the end of an apprenticeship, an apprentice is independently assessed to check they have built the knowledge, skills and behaviours defined in the apprenticeship standard
There is no obligation for an employer to offer a permanent job on completion of an apprenticeship. However, if an employer has invested in training someone to a professional standard, they are likely to want to keep them on
Who can do an apprenticeship?
The following criteria makes someone eligible to be an apprentice:
Anyone aged over 16
Graduates and non-graduates
New or existing staff
Individuals that have a right to work in the UK
What types of screen industry apprenticeships are there?
There are lots of different roles for people in the screen industries and the range of relevant apprenticeships is broad and varied. There are a number of apprenticeships in areas such as VFX and production management with new standards being developed all the time.
Discover screen-related apprenticeship standards
What are apprenticeship levels?
Apprenticeships are usually described as being a certain level.  This indicates the standard of learning that will be required to complete the apprenticeship.
Level 3 apprenticeships involve the level of study similar to that of an A-level
Level 4 apprenticeships involve the level of study similar to that of a higher national certificate or first year at university
Level 5 apprenticeships involve the level of study similar to that of a higher national diploma or first two years at university
Level 6 qualifications apprenticeships involve the level of study similar to that of an undergraduate degree
Level 7 apprenticeships involve the level of study similar to that of a master's degree
By the end of the apprenticeship the apprentice will have developed industry-recognised skills and have an apprenticeship certificate to prove it.