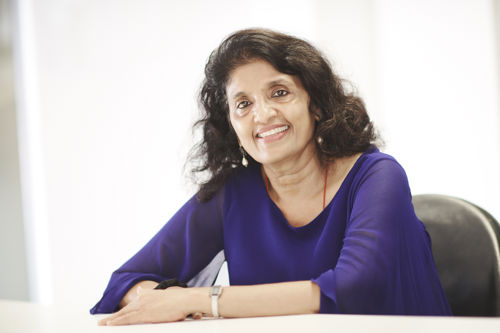 Seetha Kumar, Chief Executive
Seetha has led ScreenSkills since 2015, deepening engagement and increasing involvement with industry, building financial resilience and ensuring a responsive and  effective strategy for identifying and meeting the current and future skills needs of UK screen – offering vital practical support to a fast-changing sector in a globally competitive market.
Alongside her role as ScreenSkills' CEO, Seetha is a member of the Creative Diversity Network board, the Creative Industries Advisory Group chaired by Sir Peter Bazalgette and the Royal Television Society Education Committee and was formerly on the Mayor of London's Skills for Londoners Taskforce. In 2019, she became the first woman of colour to be awarded an RTS fellowship.
Before joining ScreenSkills (formerly known as Creative Skillset), she was vice president of Pearson Qualifications International. Seetha's media sector leadership roles include BBC Online controller,  Head of BBC HD - rolling out high definition  television for the BBC,  Commissioner for BBC Education and Creative director, documentaries,  overseeing  programmes such as Crimewatch UK. Seetha started her career as the first woman reporter at the Financial Express in New Delhi, India, before working for independent production companies making programmes for Channel 4.
To get in touch with Seetha please contact her executive assistant at:  EA@screenskills.com
Emma Turner, Head of Film, Animation and Future Skills
Emma sets the overall strategic direction for the Film Skills Fund. She works with industry to identify skills gaps and shortages, funding appropriate training across the UK to ensure that professionals advance their careers. Emma was previously Head of Film Continuing Professional Development and Future Skills.
Before ScreenSkills, she worked in development and production in roles as a creative scripted executive and producer, working for Fremantle (as SVP Global Drama), Sony, EndemolShine, Fox and HBO Europe. She produced dramas such as New Tricks, Holby City, Hollyoaks and EastEnders and has been nominated for three Baftas.
Contact Emma at emma.turner@screenskills.com
Kaye Elliott, Director of High-end TV
Kaye is responsible for setting the strategy for all of ScreenSkills' industry investments and skills support in high-end TV. She was previously a deputy director at Creative England for five years, overseeing the national delivery of top-class support to the film and TV industry. She is based in Sheffield. 
To get in touch with Kaye, please contact Alex Green at: alex.green@screenskills.com or see a full list of high-end TV department staff by visiting the high-end TV team page.
Sarah Joyce, Head of Unscripted and Children's TV
Sarah manages the Children's TV Skills Fund and  Unscripted Television Skills Fund, including commissioning and developing training, awarding grants and delivering funding programmes. Based on the south coast, she has a 25-year industry background in television and production.
Contact Sarah at: sarah.joyce@screenskills.com if you would like to know more about the benefits of contributing to the skills funds, are interested in taking on children's TV trainees or would like to know about TV career development funding that may be available to you. 
Tim Weiss, Director of Vocational Skills
Tim Weiss is responsible for our work endorsing HE and FE courses and developing new apprenticeship standards and qualifications to help give the best preparation to those looking to enter the screen industries. Tim has worked for over 20 years in education and qualifications, most recently as the director at the Education and Training Foundation heading up accreditation and professional membership for FE teachers. Prior to this, he worked at Pearson on BTEC qualifications, educational textbooks and online learning. Based in Oxfordshire.
Sao Bui-Van, Director of Marketing and PR
Sao leads the Marketing and Communications team for ScreenSkills. He is a communications senior leader with extensive national and global experience within public and commercial organisations of building and managing reputation and brand. As well as working for the BBC, Paramount and Channel 4, he has also been Director of Communications at the British Council and in the NHS.
Contact Sao at: sao.bui-van@screenskills.com
Clive Goss, Director of Finance and Operations  
Clive is responsible for financial and operational management across ScreenSkills, including the budget, IT, HR and infrastructure. He has more than three decades experience of finance and operations across media, publishing and charity sectors, including as a lead role in the merger of Pearson Television and the RTL Group and 10 years spent in the FremantleMedia/Pearson Television and Grundy Television group.
Contact Clive at: clive.goss@screenskills.com if you have any questions about ScreenSkills financing and operations.
Department contacts
Below is a list of our different departments and their contact details. Contact the teams directly for a quicker response. If you are not sure who you need, please call 020 7713 9800 and a member of staff can help with your inquiry.
Animation, games, and VFX:
info@screenskills.com
Apprenticeships:
apprenticeships@screenskills.com
Business support:
info@screenskills.com
Careers:
info@screenskills.com
Children's and unscripted TV:
sarah.joyce@screenskills.com
Data protection:
data.protection@screenskills.com
Digital or website support:
support@screenskills.com
Film:
film@screenskills.com
Finance:
invoices@screenskills.com
Funding:
fund@screenskills.com
High-end TV:
HETV@screenskills.com
ScreenSkills vacancies:
jobs@screenskills.com
ScreenSkills Select
select@screenskills.com