Film and TV drama
Camera trainee
Also known as: Camera assistant (mainly in TV documentaries and outside broadcasts)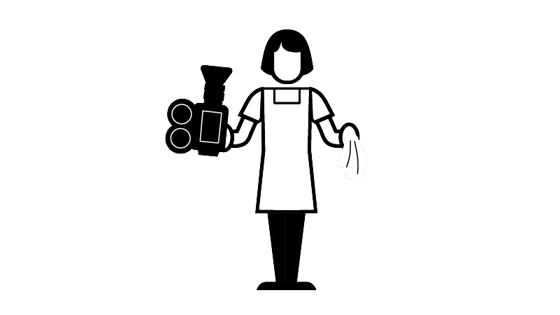 What does a camera trainee do?
Camera trainees work with all members of the camera crew, but they usually work most closely with the second assistant camera (second AC) or clapper loader.
They help prepare the kit at the beginning of the job and may be involved with camera and lens tests. They might mark actors' positions during rehearsals and keep records, camera logs and other paperwork ready for the edit.
Monitoring can be a big part of the role; setting up the monitors, cables and wireless. If there isn't a dedicated monitor operator, it becomes the role of the trainee. Experienced trainees may also be asked to take on the responsibility of using the clapperboard, changing camera batteries and helping the focus puller (first AC).
The scope of the job changes depending on the size of the production. They might start out making tea and coffee and getting the sides (printouts of the scenes to be shot that day) from the production office to the camera department. On bigger productions, they might help with the second unit camera, a camera set up to do secondary shoots while the main action is taking place elsewhere.
Watch
What's a camera trainee good at?
Photography: have a good eye and understanding of composition, light, colour, focus and story-telling
Watching film and TV drama: have a passion for the genre and a love of the industry
Learning by watching and asking: observe the clapper loader and focus puller and ask questions at the appropriate moments
Taking instruction: listen, do what's asked, stay calm under pressure
Reliability: get to set on time
Communication: work well with crew members, write accurate and detailed camera reports
Tools of the trade
You will build up your kit over time. These items are useful to start with:
Scissors
Allen keys
Cable ties
Screw drivers
Pens, Sharpies
Notebook
Head torch
Bum bag to put them in
Waterproof clothing
Layers or thermals
Walking boots or wellies
Who does a camera trainee work with?
Camera trainees mainly work with the clapper loader but they also come into contact with the focus puller, camera operator, director of photography (DoP) and the wider camera department.
How do I become a camera trainee?
ScreenSkills and the Guild of British Camera Technicians both run trainee schemes. Follow these steps for your best chance of being successful in an application.
At school or college:
If you want to go to university take A-levels or Highers in a combination that includes art, art and design or graphic communication with maths and physics.
Or you might want to take one of the following Level 3 vocational qualifications:
BTEC National Diploma/Extended Diploma in Art and Design
BTEC National Extended Diploma in Creative Digital Media Production
NCFE Applied General Certificate in Art and Design
UAL Applied General Diploma/Extended Diploma in Art and Design
If you want to go straight into a job or apprenticeship, the following qualifications Level 3 vocational qualifications are relevant:
BTEC National Diploma in Film and Television Production
BTEC National Diploma in Photography OCR Technical Diploma in Digital Media (Moving Image and Audio Production)
UAL Diploma/Extended Diploma in Art and Design
UAL Diploma/Extended Diploma in Creative Media Production and Technology
Get an apprenticeship:
An apprenticeship is a job with training, so it's a great opportunity to earn while you learn. However, it can be challenging to find jobs as an apprentice with production companies as many are not able to take on people for a whole year, which is an apprenticeship requirement at the moment. But in England, there's a Level 3 apprenticeship as a photographic assistant. You might be able to find a job through that standard with an employer in another sector, such as a government department or digital media company. Think about taking that job, learning the core skills of photography and transferring those skills into film and TV drama at a later point.
Check out What's an apprenticeship?  to learn more about apprenticeships and find an apprenticeship to learn how to find one in your region, or approach companies directly. Go to ScreenSkills information on apprenticeships for the main apprenticeship schemes in film and television.
Make a portfolio:
If you would like to become a DoP, or director or filmmaker, it might be worth creating and updating a portfolio, in the form of a showreel, of your work. Get as much experience as you can in photography, both still and moving images. Have a passion for making your own short films. Look at our advice on how to make a showreel. A showreel is essential for impressing admissions tutors and people in the film and TV drama industries.
Work for an equipment company:
Contact an equipment rental company like Panavision, Provision or ARRI Rentals. Ask if you can become a kit runner or driver for them. That way you will get to learn more about the kit and build up contacts.
Get a degree:
It's not essential by any means, but if you want a degree, have a look at ScreenSkills' list of recommended courses and select one in film and TV drama. We recognise courses with our ScreenSkills Select award where they offer training in the relevant software, dedicated time to building a portfolio and have strong links with the film and TV industries.
Get work experience:
Contact video making companies and ask if you can do work experience with them. See our advice on approaching employers to learn how to do this.
Network:
Go to ScreenSkills' events like Open Doors where you can meet people who work in the industry. Give people in the camera department your details and ask if you can do work experience. Look at our page that explains how to network well.
Network online:
Create a LinkedIn profile. See if there's a Facebook page or other social media group for people making films or videos in your area. Join it. Create a ScreenSkills profile.
Become a trainee:
Apply to be a camera trainee or floor runner with ScreenSkills' Trainee Finder scheme. There are also schemes offered by the Guild of British Camera Technicians.
You might also be interested in…
Being a camera assistant in unscripted TV. This can give you a good grounding in working with cameras, but it's different from drama.
Further resources