Film and TV drama
Production runner
Also known as: Production assistant, Production trainee, Production secretary, Production office runner, Office personal assistant (PA), Runner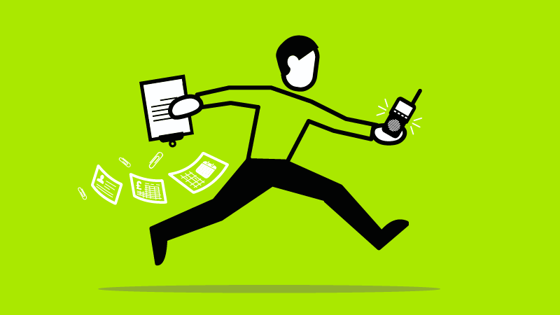 What does a production runner do?
Production runners are the hands and feet of the production team. They copy the call sheets, sides, scripts, health and safety notices and other paperwork and run around distributing it to the crew. They take lunch and breakfast orders for the production office, do runs to the post office or other suppliers. 
They do general office jobs like answering the phone, filing paperwork and entering data. They sometimes book travel and accommodation. They manage a float, buy stationery and keep everyone stocked up with caffeine and snacks. Runners are usually freelancers.
Watch
What's a production runner good at?
Taking instruction: listen carefully, do what's asked quickly, stay calm under pressure
Taking initiative: have common sense, see what needs to be done in a situation, work without supervision
Multi-tasking: be able to be organised and prioritise when asked to do different things by different people at the same time
Watching film and TV drama: have a passion for the genre and a love of the industry
Learning by watching and asking: observe what's happening and know when to ask about things you don't understand
Reliability: get to set on time
Communication: work well with the rest of the production team and the crew
Tools of the trade
Kit that is useful to have on your first day. You need to have your own:
Microsoft Office software (Word and Excel are useful)
Phone with map reading software
Car mount for phone; it's not essential but it's very useful
Who does a production runner work with?
Production office runners work with the production secretary, production coordinator, line producer and production manager. On large TV dramas and feature films, the team can be much bigger and include assistant coordinators and travel and accommodation coordinators.  
How do I become a production runner?
Get onto ScreenSkills' Trainee Finder scheme. This will help you make the contacts and build up the industry knowledge to work in the art department of a film or TV drama.
At school or college:
If you want to go to university, take A-levels or Highers in any subject you enjoy. You might find art and design, photography, drama and theatre, physics, psychology, English, graphic communication or business studies useful.
If you want to go straight into a job or apprenticeships, the following Level 3 qualifications might be relevant:
BTEC National Extended Diploma in Creative Digital Media Production
BTEC National Diploma/Extended Diploma in Art and Design
BTEC National Diploma/Extended Diploma in Business
UAL Applied General Diploma/Extended Diploma in Art and Design
NCFE Applied General Certificate in Art and Design
OCR Technical Diploma/Extended Diploma in Business
Make films:
Learn how films are made by making films. Put together a portfolio. This is will help you learn the craft of film production and demonstrate your interest.
Get a degree:
It's not essential by any means, but you can have a look at ScreenSkills' list of recommended courses and select one in film and TV. We recognise courses with our ScreenSkills Select award where they offer training in the relevant software, dedicated time to building a portfolio and have strong links with the film and TV industries.
Learn to drive:
It helps to get to film locations early in the morning and in out-of-the-way places.
Take first-aid and health and safety courses:
It will make you useful.
Get work experience:
Contact video making companies and ask if you can do work experience with them. See our advice on how to approach employers to learn how to do this.
Network:
Go to ScreenSkills' events like Open Doors to meet people working in development departments. Give people in the production department your contact details and ask if you can do work experience. Go to how to network well for some tips.
Network online:
Create a LinkedIn profile. See if there are Facebook pages or other social media groups for people making films or TV in your area. There might even be groups for runners and trainees. Join them. Create a ScreenSkills profile. There are a lot of crewing agencies that will charge you to be on their books. Sign up to the free ones initially. Wales Screen, Northern Ireland Screen and other areas offer free crew databases. Find a film office near you and get connected. If you do sign up to paid sites, make sure they specialise in the areas in which you're interested.
Become a trainee:
Apply to work in the production department with ScreenSkills' Trainee Finder scheme.
You might also be interested in...
Working as a production coordinator in commercials, music videos or animation. Build up your skills whatever way you can. Alternatively, you could consider being a receptionist or runner in the unscripted TV industry.
Further resources