Film and TV drama
Assistant director
Also known as: 1AD, 1st AD, First, First AD, Assistant director, AD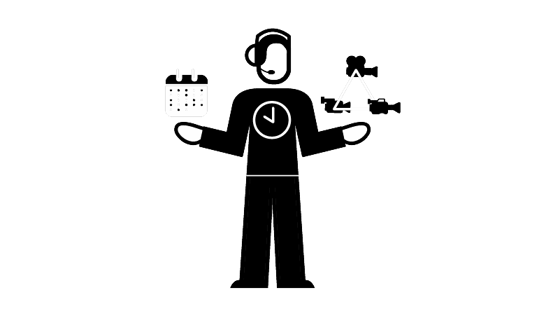 What does a first assistant director do?
The first assistant director (AD) is the director's right hand. First ADs plan the filming schedule, working with the director, director of photography and other heads of department to ensure an efficient shoot.
In pre-production, they break down the script, analysing it for what will be needed in terms of cast, locations, equipment and crew. They lead recces, going off to locations to assess their suitability for filming.
Then they input the scripts into Movie Magic software, which helps them work out what to film and when, depending on the availability of cast and locations. They write the shooting schedule and work out how long each scene will take to film.
During filming first ADs manage the set, which leaves the directors free to focus on the actors and framing the shots.
Watch
What's a first assistant director good at?
Visualising the script: read the script and know what this means in terms of cameras, locations and cast, understand the director's vision
Planning: analyse what is needed for a shoot, and co-ordinate the schedules of various departments including camera, make-up, hair, costume, design and visual effects, think ahead
Multi-tasking: pay close attention to what is happening in one shot while getting ready for the next one
Innovation: think of creative solutions under pressure when the unexpected happens
Communication: able to let a wide range of people know exactly what is required of them and get them to work together, ability to listen to the director
Who does a first assistant director work with?
Second assistant director (2nd AD)
The second is the main off-set contact with some of the other departments such as production, locations and facilities. On each day of filming the second must prepare and draw up the next day's call sheet. Once filming begins, seconds ensure that all actors are ready for filming when they are required, coordinating transport and make-up and wardrobe timetables. Seconds may be responsible for finding extras and coordinating their transport and activities on set. 
See case study: Second assistant director Michael Queen
Third assistant director (3rd AD)
Thirds are the 1st AD's right-hand man on set. They are responsible for coordinating extras, preparing and cueing them as well as sometimes directing them in any required background action. They may have to keep members of the public out of shot or off the set and location and will liaise with the location manager with regard to the security and tidying up of studios and locations after filming. 
Crowd assistant directors (2nd crowd AD, 3rd crowd AD, Crowd PA)
Crowd ADs coordinate larger crowds of extras for the background of scenes, helping to organise the transport and logistics of shooting with a crowd. They may also direct members of the public or keep them off-set.
Floor runner
Runners do anything required to help the shoot. See separate profile: floor runner
How do I become a first assistant director?
This is a senior role that requires many years of experience. Most first assistant directors start out as trainees or floor runners and work their way up. Go to our floor runner job profile for details of how to do this. You can to apply to ScreenSkills' Trainee Finder.
At school or college:
If you want to go to university, A-levels or Highers in art, art and design, photography, film studies, business studies, drama and theatre, graphic design and maths are useful. Or you might want to take the following Level 3 vocational qualifications:
Technical Diploma/Extended Diploma in Business
BTEC National Diploma/Extended Diploma in Art and Design
BTEC National Diploma/ Extended Diploma in Business
Applied General Diploma/Extended Diploma in Art and Design
If you want to go straight into a job, the following Level 3 vocational qualifications will equip you:
Cambridge Technical Diploma in Art and Design (Photography)
Technical Diploma in Digital Media (Moving Image and Audio Production)
BTEC National Diploma in Film and Television Production
BTEC National Diploma in Photography
UAL Diploma/Extended Diploma in Art and Design
Get a degree:
A degree isn't essential but if you want one, look at ScreenSkills' list of recommended courses. Have a look at ScreenSkills' list of recommended courses and select ones in film and TV. We recognise courses with our ScreenSkills Select award where they offer training in the relevant software, dedicated time to building a portfolio and have strong links with the film and TV industries.
Take a short course:
You might like the National Film and Television School's (NFTS) Movie Magic Scheduling course.  First aid courses are useful too. ScreenSkills lists relevant training courses on the website. Go to the list of training courses recommended by ScreenSkills and see if there is one in directing or production.
Network:
Go to ScreenSkills' events like Open Doors to meet people working in development departments. Give people in the AD department your details and ask if you can do work experience. Go to how to network well for some tips.
Network online:
Create a LinkedIn profile. See if there are Facebook pages or other social media groups for people making films or TV in your area. There might even be groups for runners and trainees. Join them. Create a ScreenSkills profile. There are a lot of crewing agencies that will charge you to be on their books. Sign up to the free ones initially. Wales Screen, Northern Ireland Screen and other areas offer free crew databases. Find a film office near you and get connected. If you do sign up to paid sites, make sure they specialise in the areas in which you're interested.
Become a trainee:
Apply for ScreenSkills' Trainee Finder scheme.If you are successful, you get placements, make contacts and build up the industry knowledge to get work in film or TV drama.
You might also be interested in…
Being a line manager, if it's the organisation that appeals to you. If you're more interested in the art of photography than the management of it, have a look at the director of photography job role.
Further resources