Film and TV drama
Marketing manager
Also known as: Brand manager, Director of marketing, Marketing executive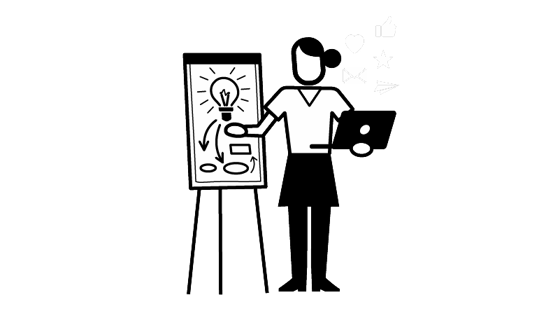 What does a marketing manager do?
Marketing managers convince audiences that theirs is a "must-see" film or TV programme.
Marketing managers help to identify the audience for a film or TV drama and create a campaign to bring it to their attention and pique their interest. With film, this could be through billboards, posters, and a digital strategy (almost always using social media). With TV drama, it could be through newsletters, trailers, as well as social media. Marketing managers oversee all of this and make sure it happens; collaborating with creative partners to develop and deliver promotional artwork materials. In film, marketing managers may also see that the product of the movie is presented well to potential buyers (distribution companies); if marketing managers are working in exhibition, then they market and present the movie to audiences.
Marketing campaigns vary enormously depending on the needs of the production. Big-budget films with movie stars usually have more money spent on marketing and publicity than small productions. Marketing managers consider how to prepare a marketing budget, bearing in mind income forecasts, acquisition costs and contract terms. If a film is being screened internationally, the campaign needs to be adapted to different cultures and countries.
Marketing managers might be employed by film sales agencies, marketing agencies, production companies or broadcasters. Big production companies will have their own marketing departments for their film and TV dramas. Smaller ones will use a separate marketing company or agency.  For TV dramas, marketing managers are more likely to be employed by the broadcaster or channel, such as Channel 4 or BBC Studios.
Watch
What's a marketing manager good at?
Audience awareness: know audiences, research audience statistics, understand how they watch films or TV dramas
Knowledge of the industry: have an awareness of cultural trends in film and TV drama and how they are reflected in terms of box office figures and viewers
Marketing: think creatively and analytically, create engaging content, understand who a production is for and how to reach them
Planning: schedule the work that needs to be done for the campaign and work with a budget, forecast audience numbers or determine actual theatrical revenue for a given project
Communication: write compelling copy, engage people from a wide range of backgrounds, share the vision with a team, be the conduit of information for other teams (such as PR, operations, acquisitions and sales)
Who does a marketing manager work with?
Publicist
Publicists help create the distributors' release plan and create a buzz about the film in the media. See separate profile: publicist
Marketing assistant
Marketing assistants do any task designated to them by management, scheduling tweets and ordering in lunch for meetings for example. See separate profile: marketing assistant
Electronic press kit (EPK) producer
EPK producers, or directors, make electronic press kits (EPKs). Typically, an EPK contains interviews with cast and crew while on location and behind-the-scenes footage, usually called 'making-of'.
EPK producers work with the publicist and marketing manager to decide what to include in an EPK and how it will fit with the overall marketing campaign. They then work with the assistant director to agree where to position the behind-the-scenes cameras.
All EPK content has to be completed well in advance of screening or broadcast so there's time for it to be approved. Once the actors and producers have agreed it, the EPK goes out to the media or channel so the film can be featured in their publications or websites.
Unit publicist
Unit publicists write the copy about the film that goes out to the media (press release). They interview the cast and crew to get quotes to put into the press releases. Then they work closely with the producer and actors' agents to schedule press visits to set. They see that details of the film are published in the trade press and work with the EPK crew, writing the captions for all the images.
Unit stills photographer
Stills photographers take the pictures that are used for press and advertising campaigns. They go on set for around 15 days to get behind-the-scenes images and top-quality pictures of the performances. They position themselves as close to the film camera as possible while trying to be unobtrusive. Photographers are usually employed on a freelance basis. After shooting they will work in processing labs to choose their best shots, which are then agreed by the actors and their publicists. Once selected, their images are sent to sales companies, publicists, distributors, and public relations firms.
How do I become a marketing manager?
It takes many years to reach the position of marketing manager. Many start out as marketing assistants. See our job profile marketing assistant for details of how to get in.
At school or college:
If you want to go to university, A-levels or Highers in business studies or English are useful. Or you might want to take the following Level 3 vocational qualifications:
OCR Technical Diploma/Extended Diploma in Business
BTEC National Diploma/Extended Diploma in Business
BTEC National Diploma/Extended Diploma in Enterprise and Entrepreneurship
If you want to go straight into a job or apprenticeship, the following Level 3 vocational qualifications will equip you:
AQA Foundation Technical Level Business: Marketing Communications
AQA Technical Level Business: Marketing
NCFE Diploma in Skills for Business: Sales and Marketing
Start your own channel:
Set up a review blogging site or content channel. This is the marketing version of having a portfolio. You can send a link with your CV to show your writing and online skills, and, equally importantly, your interest in film and TV drama.
Get a degree:
It's worth getting a degree in marketing or film production. Increasingly, people will have master's degree. Have a look at ScreenSkills' list of recommended courses in film and TV. Look for ones that specialise in marketing. We recognise courses with our ScreenSkills Select award where they offer training in the relevant software, dedicated time to building a portfolio and have strong links with the film and TV industries.
Search for jobs:
Marketing is important in all industries, not just film and TV drama, so there are plenty of agencies and departments with marketing roles. Search for jobs in any area of marketing. You can build up your skills and move into the film and TV drama industry from there.
You might also be interested in…
Being a marketing executive or community manager in the games industry. Alternatively, you could consider being a digital producer in the unscripted TV industry.
Further resources