Film and TV drama
Production buyer (Film and TV Drama)
Also known as: Props buyer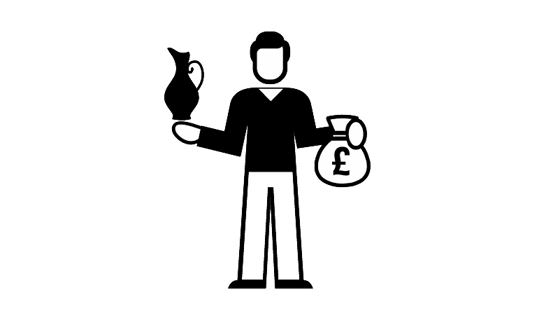 What does a production buyer do?
Production buyers shop for the props. They work closely with set decorators to source, for example, barbed wire, machetes, telephone kiosks and hotel luggage trollies; anything that's needed for the action and look of a set. They mark up (make notes on) the script and make a list of all the props needed. After this list has been checked with the set decorator, they go to prop houses and book them.
The buyers then write a detailed schedule of the props, working out dates and durations of hire to minimise costs, and confirming collection and return dates with the props master. They produce weekly budgets for the production accountant so that all spending can be closely monitored.
They are also responsible for the art department petty cash, which must be carefully monitored and reconciled at the end of each production. Production buyers usually work on a freelance basis.
Watch
What's a production buyer good at?
Knowledge of prop houses: have a wide network of useful contacts with prop houses, suppliers and specialist manufacturers
Knowledge of period furniture and architecture: have an interest in the creative side of set decorating
Organising: schedule and manage a budget and keep track of the detail of many different sets at the same time
Resourcefulness: find cost-effective solutions
Communication: work closely with the set decorator, props master, accountant and props houses
Who does a production buyer work with?
On large productions, a production buyer has an assistant, an assistant buyer or petty cash buyer, who helps with research, sourcing items, managing a petty cash float and listing all expenditures per set.
How do I become a production buyer?
There is no set route to being a buyer, but it's helpful to have a background in art. Consider becoming an art trainee first and working your way up to working on a big budget feature film from there. This will help you make the contacts and build up the industry knowledge to get work in the art department of a film or TV drama.
At school or college:
If you want to go to university, A-levels or Highers in art and design, theatre, graphic design and graphic communication are useful. Or you might want to take the following Level 3 vocational qualifications:
NCFE Applied General Certificate in Art and Design
BTEC National Diploma/Extended Diploma in Art and Design
UAL Applied General Diploma/Extended Diploma in Art and Design
If you want to go straight into a job or apprenticeship, the following Level 3 vocational qualifications will equip you:
OCR Cambridge Technical Diploma in Art and Design (3D Design)
OCR Cambridge Technical Diploma in Art and Design (Graphic Design
OCR Cambridge Technical Diploma in Art and Design (Photography)
BTEC National Diploma in 3D Design and Crafts
BTEC National Diploma in Photography
UAL Diploma/Extended Diploma in Art and Design
Get an apprenticeship:
An apprenticeship is a job with training, so it's a great opportunity to earn as you learn. See if you can find a job as a junior prop master or props technician. If you can't find one in film and TV drama, it's worth looking for one in theatre. This could help you to understand the world of props. You can go on to become a buyer from there. Check out What's an apprenticeship?  to learn more about apprenticeships and Find an apprenticeship to learn how to find one in your region, or approach companies directly. Go to ScreenSkills information on apprenticeships for the main apprenticeship schemes in film and television

Get a degree:
It's by no means essential. But if you want one, have a look at ScreenSkills' list of recommended courses in film and TV. We recognise courses with our ScreenSkills Select award where they offer training in the relevant software, dedicated time to building a portfolio and have strong links with the film and TV industries.
Network:
Go to ScreenSkills' events like Open Doors to meet people working in art departments. Show them your portfolio and give them your number.
Become a trainee:
Get onto ScreenSkills' Trainee Finder scheme. Get the skills, make contacts and start working in art departments.
You might also be interested in…
Being a production buyer for unscripted TV. This role is more office-based with fewer opportunities to go out on set.
Further resources