Film and TV drama
Line producer (Film and TV Drama)
Also known as: Co-producer, Unit production manager (UPM)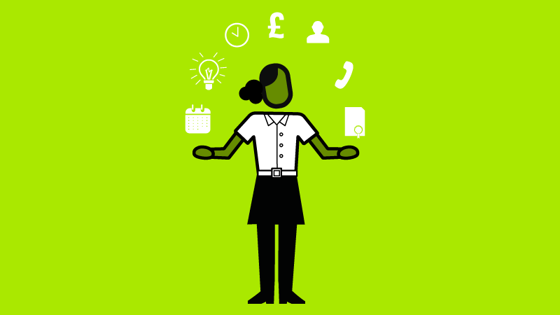 What does a line producer do?
Line producers are at the heart of a production, hiring the crew, allocating the money and making sure the filming is done safely, creatively, on budget and on time. They are typically the most senior member of the production team, second only to the producers.
Working closely with heads of departments, they decide how the money gets spent, delivering the best possible product to the producer or series producer while offering the director and heads of department enough money to realise the vision.  
Line producers are ultimately responsible for all the crew and all the contracts. They hire crew, heads of department, caterers and studio facilities, over-seeing all the deals and paperwork. They understand the artistry of film-making, foresee pitfalls and disasters and never let the spend extend beyond the bottom line.
During production, line producers keep track of the budget and the filming process. They are on set and in the office, dealing with the unexpected and helping find creative solutions. At the end of the shoot, they oversee the wrap, or winding down, of the production and hand over to the post-production supervisor.
Watch and read
What's a line producer good at?
Communication: get on well with a wide range of people, be clear about contracts and expectations, ensure everyone understands what needs to happen and when and why, create a strong team
Film production: have an in-depth knowledge of how films are made, love of the process, good contacts in the industry
Organisation: plan a production schedule, shooting schedule, budget, keep accounts and do the maths
Negotiation: get the best deals for services, keep everyone happy, especially when there's a gap between the director's aspiration and what there is to spend
Innovation: think clearly when the unexpected happens, come up with good ideas even when under pressure
Knowledge of law: understand health and safety, insurance and personnel legislation
Who does a line producer work with?
Essentially all departments report to the line producer. All heads of department create budgets for their departments and work closely with the line producer to know what they can and can't have and have their costs approved.
Production accountant
Production accountants are responsible for calculating finances, costing productions and controlling cash flow. They either report to the finance controller or the line producer, depending on the set-up of the production. See separate job profile: production accountant
Production manager
Production managers are second-in-line to the line producer. While the line producer sets the limits on budgets and negotiates the key contracts, production managers carry out the decisions that have been made. They might oversee sections of the budget, they crew up second units (cast and crew working on a smaller part of a production) or look after units shooting abroad. During filming, the production managers work between set and the production office making sure the crew are happy and the production remains on target. They are the 'go to' person for any problems.
Production coordinator
Production coordinators run the production office when the line producer and production manager are on set. They are in charge of what goes on with the phones, photocopier and paper work. See separate profile: production coordinator
Production secretary
Secretaries provide administrative assistance to the line producer, production manager, and production coordinators. They organise travel, accommodation and supplies and assist with production paperwork such as contracts, documents and script changes.
Production runner or production assistant or production trainee
Runners help wherever help is needed. They manage a float, buy stationery and keep everyone stocked up with caffeine and snacks. They are there to learn. See separate profile: production runner
How do I become a line producer?
Line producers generally start as runners or trainees in the production office and work their way up to becoming production coordinators and then line producers. Some become assistant directors, location managers or accountants before becoming line producers, but there's no set route. Go to our separate production trainee job profile for more detail on getting started. ScreenSkills' Trainee Finder will help you make connections in the industry. There's a shortage of line producers, so if you're good, you should be able to find work.
At school or college:
If you want to go to university, A-levels or Highers in film studies, media or art and design are relevant. As it's a role that combines understanding film production with project management and accounting, subjects that develop your skills in that way are useful too. Combine film studies with business or business studies and maths for a well-rounded skillset. Or you might want to take the following Level 3 vocational qualifications:
OCR Technical Diploma/Extended Diploma in Business
BTEC National Diploma/Extended Diploma in Business
If you want to go straight into a job or apprenticeship, the following Level 3 vocational qualifications will equip you:
AAT Advanced Diploma in Accounting
Diploma in Production Accounting for Film and Television
IAO Diploma in Accounting
OCR Cambridge Technical Diploma in Art and Design (Photography)
OCR Technical Diploma in Digital Media (Moving Image and Audio Production)
BTEC National Diploma in Film and Television Production
BTEC National Diploma in Photography
Get an apprenticeship:
An apprenticeship is a job with training, so it's a great opportunity to earn as you learn. You might be able to find a production manager apprenticeship, but it can be challenging to find apprenticeships within production companies. It might be worth looking for a job as an apprentice in an industry that uses similar skills such as project management, business or accountancy. You can then transfer into production management at a later point, so long as you keep up your interest in film and TV drama and develop your contacts. Check out What's an apprenticeship?  to learn more about apprenticeships and find an apprenticeship to learn how to find one in your region, or approach companies directly. Go to ScreenSkills information on apprenticeships for the main apprenticeship schemes in film and television
Get a degree:
It's not essential by any means, but you can have a look at ScreenSkills' list of recommended courses and select one in film and TV. We recognise courses with our ScreenSkills Select award where they offer training in the relevant software, dedicated time to building a portfolio and have strong links with the film and TV industries.
Get project management experience:
While you are trying to break into film or TV drama, get management or project management experience. Any job that involves planning, organising and budgeting will help equip you for the role.
Become a production account:
If you have a background in accountancy, try to become a production accountant or accounts trainee. It will be a very good route into line production.
Become a locations trainee:
Many people get into line production having first worked in locations. Go to the locations trainee profile to find out more.
Get qualifications in first aid or health and safety:
It will help.
Network:
Go to ScreenSkills' events like Open Doors to meet people working in development departments. Give people in the production department your contact details and ask if you can do work experience. Go to how to network well for some tips.
Network online:
Create a LinkedIn profile. See if there are Facebook pages or other social media groups for people making films or TV in your area. There might even be groups for runners and trainees. Join them. Create a ScreenSkills profile. There are a lot of crewing agencies that will charge you to be on their books. Sign up to the free ones initially. Wales Screen, Northern Ireland Screen and other areas offer free crew databases. Find a film office near you and get connected. If you do sign up to paid sites, make sure they specialise in the areas in which you're interested.
Become a trainee:
Get onto ScreenSkills' Trainee Finder scheme. Get the skills, make contacts and start working as a production trainee.
You might also be interested in…
Working in production management in commercials, music videos or animation. Build up your skills whatever way you can. Alternatively, you could consider being a line producer in the unscripted TV industry.
Further resources