Film and TV drama
Director (Film and TV Drama)
Also known as: Filmmaker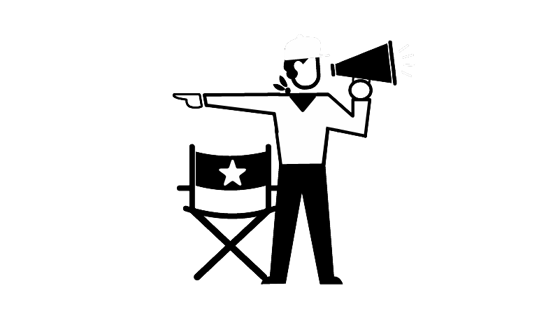 What does a director do?
Directors are the creative leads of the film. They hold the creative vision throughout the whole process, from pre-production through to the final edit.
They are employed by the executive producer or producer, who is ultimately in charge of a production. Directors start with a script, and work with a screenwriter and sometimes a script editing team. It's not uncommon for the director to be the screenwriter as well.
It is the job of a director to imagine the script in a visual form. As soon as a production has raised the cash it needs, either through being funded or commissioned, they work closely with the producers to appoint the heads of department, such as the director of photography, assistant director and production designer.
They then work with producers and casting directors to select the actors and with the director of photography to develop the filming style, including notes about camera shots and script changes. Some directors rehearse actors ahead of shooting, though not all do. They 'block' the performance with the actors before filming begins, meaning they choreograph where actors are positioned, where they will move to over the course of a shot and how they will deliver their dialogue.  
At the same time, a director will also be instructing other members of the crew, especially lighting, wardrobe and make-up supervisors. Directors work to get the best performance out of the actors but also need to ensure that all technical aspects are in place to get a great scene filmed.
After filming, they lead the editing of a film, preparing a 'directors cut'. That cut will be reviewed by producers and financiers before signing off the final cut.
Directors may be employed by TV broadcasters, film or television production companies, or work on a freelance basis.
Watch
What's a director good at?
Leadership: share the vision of the film with a range of people from different departments, inspire them to do their best work, manage the cast and crew, make creative decisions
Imagination: envisage the film you want to make, see it, hear it, create the vision and execute it
Arts knowledge: have a passion for and deep knowledge of film and TV drama, appreciate all genres of art, so as to be able to draw ideas from a range of sources
Production: understand the film or TV drama production process from start to finish, from both technical and creative points of view
Staying calm under pressure: work methodically within a high-stress environment, make creative decisions when things don't go to plan
Who does a director work with?
Directors hold the creative vision for the whole production, so they have relationships with every department head. In pre-production, they work particularly closely with the producers and casting directors. During production, they have close on-set relationships with the director of photography and the first assistant director. In post-production, directors work with editors to 'cut' the film or programme to a desirable final product.
How do I become a director?
There are many routes to becoming a director. Some start in theatre, some start as screenwriters, some come up through the assistant director route, others come from the camera department.
Whatever the route, this is a role that requires extensive knowledge of the film or TV drama production process. It's worth starting your career by getting work as a runner on set or in a production office before working your way up through entry-level positions. Go to the camera trainee and floor runner job profiles for more details.
At school or college:
If you want to go to university, A-levels or Highers in drama and theatre, English, film studies or media studies are useful. Or you might want to take a Level 3 vocational qualification, such as:
OCR Cambridge Technical Diploma/Extended Diploma in Performing Arts
BTEC National Diploma/Extended Diploma in Performing Arts
BTEC National Extended Diploma in Creative Digital Media Production
Aim Awards Diploma in Creative and Digital Media
OCR Technical Diploma in Digital Media (Moving Image and Audio Production)
BTEC National Diploma in Film and Television Production
BTEC National Diploma in Film and Television Visual Effects
RSL Diploma/Extended Diploma in Creative and Performing Arts
UAL Diploma/Extended Diploma in Creative Media Production and Technology
UAL Diploma/Extended Diploma in Performing and Production Arts
Build a portfolio:
Create work that you can show off to employers. Direct your own short film, maybe using your smartphone, and edit it. This process is very helpful. Go to build your film or TV portfolio to learn how.
Get a degree:
You don't need a degree to become a director, but you may want one. A degree in filmmaking or film and television production can give you a good all round understanding of the industry. Have a look at ScreenSkills' list of recommended courses and select one in film and TV. We recognise courses with our ScreenSkills Select award where they offer training in the relevant software, dedicated time to building a portfolio and have strong links with the film and TV industries.
Look outside the industry:
You might consider getting experience of directing actors by taking part in amateur productions in the role of director.
Take a short course:
Hone your skills in directing by taking a specialist course. Go to the list of training courses recommended by ScreenSkills and see if there is one in directing.
Network:
Go to ScreenSkills' events like Open Doors to meet people working in development departments. Show them your portfolio and give them your contact details. Go to how to network well for some tips.
Network online:
Create a LinkedIn profile. See if there are Facebook pages or other social media groups for people making films or TV in your area. There might even be groups for runners and trainees. Join them. Create a ScreenSkills profile. There are a lot of crewing agencies that will charge you to be on their books. Sign up to the free ones initially. Wales Screen, Northern Ireland Screen and other areas offer free crew databases. Find a film office near you and get connected. If you do sign up to paid sites, make sure they specialise in the areas in which you're interested.
You might also be interested in…
Being a director of photography, cinematographer or producer for film and TV drama, or director or series director in the animation industry. Or you might want to be a director in theatre. Alternatively, you could consider being a director, producer director or series director in the unscripted TV industry.
Further resources