Film and TV drama
Script editor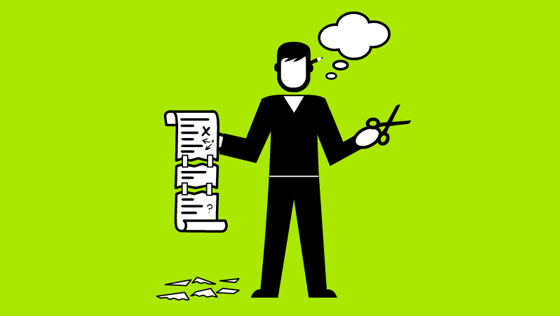 What does a script editor do?
Script editors liaise between the writer of a drama and the TV production company, commissioner or development producer to ensure that the script is as good as possible.
They might come on board at any point in the script writing process. Sometimes script editors start before the writer. The executive or development producer might want a new drama for 18 to 25-year-olds, set in a nightclub, for example. The script editor might be asked to research ideas or come up with concepts for episodes.
Meanwhile the development producer or editorial head, identifies the right writer for the job. Once the writer is in place, the script editor's role is to support the writer and get the script ready for production. They need to understand how the writer works and appreciate the writer's voice. They might help the writer to develop a storyline or introduce a new character.  They are the ones that need to have tactful and creative conversations about budget. They might need to explain there isn't enough money for quite that number of buildings to be blown up, for example.
Typically, there will be several people with comments to make on a script, such as the commissioner, the producer or the director.  The script editor gathers these notes and takes them to the writer in a respectful and considerate way. They also ensure there's continuity between scenes and between episodes and that the script is running to time.
Script editors might work on high-end TV programmes, continuing drama and comedies. They either work freelance or in-house.
Watch and read
What's a script editor good at?
Knowledge of screenwriting: understand all the features of a great screenplay, know how to improve and amend one
Communication: be able to form a good relationship with a writer and the rest of the production team, know how to explain notes sensitively and tactfully enabling the writer to do their best work
Knowledge of production: appreciate all the factors involved in turning a screenplay into a TV drama, be aware of the practical and logistical considerations in bringing the script to the screen
Knowledge of the industry: have extensive knowledge of and a passion for film or TV drama, be aware of other dramas, what's worked and what's new
Arts knowledge: have a deep and wide knowledge of all genres of art, so as to be able to assess ideas from a range of sources and understand the cultural context
Who does a script editor work with?
Development producer (TV)
Development producers are employed by broadcasters, production companies and screen agencies to look out for new projects and writing talent. See separate profile: development producer
Screenwriter or scriptwriter
Screenwriters write scripts. They might also work improving the scripts of other writers. See separate profile: screenwriter
Storyliner (TV)
Script editors sometimes oversee storyliners who develop story strands for long-running TV series. They may be responsible for a number of different storylines or for a number of episodes. They take ideas from the script editor to create a document outlining what happens in that storyline or episode. This is used to commission writers and becomes their brief to write from.
Script reader
Script readers mainly work for publicly-funded organisations like regional screen agencies. They read screenplays and write reports (coverage reports) on their potential for development. A typical reader's report is 4-8 pages long, including a breakdown of the story and an assessment of its suitability. This typically contains a logline, premise, synopsis, tone and genre analysis, at least two pages of comments on strengths and weakness, and the summary and verdict.
Researcher
Researchers support story and script personnel, ensuring stories and scripts reflect accurate research and the source material and setting, whether from fiction, historical or otherwise, from the beginning. They are sometimes called an assistant script editor.
How do I become a script editor?
Becoming a script editor typically involves progression through any or some of the script roles - reading, researching or writing. Some come into script editing through working in other areas of film and TV production. A good way of getting into other areas is through ScreenSkills' Trainee Finder.
At school or college:
If you want to go to university, A-levels or Highers in drama and theatre, English, film studies and media studies are useful. Or you might want to take a Level 3 vocational qualification such as a:
BTEC National Extended Diploma in Creative Digital Media Production.
Aim Awards Diploma in Creative and Digital Media
OCR Technical Diploma in Digital Media (Moving Image and Audio Production)
BTEC National Diploma in Film and Television Production
BTEC National Extended Diploma in Creative Digital Media Production
UAL Diploma/Extended Diploma in Creative Media Production and Technology
Read and write:
Practise writing scripts in a proper screenplay format and read existing screenplays online to familiarise yourself with the form. Even if they don't get taken up by production, it's the best way to learn about screen writing. Some free examples can be found here:
Build a portfolio:
Create work that you can show off to admissions tutors or employers.  Go to build your writing portfolio to learn how.
Get a degree:
Degrees in English or psychology are relevant, or you might be interesting in screenwriting courses. Have a look at ScreenSkills' list of recommended courses and select one in film and TV or search for one in screenwriting. We recognise courses with our ScreenSkills Select award where they offer training in the relevant software, dedicated time to building a portfolio and have strong links with the film and TV industries.
Take a short course:
Hone your skills and develop your insight into screenwriting by taking a specialist course such as:
Go to the list of training courses recommended by ScreenSkills and see if there is one in screenwriting.
Network:
Go to ScreenSkills' events like Open Doors to meet other writers of people working in development departments. Show them your portfolio and give them your contact details. Go to how to network well for some tips.
Network online:
Create a LinkedIn profile. See if there are Facebook pages or other social media groups for people making films or TV in your area. Experience as a runner on a drama is invaluable for making contacts and understanding production. Join these groups. Create a ScreenSkills profile. There are a lot of crewing agencies that will charge you to be on their books. Sign up to the free ones initially. Wales Screen, Northern Ireland Screen and other areas offer free crew databases. Find a film office near you and get connected. If you do sign up to paid sites, make sure they specialise in the areas in which you're interested.
Search for jobs:
Sometimes junior screenwriter jobs are listed on recruitment websites. The BBC Writers' Room has a page dedicated to writing opportunities. You might find work as a researcher in the drama department of a broadcaster like the BBC or ITV and develop your understanding of screenwriting and script editing from there.
You might also be interested in…
Writing for radio, being a playwright or being a writer in the games industry.
Further resources