Film and TV drama
Archivist
Also known as: Archive consultant, Curator, Librarian, Records manager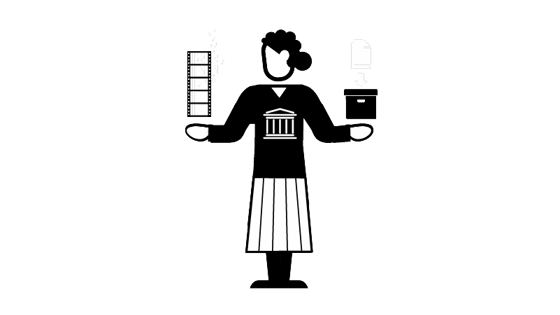 What does a film archivist do?
Film archivists are the librarians of the film and TV drama industry. They work for large film studios, like Pinewood; for broadcasters, like ITV and the BBC; for organisations like the British Film Institute, British Pathé; and for regional film archives.
They work with old films and new. Whenever a British film is made, the final raw mastered media, proxy files, script, production schedule and stills are sent to the British Film Institute and sometimes the archives of the broadcaster or production company. The archivist will catalogue it and put metadata into the digital file so that it can be found at a later date.
They also restore and digitise the films of the past. A lot of companies find themselves with ageing archives of difficult-to-store film reels and videotapes that are becoming obsolete. An archivist is responsible for scanning or digitising these tapes into a digital medium to make them easier to access in the future with a planned migration for long term storage.
Archivists work with all kinds of formats; film reels, videotapes, DVDs, CDs, QuickTimes and other digital files. They also work with all kinds of people, getting requests for footage that the archivist has to retrieve quickly and efficiently.
It's one of the few jobs in the film industry where you can expect to work roughly nine to five.
Watch
What's an archivist good at?
Organising information: catalogue, file and input systematic metadata
Media formats: understand the different types, convert between them
Attention to detail: take pleasure in finessing metadata and catalogue information
Communication: understand the needs of those using the library, supply what they need
Watching old films: have a passion for history, movies from the past and what they reveal
Who does an archivist work with?
Archivists work with other members of the archive team and with producers, academics or members of the public wanting to find films or information.
How do I become an archivist?
You will need a degree and a post-graduate degree to become an archivist.
At school or college:
Take A-levels or Highers in whatever subjects you enjoy the most.
Get a degree:
You can take a degree in film studies or history. Other good subjects are law, languages, archaeology or English. Have a look at ScreenSkills' list of recommended courses and select ones in filmmaking or film and television production. We recognise courses with our ScreenSkills Select award where they offer training in the relevant software, dedicated time to building a portfolio and have strong links with the film and TV drama industries.
Get a postgraduate degree:
Make sure you get one recognised by the Archives and Records Association.
Volunteer:
Find film libraries near where you live and volunteer to help. Ask for work experience. You can start by looking at the British Film Institute's list of Regional and National Film Archives.
Look for jobs:
Even if you can't find one as a film archivist straight away, being an archivist in another field would help you develop the skills to move into film.
You might also be interested in…
Another role with libraries or museums, like being an education officer or working in marketing. Alternatively, you could consider being a archive producer in the unscripted TV industry.
Further information