Film and TV drama
Script supervisor (Film and TV Drama)
Also known as: Continuity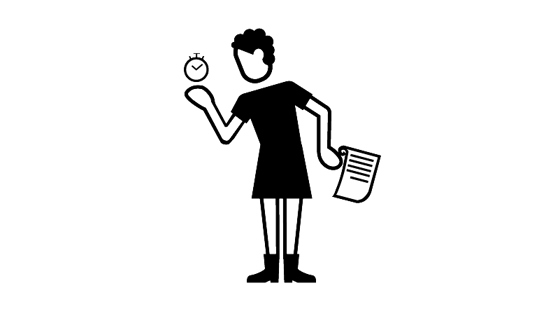 What does a script supervisor do?
Film and TV dramas are usually shot entirely out of sequence. Shooting is organised according to the practicalities of location and availability of cast rather than the unfolding of the story. It's the job of the script supervisor to check each filmed scene can be edited so it will make sense in the end.
During pre-production script supervisors prepare a continuity breakdown; this is a document which analyses the script in terms of cast, actions, wardrobe and props in scenes and story days. Then they time the script, which is quite a skill in itself.
Once filming starts, they closely monitor what's happening to check no dialogue is overlooked and the actions and eye-lines of the actors match. They keep detailed written and photographic records of dialogue, action, costumes and props. All camera and lens details are noted along with the slate and scene number information.
They keep a progress report of each day's filming which goes to production and the visual effects (VFX) supervisor in the case of VFX shots. These records are invaluable. They mean directors and editors can find what's been shot and what the options are for each scene. They mean that when different takes are edited together, the film is consistent and makes sense.
Watch
What's a script supervisor good at?
Analysis: break down, time and itemise scenes in terms of set, costumes, make-up, props and dialogue according to where they are in the story
Filmmaking: understand the art of storytelling through a lens, know what this means in terms of required shots and crossing the line
Observation: have an eagle eye and good memory, have the stamina to remain observant during long filming days
Attention to detail: be meticulous and methodical in taking precise notes quickly and efficiently
Communication: let the director, actors, crew, hair, make-up and production know about continuity issues
Who does a script supervisor work with?
Script supervisors work closely with the director and script editor. They also communicate with actors, hair and make-up departments and production.
How do I become a script supervisor?
You don't need a formal qualification to become a script supervisor but you do need a very good understanding of film production, particularly of editing and how scenes are constructed out of individual shots.
A common route in is to spend a few years working in the industry at a junior level like a production assistant or assistant production coordinator in a production company. From there you can build contacts, get to to know the industry and step up to assist an experienced script supervisor. You will need to do this for a minimum of 30 weeks before you can progress to script supervision on second camera shoots (in multi-camera productions) before finally becoming a script supervisor.
At school or college:
If you want to go to university, take A-levels or Highers in a combination that includes English, art, art and design, drama and theatre, film studies, photography and physics. Or you might want to take a BTEC Level 3 National Extended Diploma in Creative Digital Media Production.
If you want to go straight into a job, the following Level 3 vocational qualifications are relevant:
OCR Technical Diploma in Digital Media (Moving Image and Audio Production)
BTEC National Diploma in Film and Television Production
BTEC National Diploma in Photography
UAL Diploma/Extended Diploma in Creative Media Production and Technology
Make a portfolio:
Learn the craft of making films by making them. Collaborate with friends and volunteer to make short films and put them into a showreel. Look at our advice on how to build a portfolio. This is also essential for impressing admissions tutors and people in the film industry.
Get work experience:
Contact video making companies and ask if you can do work experience with them. See our advice on approaching employers to learn how to do this.
Get a degree:
It's not essential but if you want a degree, but you can have a look at ScreenSkills' list of recommended courses in film and TV. We recognise courses with our ScreenSkills Select award where they offer training in the relevant software, dedicated time to building a portfolio and have strong links with the film and TV industries.
Network:
Go to ScreenSkills' events where you can meet people who work in the industry. Give people in the production or camera departments your details and ask if you can do work experience. Look at our page that explains how to network well.
Network online:
Create a LinkedIn profile. See if there's a Facebook page or other social media group for people making films or videos in your area. Join it. Create a ScreenSkills profile.
Become a trainee:
Apply to be a production trainee, a camera trainee or floor runner with ScreenSkills' Trainee Finder scheme. There are also schemes offered by the Guild of British Camera Technicians. Or you might try finding work in television as an assistant floor manager. This can give you valuable on-set work experience that you can then apply to film and TV drama later on.
You might also be interested in…
Producing, writing, directing, editing and script editing. Being a script supervisor is a good way into those roles. Alternatively, you could consider being a script supervisor in the unscripted TV industry.
Further resources