Film and TV drama
Grip trainee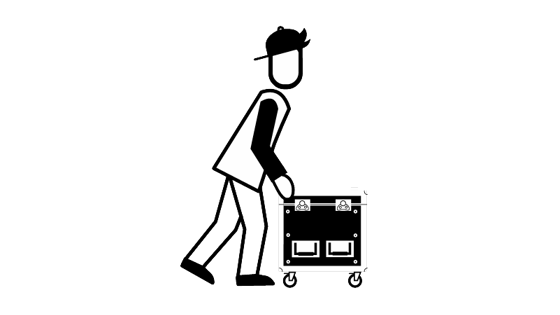 What does a trainee grip do?
Trainee grips start the day by helping to unload the truck with the gear that supports the cameras. Under supervision from the qualified grips, they move the equipment to the right place on location.
Trainee grips are on set throughout the day. At the end of each shot, they help put equipment away that's no longer needed and set up the kit for the next shot. They do this until the end of filming and then they help put all the equipment away.
The main role of trainee grips is to learn the trade. Grips' equipment, cranes, jibs and dollies (the wheeled platform that carries a camera and a camera operator), can be used in different ways. Trainee grips watch everything that's happening; learn how the gear is used and how to operate it.
Watch
What's a grip trainee good at?
Cameras and their support mechanisms: have a desire to learn the technical requirements of cameras and of the baseplates, dollies, cranes and jib arms on which they are mounted
Watching film and TV drama: have a passion for the genre and a love of the industry
Learning by watching and asking: observe what's happening and ask questions at the appropriate moments
Reliability: be able to get to set on time and do what's asked
Communication: listen to the grip, work as a team, communicate well, especially when under pressure
Lifting: learn how to lift, have stamina
Tools of the trade
Waterproof clothing
Thermal layers
Walking boots or waterproof foot wear
Phone or notepad and pen for taking notes as you learn
Who does a trainee grip work with?
Trainee grips primarily work with the key grip or grip. They also work closely with the best boy.
How do I become a trainee grip?
This is one of the few roles in film and TV drama where there's an established career route. Bectu, the media and entertainment union, has a dedicated Grips Branch which holds a list of trainee grips. You need to get onto that list. Join Bectu.  Contact the Grips Branch. Say you want to become a trainee grip and someone will get back in touch with you.
At school or college:
You don't need a degree to become a grip, but it you want one, think about studying engineering.  A-levels or Highers in maths or physics are a good preparation for this and so are the following Level 3 vocational qualifications:
Cambridge Technical Extended Certificate in Engineering
BTEC National Foundation Diploma in Engineering
If you want to go straight into a job or apprenticeship, the following Level 2 or 3 vocational qualifications are relevant:
BTEC National Diploma/Extended Diploma in Mechanical Engineering C&G Technical Award in Engineering
C&G Technical Certificate in Engineering
C&G Advanced Technical Certificate, Diploma/Extended Diploma in Engineering
EAL Technical Diploma/Extended Diploma in Engineering Technologies
OCR Cambridge Technical Diploma/Extended Diploma in Mechanical Engineering (VRQ)
BTEC Level 3 National Diploma in Film and Television Production
OCR Technical Diploma in Digital Media (Moving Image & Audio Production)
Get an apprenticeship:
An apprenticeship is a job with training, so it's a great opportunity to earn while you learn. You can prepare yourself for becoming a grip by learning about lifting and rigging through an apprenticeship. In England, there're two relevant apprenticeships:
Think about learning skills through taking a job as an apprentice in another industry, such as an events company, and then transferring those skills into being a trainee grip at a later point. Check out What's an apprenticeship?  to learn more about apprenticeships and find an apprenticeship to learn how to find one in your region, or approach companies directly. Go to ScreenSkills information on apprenticeships for the main apprenticeship schemes in film and television.
Learn to drive:
A clean driving licence is essential.
Work for an equipment company:
Contact rental companies like Proav, Gripvan, Panavision, ARRI or Chapman Leonard. Ask them if they have any openings for work experience of jobs as trainees. This is how many grips start out. Look at our advice on approaching employers to learn how to do this.
Network:
Try to get to know some grips. Go to ScreenSkills' events like Open Doors to make contacts in the industry and find people working in the grip department. Ask if you can do work experience.
Become a trainee:
Join the trainee list of the Grips Branch of Bectu. Apply for ScreenSkills' Trainee Finder scheme.
You might also be interested in…
Being a grip in unscripted TV. Or other roles in the technical department.
Further resources