Unscripted TV
The UK is home to thousands of talented television creators and is internationally respected for delivering quality programming across all genres. The term unscripted really means 'without actors'. But it may include other performers like contributors, entertainers and presenters. In truth, every TV programme has a narrative and script. Some craft and technical roles have the flexibility to work in a mix of genres and sectors (including scripted comedy, drama or film) whereas roles in editorial or production management tend to specialise in scripted or unscripted and rarely cross over.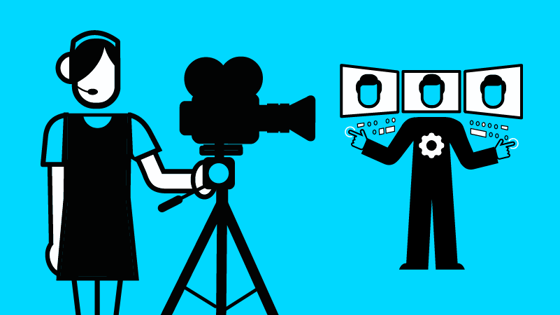 These are the main categories of unscripted TV:
Children's
All programmes produced specifically for children aged up to 15 years. Themes and language reflect the age of the intended audience from pre-school to teen. Content is created to encourage the viewer's imagination and educate outside the classroom environment. However, there are children's dramas and sitcoms which are scripted.
Entertainment
What it says on the tin - formatted programming meant to entertain. It often contains the same segments every episode. Programmes are fast-paced and visually exciting. Entertainment programmes in a purpose-built studio are sometimes referred to as 'shiny floor' because the vinyl floors reflect the studio lights. Programmes include; game shows, panel shows, music events, talent elimination formats and talk shows.
Factual
Television that documents actual events and real people. Some programmes are presented by known TV personalities, journalists or professional experts. Types of programmes include; cooking, current affairs, docudrama, genealogy, natural history, observational and fixed rig documentary and survivalist.
Factual Entertainment
Television documenting real events and people with a stronger entertainment element than serious factual programmes. Often hosted by TV personalities, programmes include celebrity or expert-led experience like travelogues, dating and makeover formats, daytime magazine shows and reality.
News
News from around the world is packaged into short bulletins through the day, with longer programmes at lunchtime and in the evening. The news is presented by a trained journalist, who will usually write their own scripts with help from a small production team. News is collated from agency reports, video from external sources, live reports "in the field" and pre-recorded interviews. There is often a guest who can comment on a story.
Sports
Often technically complex (especially if broadcast live) television coverage of sporting events, or analysis programmes discussing the sports action. It's heavy on action replays, graphics and unscripted chat and there are many opportunities for travel.
If you want to find out more about a career in unscripted TV, download our careers maps which give details of the different roles available.
Or return to this site in the autumn when ScreenSkills will have created full job profiles of careers in the unscripted TV industry.