Unscripted TV
Receptionist
Also known as: Office admin, Office assistant, Office runner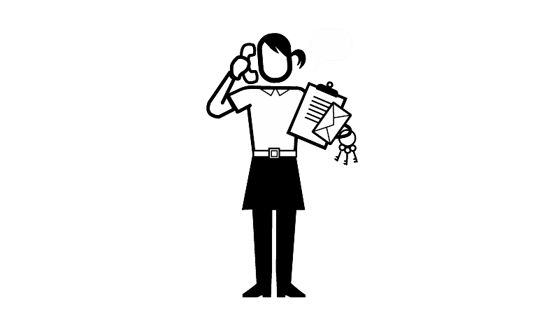 What does a receptionist do?
There is only one role in the entire industry that guarantees a person the chance to impress everyone in a company – and that's receptionist. A good receptionist enables everyone to do their job with the minimum amount of stress.
Many independent production companies and post-production companies use the receptionist role as one in which a new entrant can learn about the industry. It's expected that new entrants will make contacts and find their way into their chosen career from the receptionist position. Many go on to work as researchers, talent assistants and production secretaries.
Receptionists are the first point of contact in every company. Their role involves taking calls and feeding them through to the right departments, monitoring general enquiry emails, greeting guests and making them feel welcome. They are responsible for making sure deliveries get to the correct person or department and that when parcels are sent out by the company, the courier picks up the right package.
It's also the receptionist's responsibility to ensure the smooth running of the office. This includes ensuring office safety, monitoring maintenance and cleaning, maintaining office supplies and making sure everyone's specific needs are met – from their milk preferences to their favourite kind of pen. It's an exhausting but not exhaustive list and offers a great way to learn how a company operates from the ground up.
Watch and read
What's a receptionist good at?
Communication: have a friendly phone manner and personable attitude; you're the first point of contact for the company
Efficiency and time management: keep the office running smoothly, prioritise jobs, ensure a good working environment
Flexibility: be able to react to and pre-empt everything; the demands of a company will not always be known in advance
Patience: stay calm and polite
Learning by watching and asking: observe what's happening, take initiative, ask questions at the appropriate time
Who does a receptionist work with?
To put it simply, everyone – from being the first point of contact for all external enquiries to being the go-to person in the office to fix any and all issues. Each company organises itself differently, but usually receptionists report to an office manager.
How do I become a receptionist?
Get experience that demonstrates you are personable and well-organised, like volunteering in a charity shop or organising a student theatre production. If you want to use the position as a way into other roles, then show you are passionate about the industry. Learn what the production company makes and take a keen interest in it.
At school or college:
The best subjects to study at school or college depend to a large extent on where, ultimately, you would like to be. Go to ScreenSkills unscripted TV to find your dream job and see what A-levels and Highers are recommended; then follow that career path.
Alternatively, to become a receptionist, you can't go wrong with the following Level 3 vocational qualifications:
OCR Technical Diploma/Extended Diploma in Business

BTEC National Diploma/Extended Diploma in Business

AAT Advanced Diploma in Accounting

Diploma in Production Accounting for Film and Television

BTEC National Extended Diploma in Creative Digital Media Production.  

Aim Awards Diploma in Creative and Digital Media  

OCR Technical Diploma in Digital Media (Moving Image and Audio Production)  

BTEC National Diploma in Film and Television Production  

BTEC National Extended Diploma in Creative Digital Media Production  

UAL Diploma/Extended Diploma in Creative Media Production and Technology  
Get an apprenticeship:
Apprenticeships are jobs with training. Don't be afraid to get a receptionist apprenticeship in another industry. You can use that experience to become a receptionist with a production company at a later point.
These are the relevant apprenticeships that might be available throughout the UK:
Before taking any apprenticeship, check what you'll be learning with your prospective employer and college, so you can be sure it will give you the skills you want. Go to where can I find an apprenticeship? to learn how to find apprenticeships in your region, or approach companies directly.
Get a degree:
A degree is not always necessary for an entry level position such as this, so don't feel you have to go to university. If you decide it's the path for you, however, then don't be afraid to study the subject you love.
Have a look at ScreenSkills' list of recommended courses and select one in unscripted TV or search for "TV production". We recognise courses with our ScreenSkills Select award where they offer training in the relevant software, dedicated time to building a portfolio and have strong links with the unscripted TV industry.
Get work experience:
Try to get work experience by writing to local production companies and asking if they offer any. Keep an eye out for work experience opportunities at the BBC, ITV, Channel 4, Sky and the PACT Indie Diversity Training Scheme.
Look outside the industry:
As an entry level job in the screen industries (and therefore the most popularly applied for), listings for receptionist positions can often come with that frustrating tagline 'must have two years' experience in a similar role'. The responsibilities, however, will be similar in any industry, so don't be afraid to cast your net wide. The skills you learn will be transferable and you'll have more of a proven record than a film studies graduate looking for an easy foot in the door.
Take a short course:
Employers will look favourably on candidates who already have their own certificates in first aid and fire marshalling. As one of the constants in the office, it's great for a receptionist to be conscious of safety and good practice.
Network:
Get to know people in the unscripted TV industry by attending events. Meet professionals and ask them questions about their work, while demonstrating interest in and knowledge of the industry. Offer to provide them with your professional contact details and try to stay in touch with them. Go to how to network well to learn how to do this.
Network online:
Create a LinkedIn profile. See if there are Facebook pages or other social media groups for people making unscripted TV in your area. There might even be groups for runners and trainees. Join them. Create a ScreenSkills profile. There are a lot of crewing agencies that will charge you to be on their books. Sign up to the free ones initially. Wales Screen, Northern Ireland Screen and other areas offer free crew databases. Find a film office near you and get connected. If you do sign up to paid sites, make sure they specialise in the areas in which you're interested.
Search for jobs:
Research unscripted TV production companies that you'd like to work for and watch the programmes that they make. Regularly check their websites and job listings websites to see if they are advertising for roles. You can also send in a short speculative letter with your CV to the production manager. Register your CV on websites like The Talent Manager, which is used by most broadcasters and independent production companies when looking for staff. StartinTV offers tips on creating your CV and attending interviews, as well as some advice for your first day working in TV.
You might also be interested in...
Being a runner or personal assistant in the unscripted TV industry. You might also be interested in being a runner in the film and TV drama industry.
Further resources