Unscripted TV
Series producer
Also known as: Series editor, Series producer, Showrunner, SP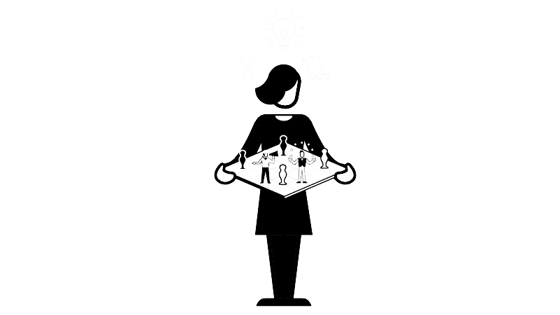 What does a series producer do?
Series producers (SPs) are responsible for the content of an entire series of programmes. They ensure shows are made as creatively as possible, honouring the contract between broadcaster and production company while adhering to the budget, hitting deadlines and meeting all legal, compliance, health and safety requirements.
They are usually one of the first people to join a new production and use their contacts and experience to recruit the best possible team. They often approach directors, producers and assistant producers they've worked with on previous productions. A series producer's team can vary in size and specialisms, depending on the type of production. They may need an archive producer for a history documentary, for example, or a casting producer to run a large casting team for a talent show, or a team experienced at live programming.
Series producers manage the editorial team and make all the content decisions, including which on-screen contributors, such as presenters or experts, should be put forward to the channel's commissioners (who usually have the final say). They drive all research, edit all scripts and oversee filming in the studio or on location, in the UK and abroad. It's their job to create a good working environment and they constantly communicate with everyone to make everything run smoothly. They have the ultimate legal responsibilities for the health and safety of the team and anyone involved in the making of their series. 
Series producers drive the key creative elements of a show, from specifying shooting styles to ensuring studio sets don't just look the part but can deliver the content. They oversee music choices, graphics and title sequences and drive the edit forward, ensuring the final programmes are polished and delivered on time.
On daily, consumer affairs or magazine-style programmes, this role is often known as 'series editor'. Very experienced series producers are also referred to as 'showrunners' as they run the show with less guidance and support from the executive producer. Series producers are almost always freelance, unless working for a very long-term production, and often specialise in certain genres.
Watch and read
What's a series producer good at?
Content: be full of and open to ideas, able to think laterally and creatively, have strong editorial judgement, skilled at spotting and dealing with legal or compliance issues
Contacts: have a large contacts book so as to recruit the best production team for the job, have excellent established relationships with presenters, agents, experts and TV commissioners
Communication: convey your creative and editorial vision and what you expect teams and departments to achieve and when, liaise confidently and professionally with TV commissioners and keep the executive producer up-to-date, manage expectations
Multi-tasking: juggle multiple shoots, multiple edits, multiple teams at multiple locations, work hard, often while on location
Problem solving: always have a plan 'B', be able to prioritise and make quick and effective decisions, take calculated risks, listen to others and be proactive
Who does a series producer work with?
Series producers work directly to the show's executive producer and together they have regular meetings at all stages of production with the channel commissioner to ensure the show is delivering the agreed content. SPs work with production management to ensure the show is within budget, properly staffed and on schedule. Day-to-day, they work with their editorial team, including directors, assistant producers, researchers, runners and digital teams. They liaise regularly with lawyers, both in-house at the production company and at the broadcaster, regarding any legal or compliance issues. Series producers, particularly those who work in the studio or on outside broadcasts, collaborate regularly with the production designer and art department, the crew and technical staff, hair, make-up and costume. Once a show is in an edit, they work with edit producers and post-production teams, giving feedback on edits and scripts. They also liaise with press and publicity departments to ensure their series has suitable media coverage.
How do I become a series producer?
Series producers generally start as runners or trainees in the production office and work their way up to becoming production coordinators and then series producers. If you already have many years' experience in unscripted TV, go to our Opportunities page to see if ScreenSkills' series producer programme is currently open for applications.
At school or college:
You can take A-levels or Highers in English, media studies and business studies to equip you with the skills needed for the role, but as with many roles in unscripted TV, it's just as important to choose subjects you have a passion for and want to make programmes about.
If you want to go straight into a job or apprenticeship, the following Level 3 vocational qualifications will equip you:
BTEC National Extended Diploma in Creative Digital Media Production
Aim Awards Diploma in Creative and Digital Media  
OCR Technical Diploma in Digital Media (Moving Image and Audio Production)  
BTEC National Diploma in Film and Television Production  
BTEC National Extended Diploma in Creative Digital Media Production  
UAL Diploma/Extended Diploma in Creative Media Production and Technology  
Get an apprenticeship:
An apprenticeship is a job with training, so it's a great opportunity to earn as you learn. It can also be a good way of getting into the TV industry. Go to ScreenSkills information on apprenticeships for the main apprenticeship schemes in television. If you can't find a role in TV, it might be worth finding on in a related industry such as theatre, journalism or video production. This will give you skills that you can then transfer into TV at a later point. Check out What's an apprenticeship?  to learn more about apprenticeships and find an apprenticeship to learn how to find one in your region, or approach companies directly.

Get a degree:
You don't need a degree to be a series producer, but you might want one. As with your A-levels and Highers, a degree in media or business will stand you in good stead, but so will an in-depth knowledge of a subject you love.
Alternatively, have a look at ScreenSkills' list of recommended courses and select one in unscripted TV or search for "TV Production". We recognise courses with our ScreenSkills Select award where they offer training in the relevant software, dedicated time to building a portfolio and have strong links with the unscripted TV industry.
Get work experience:
Try to get work experience by writing to local production companies and asking if they offer any. Keep an eye out for work experience opportunities at the BBC, ITV, Channel 4, Sky and the PACT Indie Diversity Training Scheme.
Look outside the industry:
One of the key skills of a series producer is being a people and project manager. If you find yourself outside the industry, try to get a job that can demonstrate these transferable skills. Is there a project within the company that you can take ownership of and see it through to completion?
Take a short course:
Taking that next step up can sometimes feel vague, but there are lots of short courses that can help you polish the necessary skills.
Hone your skills in series producing by taking a specialist course. Go to the list of training courses recommended by ScreenSkills.
Network:
Get to know people in the unscripted TV industry by attending events. Meet professionals and ask them questions about their work, while demonstrating interest in and knowledge of the industry. Offer to provide them with your professional contact details and try to stay in touch with them. Go to how to network well to learn how to do this.
Network online:
Create a LinkedIn profile. See if there are Facebook pages or other social media groups for people making unscripted TV in your area. There might even be groups for runners and trainees. Join them. Create a ScreenSkills profile. There are a lot of crewing agencies that will charge you to be on their books. Sign up to the free ones initially. Wales Screen, Northern Ireland Screen and other areas offer free crew databases. Find a film office near you and get connected. If you do sign up to paid sites, make sure they specialise in the areas in which you're interested.
Search for jobs:
Research unscripted TV production companies that you'd like to work for and watch the programmes that they make. Regularly check their websites and job listings websites to see if they are advertising for roles. You can also send in a short speculative letter with your CV to the head of talent. Register your CV on websites like The Talent Manager, which is used by most broadcasters and independent production companies when looking for staff. StartinTV offers tips on creating your CV and attending interviews, as well as some advice for your first day working in TV.
You might also be interested in…
Being a series director or production executive in the unscripted TV industry. You might also be interested in being a producer in the film and TV drama industry. Alternatively, you could consider being a games producer in the games industry.
Further resources