Unscripted TV
Costume supervisor
Also known as: Wardrobe supervisor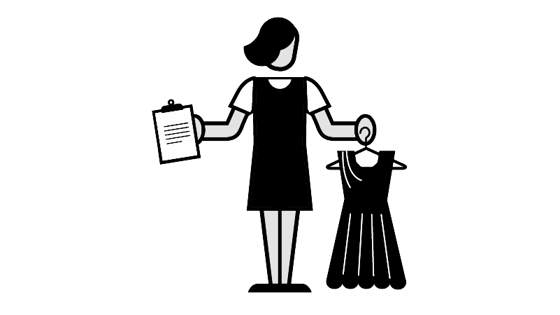 What does a costume supervisor do?
Costume supervisors keep everything shipshape in the 'wardrobe department' and thrive on being organised. They work mainly on very big multi-camera shows that require multiple outfits, such as talent competitions and game shows. Working to the costume designer's plans, they coordinate the work of the department, work out what clothes and accessories need to be made, hired or bought, what staff are needed and where. They also organise storage and supervise the tasks that need doing to ensure all work is done to schedule and budget.
Costume supervisors work with the costume designer to ensure costumes or outfits are of the standard they require, ready and prepared in time for fittings, rehearsals, recordings or live shows. During filming, they supervise continuity of outfits, the cleaning, maintenance and any repairs or adjustments. When filming is over, they supervise any cleaning, repairing and returns.
Costume supervisors are usually freelance, unless attached to large in-house art departments.
What's a costume supervisor good at?
Organisation: schedule the costume production or hire, maintenance, repairs and adjustments, oversee the department budget and the petty cash
Leadership: manage large teams of people with different skills and responsibilities, deliver costumes and outfits when required, meeting department and production deadlines
Communication: work well with others and have good relationships with designers, PR (public relations) and brands who may supply clothing or costumes, explain clearly to staff what's expected of them
Dressmaking and tailoring: draw, sew, make and source clothes, including fabrics and accessories
Knowledge of design: be aware of the history of design and costume, understand colour, pattern and texture
Who does a costume supervisor work with?
A costume supervisor typically spends most of their time in their own department, overseeing the creating, sourcing, adjusting, maintenance, cleaning and repair of outfits. They work closely with the costume designer to ensure the team they manage makes the costumes or outfits the designer wants and will often work with the same designer on all their big productions. They may work closely with the hair and make-up team, particularly if wigs are required. 
Costumes supervisors have regular updates with the production management team regarding budgets and schedules. They have contact with studio and technical staff and members of editorial and production to ensure all needs are being met.
How do I become a costume supervisor?
If you want to go to university, A-levels or Highers in art and design, fashion, textiles, theatre studies, graphic design or graphic communication are useful.
If you want to go straight into a job or apprenticeship, the following Level 3 vocational qualifications will equip you:
NCFE Applied General Certificate in Art and Design
BTEC National Diploma/Extended Diploma in Art and Design
UAL Applied General Diploma/Extended Diploma in Art and Design
OCR Cambridge Technical Diploma in Art and Design (3D Design)
OCR Cambridge Technical Diploma in Art and Design (Graphic Design)
OCR Cambridge Technical Diploma in Art and Design (Photography)
BTEC National Diploma in 3D Design and Crafts
BTEC National Diploma in Fashion Design and Production
BTEC National Diploma in Photography
UAL Diploma/Extended Diploma in Art and Design
Get an apprenticeship:
An apprenticeship is a job with training, so it's a great opportunity to earn as you learn. In the past, it has been challenging to find jobs as an apprentice within production companies, although there is now a costume performance technician apprenticeship standard specifically designed for people working in theatre or film and TV. It might be worth looking for a job as an apprentice in an industry that uses similar skills, such as being a tailor for a clothing designer or tailoring company. Try to hone your skills through an apprenticeship in fashion and textiles or costume and wardrobe. You can then transfer into television at a later point so long as you create a portfolio, keep up your interest and develop your contacts. Check out What's an apprenticeship?  to learn more about apprenticeships and find an apprenticeship to learn how to find one in your region, or approach companies directly. Go to ScreenSkills information on apprenticeships for the main apprenticeship schemes in television.

Build a portfolio:
This is essential. Go to build your costume portfolio for specific advice on ways of impressing admissions tutors and costume designers.
Get a degree:
Have a look at ScreenSkills' list of recommended courses and select one in unscripted TV or search for "costume". We recognise courses with our ScreenSkills Select award where they offer training in the relevant software, dedicated time to building a portfolio and have strong links with the unscripted TV industry.
Get work experience:
Try to get work experience by writing to local production companies and asking if they offer any. Keep an eye out for work experience opportunities at the BBC, Channel 4, ITV, Sky and the PACT Indie Diversity Training Scheme.
Take a short course:
Hone your skills in costume and wardrobe by taking a specialist course. Go to the list of training courses recommended by ScreenSkills to see if there is one in pattern cutting, millinery or embroidery.
Network:
Get to know people in the unscripted TV industry by attending events. Meet professionals and ask them questions about their work, while demonstrating interest in and knowledge of the industry. Offer to provide them with your professional contact details and try to stay in touch with them. Go to how to network well to learn how to do this.
Network online:
Create a LinkedIn profile. See if there are Facebook pages or other social media groups for people making unscripted TV in your area. There might even be groups for runners and trainees. Join them. Create a ScreenSkills profile. There are a lot of crewing agencies that will charge you to be on their books. Sign up to the free ones initially. Wales Screen, Northern Ireland Screen and other areas offer free crew databases. Find a film office near you and get connected. If you do sign up to paid sites, make sure they specialise in the areas in which you're interested.
Search for jobs:
Research unscripted TV production companies that you'd like to work for and watch the programmes that they make. Regularly check their websites and job listings websites to see if they are advertising for roles. StartinTV offers tips on creating your CV and attending interviews, as well as some advice for your first day working in TV.
You might also be interested in…
Being a costume designer, production designer, prop master or production buyer in the film and TV drama industries.
Further resources