Unscripted TV
Development assistant producer
Also known as: Development AP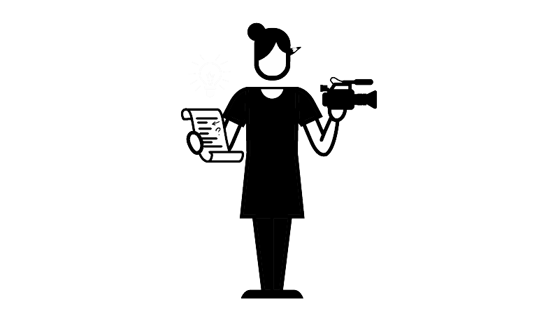 What does a development assistant producer do?
Development assistant producers are part of the team that comes up with the ideas that get transformed into TV programmes. They have lots of ideas themselves and a nose for a good story. They also research and flesh out briefs given to them by the development producer, using their contacts and industry knowledge gleaned from several years' experience.
They write well and help condense sprawling ideas into a packageable pitch. Depending on the type of programme they are developing, they may be responsible for filming and editing 'casting tapes', which are short interviews with potential new experts, presenters or members of the public. They may also be asked to shoot and edit a short 'taster tape', also known as a 'sizzle', to give the commissioner a taste of the content, style and tone of the show they are hoping to get commissioned. If they are working on the development of a new quiz show, they may have to write questions and test games or rounds to see if they work. 
Development assistant producers work across several projects at one time, all of which will be at a different point in their journey to our screens. They work either with independent production companies or broadcasters.
Read
What's a development assistant producer good at?
Knowledge of television: watch and have a genuine passion for factual TV, understand the current programming landscape, be able to identify gaps in the market and potential new trends
Research: be curious, identify areas or people of interest and back these up with facts, figures and potential audience
Communication: express ideas clearly, write well and help generate proposals that really sell a programme, convey what you need from researchers and runners
Working to briefs: respond to producer requests promptly and efficiently, listen to the demands and desires of various broadcasters and audiences and ensure these are delivered in pitches
Using shooting equipment and editing software: operate basic cameras, lights, and audio and editing packages to create casting tapes and visual references
Who does a development assistant producer work with?
Development assistant producers report to the development producer. On a day-to-day basis, they work most closely with the development researchers, brainstorming and test-driving ideas and delegating required research. They have regular contact with producers and executives or heads of the department and may on occasion join meetings with the commissioner.
How do I become a development assistant producer?
Most employers look for development assistant producers who either have previous experience as development researchers or who have worked as a researcher or assistant producer on factual productions.
At school or college:
You can take A-levels or Highers in English, media studies and any other subject you feel passionate about that you think could give you ideas.
If you want to go straight into a job or apprenticeship, the following Level 3 vocational qualifications will equip you:
BTEC National Extended Diploma in Creative Digital Media Production
Aim Awards Diploma in Creative and Digital Media
OCR Technical Diploma in Digital Media (Moving Image and Audio Production)
BTEC National Diploma in Film and Television Production
UAL Diploma/Extended Diploma in Creative Media Production and Technology
Get an apprenticeship:
An apprenticeship is a job with training, so it's a great opportunity to earn as you learn. You're unlikely to find an apprenticeship in the development department. However, you might want to find an apprenticeship with one of the broadcasters, as this is a good way into the industry. Go to ScreenSkills information on apprenticeships for the main apprenticeship schemes in television. Check out What's an apprenticeship?  to learn more about apprenticeships and find an apprenticeship to learn how to find one in your region, or approach companies directly.
Get a degree:
You don't need a degree to be a development assistant producer. If you want one, don't be afraid to follow your passion and study a subject you adore. After all, you could find inspiration for a programme in any field of study.
If you're interested in a degree more closely connected with the world of unscripted TV, you might want to have a look at ScreenSkills' list of recommended courses, though it's unlikely there will be one based solely around research. We recognise courses with our ScreenSkills Select award where they offer training in the relevant software, dedicated time to building a portfolio and have strong links with the unscripted TV industry.
Take a short course:
With the above in mind, perhaps you need to hone your self-shooting and editing skills by taking a specialist course. Go to the list of training courses recommended by ScreenSkills to see if there is one in these areas that will set you apart from other development researchers.
Network:
Get to know people in the unscripted TV industry by attending events. Meet professionals and ask them questions about their work, while demonstrating interest in and knowledge of the industry. Offer to provide them with your professional contact details and try to stay in touch with them. Go to how to network well to learn how to do this.
Network online:
Create a LinkedIn profile. See if there are Facebook pages or other social media groups for people making unscripted TV in your area. There might even be groups for runners and trainees. Join them. Create a ScreenSkills profile. There are a lot of crewing agencies that will charge you to be on their books. Sign up to the free ones initially. Wales Screen, Northern Ireland Screen and other areas offer free crew databases. Find a film office near you and get connected. If you do sign up to paid sites, make sure they specialise in the areas in which you're interested.
Search for jobs:
Research unscripted TV production companies that you'd like to work for and watch the programmes that they make. Regularly check their websites and job listings websites to see if they are advertising for roles. You can also send in a short speculative letter with your CV to the head of talent. Register your CV on websites like The Talent Manager, which is used by most broadcasters and independent production companies when looking for staff.
You might also be interested in…
Being an assistant producer in the unscripted TV industry.
Further resources