Unscripted TV
Archive producer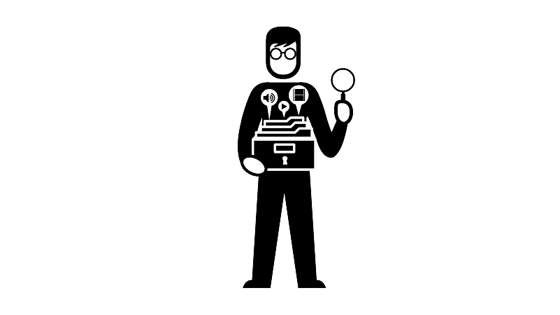 What does an archive producer do?
Many productions use footage in their programmes that they haven't filmed themselves; whether it's a festive rundown of the nation's favourite adverts, a hard-hitting documentary that needs more than just talking heads, or a history feature that requires very specific or rare footage. An archive producer is responsible for sourcing the appropriate footage and getting permission to use it.
The archive producer is often bought in early on a production as knowing what archive footage is available helps the producer structure the programme and plan the interviews, and the archive producer is also called upon in post-production to find footage to complete the film.
The briefs that archive producers work to can vary vastly in scope. They might be finding appropriate footage for a clip show or going through an outtake reel. On other occasions, they may be trawling through archives looking for specific features to support a factual programme. These can include news footage, viral videos, commercials, overseas programmes, film and music clips, published text; anything to illustrate a point. 
Once the archive producer has found the material the production needs, they are responsible for getting permission to use it. This might mean negotiating the rates and terms to acquire clearance (permission) for its use in the programme. It's important to get the correct permissions as otherwise the programme makers can be sued.
More often than not, archive producers are freelancers who can expect to work with anyone, from the big broadcasters to small independent production companies.
Watch and read
What's an archive producer good at?
Researching: find appropriate and entertaining material on even the most obscure topics, have a good editorial nose for what will or won't work
Creativity: take a different approach, know where to look when a brief seems unachievable, come up with novel ideas of footage and materials that could be used to illustrate a point
Tenacity: find that one perfect piece of footage, sometimes it can be like finding a needle in a haystack
Legal knowledge: understand copyright and clearance procedures to ensure productions are not sued
Negotiating: get the best price for the best clips and other material
Who does an archive producer work with?
On a production, the archive producer can expect to be led by the producer and will liaise regularly with production managers on cost and copyright clearance. On a day-to-day basis, they may manage a team of assistant producers and researchers if the programme requires a lot of archive, or their work can involve quite solitary hours of trawling through footage and images, although this will require contact and building close relationships with archivists and other visual licensing companies.
How do I become an archive producer?
Most archive producers have experience as archive researchers. Being a runner and then a researcher is a good route in. Some experience in the edit is also beneficial; understanding what does and doesn't work when you're cutting helps your search skills when seeking out appropriate footage. Some archive producers specialise in particular subjects while others work in a range of areas.
At school or college:
You can take A-levels or Highers in English, media studies or any subject you would be happy to specialise in. You may also wish to consider more traditionally research-based subjects such as history, or even business studies, which may help you with budgeting and basic legal knowledge. 
If you want to go straight into a job or apprenticeship, the following Level 3 vocational qualifications will equip you: 
BTEC National Extended Diploma in Creative Digital Media Production.
Aim Awards Diploma in Creative and Digital Media
OCR Technical Diploma in Digital Media (Moving Image and Audio Production)
BTEC National Diploma in Film and Television Production
BTEC National Extended Diploma in Creative Digital Media Production
UAL Diploma/Extended Diploma in Creative Media Production and Technology
OCR Technical Diploma/Extended Diploma in Business
BTEC Level 3 National Diploma/Extended Diploma in Business.
Get an apprenticeship:
An apprenticeship is a job with training, so it's a great opportunity to earn as you learn. There are a number of apprenticeship routes that could lead you into this role. Go to ScreenSkills information on apprenticeships for the main apprenticeship schemes in television. You're unlikely to find an apprenticeship as an archive producer, as such, but you might find one that can get you into the industry. Alternatively, check out post-production houses and see if they are offering apprenticeships. Post-production is another route into this role. It might also be worth finding an apprenticeship as an archive assistant in a film library. This will give you skills that you can then transfer into TV at a later point. Check out What's an apprenticeship?  to learn more about apprenticeships and find an apprenticeship to learn how to find one in your region, or approach companies directly.

Watch TV:
Obvious as it may sound, being an avid TV watcher, having an awareness of the media 'landscape' and having an opinion on what works and what doesn't work, makes for an invaluable starting point. Continuing these habits will stand you in good stead.
Volunteer:
Find film libraries near where you live and volunteer to help. Ask for work experience. You can start by looking at the British Film Institute's list of Regional and National Film Archives.
Get a degree:
Unscripted TV covers a broad spectrum of subjects and programming, so don't be afraid to follow your interests and study a subject that you like. Much like your A-levels or Highers, you may also find it useful to look at traditionally research-based subjects or media studies.
If you're interested in a degree more closely connected with the world of unscripted TV, you might want to have a look at ScreenSkills' list of recommended courses, although it's unlikely there will be one based solely around archives. We recognise courses with our ScreenSkills Select award where they offer training in the relevant software, dedicated time to building a portfolio and have strong links with the film and TV industries. 
Get a postgraduate degree:
You may wish to switch from archiving to production, so it could be worth looking at courses recognised by the Archives and Records Association.
Get work experience:
Try to get work experience by writing to local production companies and asking if they offer any. Keep an eye out for work experience opportunities at the BBC, ITV, Channel 4, Sky and the PACT Indie Diversity Training Scheme.
Look outside the industry:
Similar roles may be found in the publication and advertising industries. You may also benefit from gaining experience of archives themselves.
Take a short course:
You may be great at researching but need to brush up on your legal knowledge. Learn more about the use of copyrights in TV by taking a specialist course. Check out the list of training courses recommended by ScreenSkills.
Network:
Get to know people in the unscripted TV industry by attending events. Meet professionals and ask them questions about their work, while demonstrating interest in and knowledge of the industry. Offer to provide them with your professional contact details and try to stay in touch with them. Go to how to network well to learn how to do this.
Network online:
Create a LinkedIn profile. See if there are Facebook pages or other social media groups for people making unscripted TV in your area. There might even be groups for runners and trainees. Join them. Create a ScreenSkills profile. There are a lot of crewing agencies that will charge you to be on their books. Sign up to the free ones initially. Wales Screen, Northern Ireland Screen and other areas offer free crew databases. Find a film office near you and get connected. If you do sign up to paid sites, make sure they specialise in the areas in which you're interested.
Search for jobs:
Research unscripted TV production companies that you'd like to work for and watch the programmes that they make. Regularly check their websites and job listings websites to see if they are advertising for roles. You can also send in a short speculative letter with your CV to the head of talent. Register your CV on websites like The Talent Manager, which is used by most broadcasters and independent production companies when looking for staff. StartinTV offers tips on creating your CV and attending interviews, as well as some advice for your first day working in TV.
You might also be interested in…
Being a researcher or digital producer in the unscripted TV industry. You might also be interested in being an archivist the film and TV drama industries.
Further resources