Unscripted TV
Floor manager
Also known as: FM, Stage manager, Outside broadcast stage manager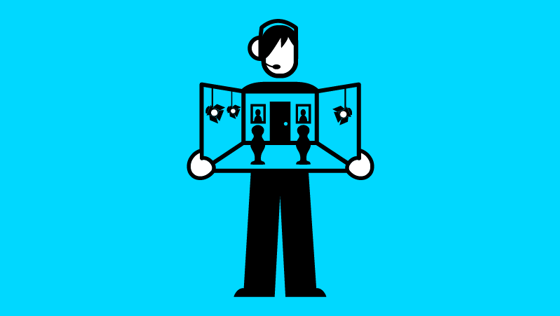 What does a floor manager do?
The floor manager, on a studio production, is the eyes and ears of the director on the studio floor. They are there before rehearsals begin, making sure the studio is prepared and safe and greeting the programme's presenters and contributors. If they are good, the floor manager will be ahead of the director, liaising with cameras, lighting and sound to make sure each sequence is ready to rehearse. On a big show, such as a live entertainment programme or major national event, they have floor assistants and floor runners to help them.
The term 'floor' derives from a studio floor, but even on an outside broadcast where the 'floor' might be a football stadium, a field or a cathedral, the term 'floor manager' is sometimes still used. More commonly, the role might be known as 'stage manager' or 'outside broadcast stage manager'.
In a studio production, floor managers hold safety briefings before rehearsals start. If there's an audience, they work with audience services to make sure everyone is seated in good time. This is important as studio time is precious and settling an audience often causes delays.  Many shows don't have a warm-up artist, so the floor manager communicates with the audience, explaining why it's necessary to repeat a sequence, for example. Audiences can get bored very quickly if they don't know what's happening.  
As well as managing the relationship with the audience, floor managers take care of everyone on the floor. Presenters can be nervous, contributors sometimes feel overwhelmed and a politician or celebrity might be making demands before the recording begins. The floor manager must handle all this, helping people to stay calm and remaining diplomatic and helpful.
Some floor managers go on to direct or produce programmes themselves, but many are very happy to run the studio floor, or the outside broadcast location, where they can be right at the heart of the programme.
Watch
What's a floor manager good at?
Communication: set the tone for the floor, keep everyone's spirits up, explain what's needed clearly to experienced presenters and people who have never been on TV before, talk to the audience in a way that informs and entertains
Staying calm under pressure: think quickly in an often live, fast-paced and changing TV environment, be firm but always polite
Multitasking: listen to the director at the same time as being alert to what's happening on the floor and talking to presenters and guests


Diplomacy: be tactful, pacify heightened moods, choose the right words at the right time


Health and safety: be aware of the safety issues on a floor, know how to mitigate risk and take responsibility for the wellbeing of those involved
Who does a floor manager work with?
During rehearsal, a floor manager works with the director, presenters, guests and crew to ensure everyone knows what they are doing. Once the programme is running, whether live or a recording, the floor manager is usually close to the presenter and guests, guiding them through the show. The director or production assistant usually speaks directly to the presentation team through earpieces, but the floor manager also counts the presenter into a sequence and cues them, as it's always possible for earpieces to not work perfectly. Floor managers also work closely with their teams of floor assistants, floor runners and make-up.  No one should enter the studio area without checking with the floor manager first.
How do I become a floor manager?
Floor managers can work their way up through 'floor teams', working as floor runners, floor assistants and then eventually floor managers. A background in being a camera operator can also allow you to side-step into floor management.


At school or college:
You can take A-levels or Highers in any subject you're interested in.
If you want to go straight into a job or apprenticeship, the following Level 3 vocational qualifications will equip you:
BTEC National Extended Diploma in Creative Digital Media Production
Aim Awards Diploma in Creative and Digital Media 
OCR Technical Diploma in Digital Media (Moving Image and Audio Production) 
BTEC National Diploma in Film and Television Production 
UAL Diploma/Extended Diploma in Creative Media Production and Technology 
Get an apprenticeship:
Apprenticeships are jobs with training. They're a great opportunity to earn while you learn. You're unlikely to find an apprenticeship in floor management as such, but you might be able to find one that gets you into broadcasting or production. To find out more, go to what's an apprenticeship?. Go to where can I find an apprenticeship? to learn how to find apprenticeships in your region, or approach companies directly. Find the major broadcaster schemes using the apprenticeships  filter in information and resources.
Volunteer:
Entry-level positions may still require some experience. Put yourself out there and try to get any experience you can. Maybe volunteer to be a stage manager with an amateur theatre company or an assistant at a festival.
Get a degree:
You don't need a degree to be a floor manager, but if you decide that university is the right path for you then don't be afraid to study a subject you really enjoy.
If you want to focus on TV production, have a look at ScreenSkills' list of recommended courses and select one in unscripted TV. We recognise courses with our ScreenSkills Select award where they offer training in the relevant software, dedicated time to building a portfolio and have strong links with the unscripted TV industry.
Get work experience:
Try to get work experience by writing to local production companies and asking if they offer any. Keep an eye out for work experience opportunities at the BBC, ITV, Channel 4, Sky and the PACT Indie Diversity Training Scheme.
Network:
Get to know people in the unscripted TV industry by attending events. Meet professionals and ask them questions about their work, while demonstrating interest in and knowledge of the industry. Offer to provide them with your professional contact details and try to stay in touch with them. Go to how to network well to learn how to do this.
Network online:
Create a LinkedIn profile. See if there are Facebook pages or other social media groups for people making unscripted TV in your area. There might even be groups for runners and trainees. Join them. Create a ScreenSkills profile. There are a lot of crewing agencies that will charge you to be on their books. Sign up to the free ones initially. Wales Screen, Northern Ireland Screen and other areas offer free crew databases. Find a film office near you and get connected. If you do sign up to paid sites, make sure they specialise in the areas in which you're interested.
Search for jobs:
Research unscripted TV production companies that you'd like to work for and watch the programmes that they make. Regularly check their websites and job listings websites to see if they are advertising for roles. You can also send in a short speculative letter with your CV to the production manager or talent manager, depending on what kind of role you prefer. Register your CV on websites like The Talent Manager, which is used by most broadcasters and independent production companies when looking for staff. StartinTV offers tips on creating your CV and attending interviews, as well as some advice for your first day working in TV.
You might also be interested in…
Being a logger or personal assistant in the unscripted TV industry. You might also be interested in being a floor runner or production runner in the film and TV drama industries.
Further resources