Unscripted TV
Hair and make-up artist
Also known as: Hair and make-up artist stylist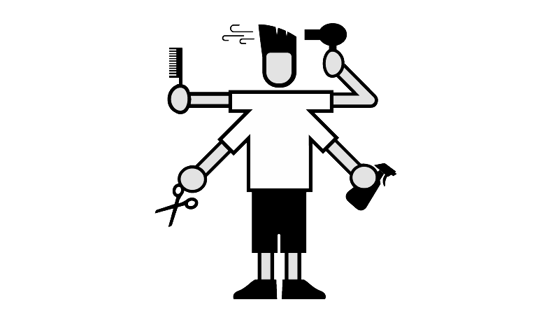 What does a hair and make-up artist do?
The hair and make-up artist is the person you'll want to know if you are going to appear on TV; they are responsible for making sure you look your very best.
On big productions, especially in entertainment, which often has more people appearing on screen, there may be several hair and make-up artists working together. They often work in pairs, with one a specialist in hair, the other in make-up. On small productions, they may do both jobs and work alone, or with an assistant. They test looks with performers, checking for allergies or sensitivities before filming begins.
Hair and make-up artists need to work with the costume department to ensure they create a cohesive look. They also work with the lighting department to consider how lights will impact on the appearance of skin and hair, as well as with the sound department if microphones are to be placed in hair. 
They ensure all hair and make-up is done on time, and once filming starts they are often on set to touch up hair and make-up. They may also take notes and photos for continuity. When filming is over, they oversee the removal of any wigs, make-up or products. 
Many hair and make-up artists form very close relationships with presenters, celebrities and production teams and work with them on all their productions and other commercial work they may undertake. They are usually freelance, unless attached to large in-house art departments.
Read
What's a hair and make-up artist good at?
Styling hair: work with every type of hair, including wigs, extensions and facial hair and use hair accessories, products and equipment, have an eye for detail and an ability to work fast
Make-up: understand colour, shading, skin tone and texture, use make-up both for dramatic effect and simply to enhance features, hide blemishes and address skin problems; ensure make-up looks good under lights and doesn't run, consider entire appearances, including hands, nails and any visible skin
Knowledge of products: be up-to-date and able to use the latest products and equipment safely and effectively, understand allergies, how to test and what to do should a client react adversely
Communication: work well with others, listen and respond to presenters' or contributors' needs, be trustworthy, have good relationships with PR and brands who may supply products
Organisation: ability to work on a number of different projects at the same time, all with tight schedules and deadlines
Who does a hair and make-up artist work with?
Hair and make-up artists report to hair and make-up designers on big productions, but on smaller shows may work alone and collaborate with other departments, especially costume, lighting and sound. Later in the process they have contact with studio and technical staff, members of production and the production management team regarding budgets and schedules. They will often work with an assistant. Hair and make-up artists are usually freelance.
How do I become a hair and make-up artist?
Hair and make-up artists usually enter the industry through one of three routes: from hairdressing and barbering, from beauty therapy or from stage and theatre hair and make-up backgrounds. Whatever the route, you will need to start off as a hair and make-up assistant and work your way into the positions of hair and make-up artist. Go to the hair and make-up assistant profile for full details on how to find your way in.
At school or college:
Take one of the following Level 3 qualifications:
VTCT Diploma in Theatrical and Media Make-up
City & Guilds Advanced Technical Diploma in Theatrical, Special Effects and Media Make-up Artistry
City & Guilds Advanced Technical Diploma in Barbering
City & Guilds Advanced Technical Diploma in Hairdressing
City & Guilds Advanced Technical Diploma in Media Make-up Artistry
City & Guilds Diploma in Barbering
City & Guilds Diploma in Hairdressing for Colour Technicians
City & Guilds Diploma in Hairdressing for Cutting and Styling Technicians
City & Guilds Diploma in Women's Hairdressing
VTCT Diploma in Hairdressing for Colour Technicians
VTCT Diploma in Theatrical and Special Effects and Hair and Media Make-up
VTCT Diploma/Extended Diploma in Beauty Make-up Techniques
VTCT Diploma/Extended Diploma in Hairdressing
VTCT Diploma/Extended Diploma in Barbering
VTCT Combined Diploma in Hairdressing
Get an apprenticeship:
An apprenticeship is a job with training, so it's a great opportunity to earn as you learn. However, it can be challenging to find jobs as an apprentice within production companies. It might be worth looking for a job as an apprentice in barbering or hairdressing, in the beauty industry or in theatre. This will help you develop your craft and create a body of work for a portfolio that you can use to find your way into television at a later point. Check out What's an apprenticeship?  to learn more about apprenticeships and find an apprenticeship to learn how to find one in your region, or approach companies directly. Go to ScreenSkills information on apprenticeships for the main apprenticeship schemes in television.

Volunteer:
Volunteer to do hair and make-up for student films or amateur theatre. The more time you can spend doing hair or make-up, the better. Work on a make-up concession or in a photographic studio. Get a part-time job in a hair salon or barber shop. The more you can demonstrate having the necessary skills, the better.
Build a portfolio:
This is essential. Go to build your hair and make-up portfolio for details of how to do this.
Get work experience:
Try to get work experience by writing to hair and make-up professionals and asking if they offer any. Keep an eye out for work experience opportunities at the BBC, ITV, Channel 4, Sky and the PACT Indie Diversity Training Scheme.
Take a short course:
Hone your skills in hair and make-up by taking a specialist course. Go to the list of training courses recommended by ScreenSkills to see if there is one in hair and make-up. We recognise courses with our ScreenSkills Select award where they offer training in the relevant software, dedicated time to building a portfolio and have strong links with the TV industry
Network:
Get to know people in the unscripted TV industry by attending events. Meet professionals and ask them questions about their work, while demonstrating interest in and knowledge of the industry. Offer to provide them with your professional contact details and try to stay in touch with them. Go to how to network well to learn how to do this.
Network online:
Create a LinkedIn profile. See if there are Facebook pages or other social media groups for people making unscripted TV in your area. There might even be groups for runners and trainees. Join them. Create a ScreenSkills profile. There are a lot of crewing agencies that will charge you to be on their books. Sign up to the free ones initially. Wales Screen, Northern Ireland Screen and other areas offer free crew databases. Find a film office near you and get connected. If you do sign up to paid sites, make sure they specialise in the areas in which you're interested.
Search for jobs:
Research unscripted TV production companies that you'd like to work for and watch the programmes that they make. Regularly check their websites and job listings websites to see if they are advertising for roles. You can also send in a short speculative letter with your CV to the production manager. Register your CV on websites like The Talent Manager, which is used by most broadcasters and independent production companies when looking for staff. StartinTV offers tips on creating your CV and attending interviews.
You might also be interested in…
Being a hair and make-up designer in film and TV drama.
Further resources