Unscripted TV
Question producer
Also known as: Questions editor, Quiz producer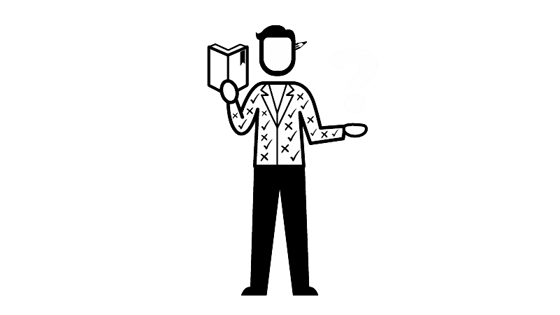 What does a question producer do?
Does a question producer: a) write questions for game/quiz shows; b) fact-check answers; c) verify contestants' answers; or d) all of the above?
If you answered 'd', then, congratulations, you've won one million pou-… Well, no you've not, but you do have a pretty good idea of what a question producer does.
Question producers have great general knowledge and an appreciation for TV quiz and game shows. They are good at researching a broad range of subjects efficiently and ensuring the information they and their team provide is factually correct. They are organised and thorough, keeping logs of multiple and reputable sources for the questions that their team have written. They need to have an in-depth understanding of the format of the particular programme they're working on and ensure the questions have the right tone, theme and length required by the series producer. On long-running shows, they also need to be sure they're not repeating questions from previous series. They help develop and establish the number of questions needed per episode, the varying levels of difficulty between rounds, the scoring system and more.
Fairness in quiz and game shows is paramount, especially when prizes are involved. The question producer makes sure questions are clear and fair, with no room for misinterpretation. Equally, they and their team make sure that answers are indisputable.
When filming is under way, they work quickly behind the scenes, verifying answers given by players, tallying results and being the first port of call should any contestants challenge a given answer. They will often liaise with an independent adjudicator to ensure fairness.
Question producers are often staff at independent companies who make a lot of entertainment shows but are employed as freelancers on specific productions. 
Watch and read
What's a question producer good at?
Communication: have an ear for the tone of each programme and the language skills to write questions in this manner, be able to write clearly, avoiding any possibility of misinterpretation
Adaptability: meet the varying workload of different programmes with different formats
Objectivity: gauge difficulty based on the programme's brief rather than your own knowledge
Research: find obscure information and use multiple, reliable sources to verify it
General knowledge: be naturally curious and have a passion for knowledge
Creativity: find novel ways to treat often well-trodden subjects
Who does a question producer work with?
On a day-to-day basis, a question producer manages a team of question assistant producers, writers and researchers. They take their lead from the series producer of each programme and are in regular contact with external verifiers to ensure that no mistakes are made or missed.
How do I become a question producer?
Most productions look for people with previous experience as question writers and researchers. Many work their way up into this role, starting as a runner and going on to become a researcher. It's sometimes been known for people to join these teams as a result of impressing as test contestants.
At school or college:
You can take A-levels or Highers in English, media studies or any subject you feel passionate about. After all, beyond one round in Mastermind it's rare that an entire quiz will be on just one topic.
If you want to go straight into a job or apprenticeship, the following Level 3 vocational qualifications will equip you: 
BTEC National Extended Diploma in Creative Digital Media Production.

Aim Awards Diploma in Creative and Digital Media

OCR Technical Diploma in Digital Media (Moving Image and Audio Production)

BTEC National Diploma in Film and Television Production

BTEC National Extended Diploma in Creative Digital Media Production

UAL Diploma/Extended Diploma in Creative Media Production and Technology

Get an apprenticeship:
An apprenticeship is a job with training, so it's a great opportunity to earn as you learn. It can also be a good way of getting into the TV industry. Go to ScreenSkills information on apprenticeships for the main apprenticeship schemes in television. If you can't find a role in TV, it might be worth finding on in a related industry such as theatre, journalism or video production. This will give you skills that you can then transfer into TV at a later point. Check out What's an apprenticeship?  to learn more about apprenticeships and find an apprenticeship to learn how to find one in your region, or approach companies directly.

Get a degree:
You don't need a degree to be a question producer, but you may want one. Research-based degrees will set you in good stead for hours of fact-finding, but don't be afraid to follow your passion and study a subject you adore.
If you're interested in a degree more closely connected with the world of unscripted TV, you might want to have a look at ScreenSkills' list of recommended courses, although it's unlikely there will be one based solely around research. We recognise courses with our ScreenSkills Select award where they offer training in the relevant software, dedicated time to building a portfolio and have strong links with the film and TV industries. 
Get work experience:
Try to get work experience by writing to local production companies and asking if they offer any. Keep an eye out for work experience opportunities at the BBC, ITV, Channel 4, Sky and the PACT Indie Diversity Training Scheme.
Endemol Shine also runs its Brightbulb programme, a 12-week paid internship for eight entry level candidates.   
Watch TV:
Obvious as it may sound, being a TV junkie, having an awareness of the landscape and having an opinion on what works and what doesn't work is an invaluable starting point, and a habit that will stand you in good stead.
Network:
Get to know people in the unscripted TV industry by attending events. Meet professionals and ask them questions about their work, while demonstrating interest in and knowledge of the industry. Offer to provide them with your professional contact details and try to stay in touch with them. Go to how to network well to learn how to do this.
Network online:
Create a LinkedIn profile. See if there are Facebook pages or other social media groups for people making unscripted TV in your area. There might even be groups for runners and trainees. Join them. Create a ScreenSkills profile. There are a lot of crewing agencies that will charge you to be on their books. Sign up to the free ones initially. Wales Screen, Northern Ireland Screen and other areas offer free crew databases. Find a film office near you and get connected. If you do sign up to paid sites, make sure they specialise in the areas in which you're interested.
Search for jobs:
Research unscripted TV production companies that you'd like to work for and watch the programmes that they make. Regularly check their websites and job listings websites to see if they are advertising for roles. You can also send in a short speculative letter with your CV to the head of talent. Register your CV on websites like The Talent Manager, which is used by most broadcasters and independent production companies when looking for staff. StartinTV offers tips on creating your CV and attending interviews, as well as some advice for your first day working in TV.
You might also be interested in...
Being a games producer or development producer in the unscripted TV industry.
Further resources