Unscripted TV
Edit producer (Unscripted TV)
Also known as: EP, Series edit producer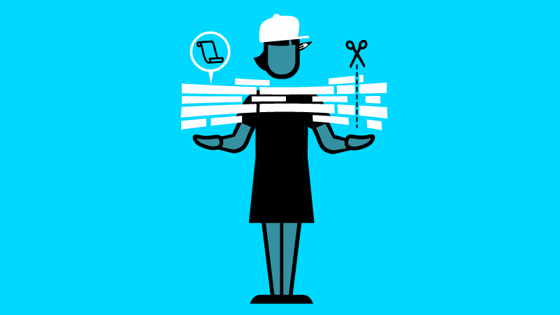 What does an edit producer do?
Edit producers have different roles depending on the type of programme being made. The role can be quite different depending on whether the edit producer is working on a documentary, or live outside broadcast, for example.
On a documentary edit producers take all the shot footage, known as 'rushes', and put the best bits together to create a polished, complete programme. They work with an editor who has technical as well as story-telling skills. 
Rushes are usually captured on different memory cards and shot at different times and by different directors. They all get transferred, or ingested, into the edit suite and a logger lists what was shot on which card number, and at what timecode the footage can be found. Edit producers use those logs to help them find what they need.
They often start by putting all the material on a very long timeline so they can see what's been shot, the style used, and how a story has been told. They then edit the timeline down, selecting the best takes and finding appropriate GVs (general views) such as wide shots of the location or close-ups. The footage might include interviews and archive, with the addition of graphics and music if needed. They usually write a guide script as they go and record it into the programme timeline, which helps to tell the story that they are cutting and which eventually will become the script read by the presenter or a voiceover artist. They are responsible for making sure the finished programme runs to the required duration. 
For a magazine programme, they may be required to cut lots of short films, known as VTs, and make sure they are ready to go and be introduced by the presenters. For observational documentaries, they might cut without a recorded script, relying on the footage alone to tell a full story. On a live entertainment programme created in a studio or an event at an outside broadcast, they may be overseeing a number of edit suites, making sure the pre-prepared films are ready to go. They are also responsible for overseeing the editing of highlights packages that are produced while the programme is on air.
Very experienced edit producers may oversee an entire series, creating an overall style and carrying a narrative over several episodes, guiding a team of edit producers who cut individual episodes. They are known as series edit producers. Edit producers are mainly freelance.
Watch
Desiree Ivegbuna talks about being an assistant editor, a role that can lead to becoming an editor or an edit producer.
What's an edit producer good at?
Storytelling: craft a story and create a compelling narrative that takes viewers on a journey
Scripting: write clear, factually correct scripts that are in keeping with the tone and style of show
Producing and directing: understand the filming process, be able spot what may need re-shooting or key content that's missing and needs picking up
Adaptability: be able to work on a variety of factual programming, capture the tone and create a style
Compliance and copyright knowledge: know where to source additional material and the process required to allow its use, work to compliance and legal guidelines
Who does an edit producer work with?
An edit producer works directly to the series producer. On a day-to-day basis they work with an editor, and will occasionally be joined by an executive producer and a channel commissioner who watch the show and give feedback. They may also liaise with the producer or director who shot the material, as well as researchers, assistant producers and the production management team when looking for and clearing archive or copyright material.
How do I become an edit producer?
Edit producers tend to come up through production, starting as runners, then researchers, then assistant producers and then producer directors. Often, senior edit producers have been series producers who enjoy crafting final shows and no longer want to be on the road filming or running large teams.
At school or college:
You can take A-levels or Highers in any subject you enjoy, but English, media studies and film studies are relevant to this role.
If you want to go straight into a job or apprenticeship, the following Level 3 vocational qualifications will equip you: 
BTEC National Extended Diploma in Creative Digital Media Production
Aim Awards Diploma in Creative and Digital Media  
OCR Technical Diploma in Digital Media (Moving Image and Audio Production)  
BTEC National Diploma in Film and Television Production  
BTEC National Extended Diploma in Creative Digital Media Production  
UAL Diploma/Extended Diploma in Creative Media Production and Technology  
Get an apprenticeship:
An apprenticeship is a job with training, so it's a great opportunity to earn as you learn. There are a number of routes into this role. Go to ScreenSkills information on apprenticeships for the main apprenticeship schemes in television. One of those would get you into TV and you could go onto become an edit producer from there. Alternatively, you might want to try to find an apprenticeship with a post-production house. Check out What's an apprenticeship?  to learn more  about apprenticeships and find an apprenticeship to learn how to find one in your region, or approach companies directly.

Get a degree:
You don't need a degree to be an edit producer, but if you want one, any subject you love will stand you in good stead. Or you might want to have a look at ScreenSkills' list of recommended courses and select one in unscripted TV or search for "TV Production". We recognise courses with our ScreenSkills Select award where they offer training in the relevant software, dedicated time to building a portfolio and have strong links with the unscripted TV industry. 
Get work experience:
Try to get work experience by writing to local production companies and asking if they offer any. Keep an eye out for work experience opportunities at the BBC, ITV, Channel 4, Sky and the PACT Indie Diversity Training Scheme.
Take a short course:
Take a course in editing.  Go to the list of training courses recommended by ScreenSkills.
Network:
Get to know people in the unscripted TV industry by attending events. Meet professionals and ask them questions about their work, while demonstrating interest in and knowledge of the industry. Offer to provide them with your professional contact details and try to stay in touch with them. Go to how to network well to learn how to do this. 
Network online:
Create a LinkedIn profile. See if there are Facebook pages or other social media groups for people making unscripted TV in your area. There might even be groups for runners and trainees. Join them. Create a ScreenSkills profile. There are a lot of crewing agencies that will charge you to be on their books. Sign up to the free ones initially. Wales Screen, Northern Ireland Screen and other areas offer free crew databases. Find a film office near you and get connected. If you do sign up to paid sites, make sure they specialise in the areas in which you're interested. 
Search for jobs:
Research unscripted TV production companies that you'd like to work for and watch the programmes that they make. Regularly check their websites and job listings websites to see if they are advertising for roles. You can also send in a short speculative letter with your CV to the head of talent. Register your CV on websites like The Talent Manager, which is used by most broadcasters and independent production companies when looking for staff. StartinTV offers tips on creating your CV and attending interviews, as well as some advice for your first day working in TV.
You might also be interested in…
Being an editor in the film and TV drama industries, or being an editor in animation.
Further resources