Unscripted TV
Grip (Unscripted TV)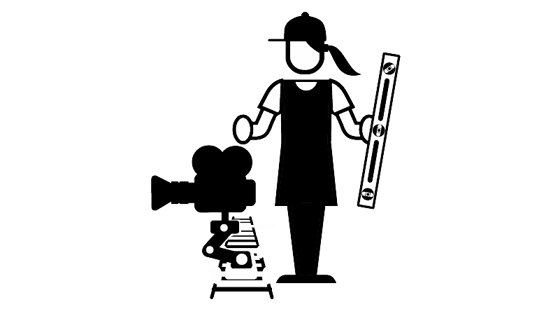 What does a grip do?
Grips are responsible for the equipment that supports the cameras, whether that be a tripod or a 100-foot crane. While the director is responsible for the artistry of the shots, grips work out how to position cameras so they move to achieve the desired effect. Whether they are setting up minicams in cars, cranes (jibs) or wheeled carts (a dolly), grips help achieve smooth, continuous shots. 
If filming is on location, they might go on a recce ahead of the shoot with the camera operator. They look at the practical issues of where cameras will be placed and work out what supports will be needed. Grips hire suitable equipment from rental companies and on occasion may have to work with them to devise tailor-made pieces of kit.
During filming, they set up the equipment and are responsible for helping the jib or dolly operator. At the end of a shoot, they are responsible for de-rigging and re-packing the camera equipment.
It's common for camera supervisors to request the services of grips with whom they have formed good relationships.
Read
What's a grip good at?
Knowledge of cameras: understand the technical requirements of cameras and support equipment, such as jib arms, and be up to date with the latest technology
Physical fitness: be prepared to lift and move heavy camera equipment frequently throughout a shoot
Communication: listen, do what's asked accurately, stay calm under pressure, pay close attention to detail, be able to explain and share pertinent information concisely
Organisation: schedule the equipment hire and return
Innovation: think of practical solutions to problems quickly
Who does a grip work with?
Grips work with the other members of the camera department to move and set up kit. These include camera supervisors, camera operators, jib operators and camera assistants. They also work directly with equipment rental companies, including staff such as kit room assistants.
How do I become a grip?
There's an established career route to becoming a grip in the UK.
Bectu, the media and entertainment union, has a dedicated grips branch which holds a list of certified grips. You need to get on to that list. You can do this by doing the following:
Join Bectu. Contact the Grips Branch to say that you want to become a trainee grip, and someone will get in touch with you.
Once you've had two years' experience as a grip, take a Level 2 Diploma in Professional Competence for Grips. This will mean you can get on to the list of certified grips.
When you've been qualified for another two or three years, take a Level 3 Diploma in Professional Competence for Advanced Grips.
At school or college:
You can take A-levels or Highers in any subjects, though maths and physics are good if you want to take an engineering degree.
If you want to go straight into a job or apprenticeship, the following Level 3 vocational qualifications will equip you:
Cambridge Technical Extended Certificate in Engineering
BTEC National Foundation Diploma in Engineering
BTEC National Diploma/Extended Diploma in Mechanical Engineering C&G Technical Award in Engineering
C&G Technical Certificate in Engineering
C&G Advanced Technical Certificate, Diploma/Extended Diploma in Engineering
EAL Technical Diploma/Extended Diploma in Engineering Technologies
OCR Cambridge Technical Diploma/Extended Diploma in Mechanical Engineering (VRQ)
BTEC Level 3 National Diploma in Film and Television Production
OCR Technical Diploma in Digital Media (Moving Image & Audio Production)
Get an apprenticeship:
An apprenticeship is a job with training, so it's a great opportunity to earn as you learn. You can prepare yourself for becoming a grip through an apprenticeship. See if you can find one as a lifting technician or a live events rigger. Even if these aren't in the film and TV industries they can prepare you being a grip through developing skills that will make you handy on shoots at a later point. Check out What's an apprenticeship?  to learn more about apprenticeships and Find an apprenticeship to learn how to find one in your region, or approach companies directly. Go to ScreenSkills information on apprenticeships for the main apprenticeship schemes in television.

Work for an equipment company:
Contact rental companies like Proav, Gripvan, Panavision, ARRI and Chapman Leonard. Ask them if they have any openings for work experience of jobs as trainees or for work as kit room assistants. This is how many grips start out. Look at our advice on approaching employers to learn how to do this.
Get a degree:
You don't need a degree to become a grip, although studying engineering may give you useful skills for this role.
Network:
Get to know people in the unscripted TV industry by attending events. Meet professionals and ask them questions about their work, while demonstrating interest in and knowledge of the industry. Offer to provide them with your professional contact details and try to stay in touch with them. Go to Network well to learn how to do this.
Network online:
Create a LinkedIn profile. See if there are Facebook pages or other social media groups for people making unscripted TV in your area. There might even be groups for runners and trainees. Join them. Create a ScreenSkills profile. There are a lot of crewing agencies that will charge you to be on their books. Sign up to the free ones initially. Wales Screen, Northern Ireland Screen and other areas offer free crew databases. Find a film office near you and get connected. If you do sign up to paid sites, make sure they specialise in the areas in which you're interested.
You might also be interested in...
Being a grip in the film and TV drama industries.
Further resources