Unscripted TV
Talent assistant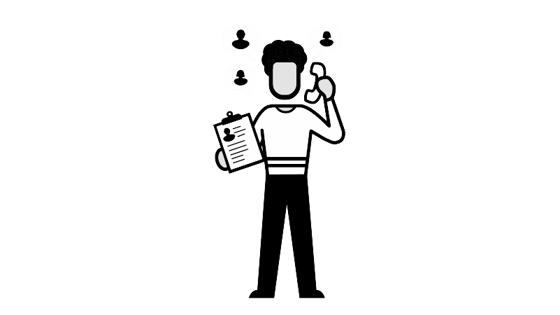 What does a talent assistant do?
Talent assistants help to recruit the team that will make a TV programme. They support the talent manager in an administrative role, although more experienced talent assistants may have some recruitment responsibilities themselves and in this instance are often known as talent executives. 
Talent assistants write brief job descriptions explaining the role and required skills, prepare adverts and post them on the company and other recruitment websites. They process emails, make and take calls and may conduct brief interviews to assess availability and suitability. They create a database of applications and a file of CVs.
They work with the talent manager to make a shortlist, which is handed to the series producer or production manager, who then decides who they want to interview. Talent assistants often then arrange interviews and provide feedback afterwards. If someone does well in interview, more experienced talent assistants call previous employers for references given by the interviewee to confirm the candidate has the experience, skills and attitude required for the job. They are responsible for flagging any potential concerns to senior staff before someone is contracted and are often required to find extra staff at the last minute.  
Talent assistants build their own contacts book as they go, and as they get more experienced are able to draw on this to help recruit the best people for the job. In larger production companies, senior talent assistants are often referred to as talent executives. In smaller companies, they can be freelance and brought in to assist with recruitment on a new production. They don't need a great deal of production experience at this level, but they do understand the various roles and pressures within a production.
What's a talent assistant good at?
Organising: be good at filing contacts and CVs, creating databases, scheduling interviews, preparing paperwork
Communication: be good at explaining roles, what you are looking for and what's required, interviewing and getting references
Building contacts: keep a diverse contacts book, have good relationships with other recruitment companies, talent managers and assistants and staff at all levels
Knowledge of production: understand production roles, required skills, the different challenges of working in offices, studios, on location and in the edit
Multi-tasking: be able to juggle recruitment for different programmes with different skill bases at various stages of production – all at the same time
Who does a talent assistant work with?
Talent assistants work directly to the talent manager and, day to day, with talent executives, series producers and production managers.  
How do I become a talent assistant?
Most talent assistants have previous experience in unscripted TV.  Try to get work as a runner, receptionist or personal assistant and the move into production before going into the talent department.
At school or college:
A-Levels or Highers in English, media studies, maths and business studies are useful for this role. Or you might just want to study whatever interests you most.
If you want to go straight into a job or apprenticeship, the following Level 3 vocational qualifications will equip you:
OCR Technical Diploma/Extended Diploma in Business
BTEC National Diploma/Extended Diploma in Business
Diploma in Production Accounting for Film and Television
BTEC National Extended Diploma in Creative Digital Media Production
Aim Awards Diploma in Creative and Digital Media
OCR Technical Diploma in Digital Media (Moving Image and Audio Production)
BTEC National Diploma in Film and Television Production
BTEC National Extended Diploma in Creative Digital Media Production
UAL Diploma/Extended Diploma in Creative Media Production and Technology
Get an apprenticeship:
Apprenticeships are jobs with training. They're a great opportunity to earn while you learn. Some of the major broadcasters offer apprenticeships. Check out the schemes with the BBC, ITV, Channel 4 and Sky.
Before taking any apprenticeship, check what you'll be learning with your prospective employer and college, so you can be sure it will give you the skills you want. Go to where can I find an apprenticeship? to learn how to find apprenticeships in your region, or approach companies directly.
Get a degree:
If you want to progress to become a talent manager, consider getting a degree in management, marketing or public relations (PR). Have a look at ScreenSkills' list of recommended courses and select one in unscripted TV or search for "TV production". We recognise courses with our ScreenSkills Select award where they offer training in the relevant software, dedicated time to building a portfolio and have strong links with the unscripted TV industry.
Get work experience:
Try to get work experience by writing to local production companies and asking if they offer any. Keep an eye out for work experience opportunities at the BBC ITV, Channel 4, Sky and the PACT Indie Diversity Training Scheme.
Look outside the industry:
Once you have a grounding of experience and knowledge in TV production, it may be useful to gain experience working in recruitment in a different industry and then return to work in unscripted TV with a view to becoming a talent manager.
Take a short course:
Improve your understanding of TV production by taking a specialist course. Go to the list of training courses recommended by ScreenSkills to see if there is one in TV production.
Network:
Get to know people in the unscripted TV industry by attending events. Meet professionals and ask them questions about their work, while demonstrating interest in and knowledge of  the industry. Offer to provide them with your professional contact details and try to stay in touch with them. Go to how to network well to learn how to do this.
Network online:
Create a LinkedIn profile. See if there are Facebook pages or other social media groups for people making unscripted TV in your area. There might even be groups for runners and trainees. Join them. Create a ScreenSkills profile. There are a lot of crewing agencies that will charge you to be on their books. Sign up to the free ones initially. Wales Screen, Northern Ireland Screen and other areas offer free crew databases. Find a film office near you and get connected. If you do sign up to paid sites, make sure they specialise in the areas in which you're interested.
Search for jobs:
Research unscripted TV production companies that you'd like to work for and watch the programmes that they make. Regularly check their websites and job listings websites to see if they are advertising for roles. Register your CV on websites like The Talent Manager, which is used by most broadcasters and independent production companies when looking for staff. StartinTV offers tips on creating your CV and attending interviews, as well as some advice for your first day working in TV.
You might also be interested...
Being a talent manager in the unscripted TV industry. You might also be interested in being a producer or executive producer in the film and TV drama or animation industries.
Further resources