Unscripted TV
Casting producer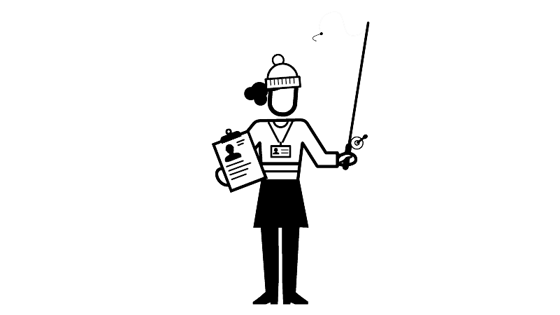 What does a casting producer do?
If you've ever wondered how TV companies find people to be on their shows, it's all down to the skill, imagination and hard work of the casting producer. Casting producers find the 'cast' for the programme, whether that be amateur cooks, gameshow contestants, people sharing problems with health, house-hunting or financial issues, or individuals with an incredible story to tell.
Casting producers need to understand everything about the show, the content, the channel and the time it will be transmitted, so they can cast a suitable and diverse range of people. They have a huge contacts book and spend hours on the phone and email to companies, agencies, societies and clubs, sending them 'casting' material like flyers and posters to communicate what sort of people a show is looking for and why. They create Facebook pages and application forms, building in data protection measures and taking into consideration the production's duty of care to any potential contributors.
They often lead a specialist casting team of assistant producers and researchers, organising roles, a schedule and overseeing the process. Once people start applying to take part, the casting producer decides who to interview. They usually record and edit the interviews, making short, concise 'taster tapes' along with a written research 'brief'. These get shown to the series producer and then the channel commissioner, who usually gives final sign-off.   
Casting producers stay in constant contact with a show's contributors, before, during and after filming, to ensure they are clear and happy about their role in the show and to deal with any concerns. They often have to deal with very sensitive issues. 
Casting producers are mainly freelance, but can be staff at some larger production companies that make a lot of factual entertainment programmes.  
Read
What's a casting producer good at?
Understanding people: have a natural interest in people, an ability to spot great characters, be a great communicator and know how to put people at ease
Research: have a great contacts book covering many different areas, know where to find the people with the potential to become a great contributor
Content: understand the audience, format and purpose of a show, know the type of people required and produce the most suitable and compelling cast
Organisation: manage a casting team and often a large number of applicants at various stages of a production
Caring: be concerned for the wellbeing of the cast, maintain regular contact to ensure they are happy with their involvement, store all personal contributor information safely and securely
Who does a casting producer work with?
A casting producer works directly to the series producer. On a day-to-day basis they manage a team of assistant producers and researchers. They may join meetings with commissioners.
How do I become a casting producer?
With such a specialist position there are a variety of routes. A good one is to start in an entry level role like a runner and work your way up to researcher, assistant producer and producer before specialising as a celebrity producer. You need to have a very good understanding of the production process and what makes good television.
At school or college:
You can take A-levels or Highers in any subjects you enjoy. You might like sociology or psychology if you want to focus on understanding people.
If you want to go straight into a job or apprenticeship, the following Level 3 vocational qualifications will equip you:
BTEC National Extended Diploma in Creative Digital Media Production
Aim Awards Diploma in Creative and Digital Media
OCR Technical Diploma in Digital Media (Moving Image and Audio Production)
BTEC National Diploma in Film and Television Production
UAL Diploma/Extended Diploma in Creative Media Production and Technology
BTEC National Extended Certificate in Applied Psychology
Get an apprenticeship:
An apprenticeship is a job with training, so it's a great opportunity to earn as you learn. It can also be a good way of getting into the TV industry. Go to ScreenSkills information on apprenticeships for the main apprenticeship schemes in television. If you can't find a role in TV, it might be worth finding on in a related industry such as theatre, journalism or video production. This will give you skills that you can then transfer into TV at a later point. Check out What's an apprenticeship?  to learn more about apprenticeships and find an apprenticeship to learn how to find one in your region, or approach companies directly.

Get a degree:
There's no specific degree for this role, so if you decide university is the right path for you then consider which subjects would arm you with transferable skills such as research or communication.
For a degree that is most closely related to the TV industry, go to ScreenSkills' list of recommended courses and select one in unscripted TV. We recognise courses with our ScreenSkills Select award where they offer training in the relevant software, dedicated time to building a portfolio and have strong links with the unscripted TV industry.
Get work experience:
Try to get work experience by writing to local production companies and asking if they offer any. Keep an eye out for work experience opportunities at the BBC, ITV, Channel 4, Sky and the PACT Indie Diversity Training Scheme.
Look outside the industry:
You never know where you might stumble across the next unscripted star, so treat every situation as a casting call. If you can't get into TV straight away, it might be useful to gain experience in the recruitment industry, for example. Take every opportunity to learn as much as you can so you can transfer your experience to TV when you get a break.
Take a short course:
This is a role that involves concern about the welfare of the cast. You may therefore wish to improve your understanding of mental health by taking a specialist course. Go to the list of training courses recommended by ScreenSkills to see if there is one in mental health first aid.
Network:
Get to know people in the unscripted TV industry by attending events. Meet professionals and ask them questions about their work, while demonstrating interest in and knowledge of the industry. Offer to provide them with your professional contact details and try to stay in touch with them. Go to how to network well to learn how to do this.
Network online:
Create a LinkedIn profile. See if there are Facebook pages or other social media groups for people making unscripted TV in your area. There might even be groups for runners and trainees. Join them. Create a ScreenSkills profile. There are a lot of crewing agencies that will charge you to be on their books. Sign up to the free ones initially. Wales Screen, Northern Ireland Screen and other areas offer free crew databases. Find a film office near you and get connected. If you do sign up to paid sites, make sure they specialise in the areas in which you're interested.
Search for jobs:
Research unscripted TV production companies that you'd like to work for and watch the programmes that they make. Regularly check their websites and job listings websites to see if they are advertising for roles. You can also send in a short speculative letter with your CV to the head of talent. Register your CV on websites like The Talent Manager, which is used by most broadcasters and independent production companies when looking for staff. StartinTV offers tips on creating your CV and attending interviews, as well as some advice for your first day working in TV.
You might also be interested in...
Being a celebrity producer in the unscripted TV industry. You might also be interested in being a casting director in the film and TV drama industries.
Further resources