Unscripted TV
Sound recordist
Also known as: Sound engineer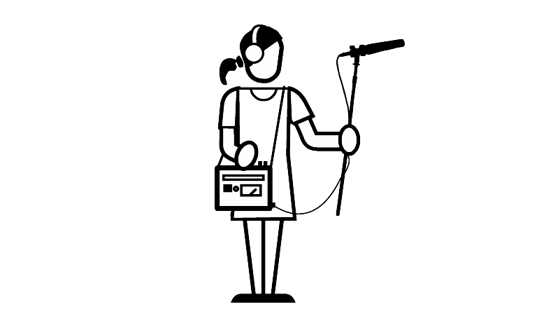 What does a sound recordist do?
Sound recordists capture all of the sound on location for a TV programme. This can include dialogue, singing and action – from performance to real events. They set up mics and deal with any issues to do with their placement. Sound recordists have to think about the combinations of mics they use – such as boom microphones and hidden 'personal' or 'radio' microphones – to keep consistency with the shot and shot size and to avoid issues such as phasing (time delays) between the mics. 
Sound recordists also work around any issues with background noise. The job is as much about making sure you don't record the sounds you don't want as recording the ones you do. They listen to make sure nothing's wrong with the take, to see whether it needs to be recorded again. The sound has to make sense with the visuals, so sound recordists will often record a 'wild track' of realistic background noise that can be used in the edit to fill any gaps in the background atmosphere caused by editing, or added to a scene without drowning out the dialogue.
On studio productions or big outside broadcasts (OBs), several sound recordists work to one sound supervisor. For smaller location shoots, sound recordists will work alongside a camera operator, recording anything from interviews to group activity, following real events (known as "actuality") or produced events. On very simple jobs, a producer/director will occasionally record the sound themselves.
Sound recordists are normally freelance. Camera operators tend to have relationships with specific sound recordists, so when companies are hiring, they might ask the camera operator if they have preferences for who they would like to work with.
Watch and read
What's a sound recordist good at?
Communication: have great people skills, put contributors at ease when fitting personal mics and be able to collaborate effectively with other team members to ensure the sound fits with the visuals

Problem-solving: be resourceful and find effective solutions to technical problems and recording challenges

Technical knowledge: be able to operate, maintain and repair sound equipment, keep up-to-date and use innovations

Scientific knowledge: understand the physics of sound, the qualities it possesses, what can affect it, how to manipulate it

Knowledge of the production and post-production process: have a good understanding of all crew roles and aspects of how an unscripted TV programme is made, from pre-production through to post-production.
Who does a sound recordist work with?
Sound recordists work intimately, fitting personal mics and monitoring the sound output on all on-screen talent and contributors. They communicate with all members of the production and crew, especially camera operators and directors. On OBs or studio location, they report to the sound supervisor and work with the grams operator, sound mixer and sound assistant.
How do I become a sound recordist?
Sound recordist is a senior role, so you'll probably need experience as a sound assistant first. You might get into this role by gaining experience as a studio runner, or you might have been a sound trainee in film and TV drama.
At school or college: 
If you want to go to university, you can take A-levels or Highers in maths, physics and music. 
If you want to go straight into a job or apprenticeship, the following Level 3 vocational qualifications will equip you: 
BTEC Diploma/Extended Diploma in Electrical and Electronic Engineering
BTEC National Diploma/Extended Diploma in Music Technology
BTEC National Diploma in Film and Television Production
BTEC National Diploma in Music
BTEC National Diploma in Sound Production
BTEC National Extended Certificate in Sound Engineering
BTEC National Extended Diploma in Electrical and Electronic Engineering
RSL Subsidiary Diploma for Music Practitioners (Technology)
OCR Technical Diploma in Digital Media (Moving Image & Audio Production)
UAL Diploma/Extended Diploma in Music Performance and Production
Get an apprenticeship:
An apprenticeship is a job with training, so it's a great opportunity to earn as you learn. See if you can find an apprenticeship in a role that relates to sound, such as being a creative venue technician. Even if the job is in theatre or architecture, if it involves sound, it could help you develop your skills and understanding and you could build on this knowledge and move into television at a later point.
Go to ScreenSkills information on apprenticeships for the main apprenticeship schemes in television. Check out What's an apprenticeship?  to learn more about apprenticeships and find an apprenticeship to learn how to find one in your region, or approach companies directly.

Build a portfolio: 
Create work that you can show off to employers. This is essential. Go to build your sound portfolio to learn how. 
Get a degree: 
You don't need a degree to do this job, but if you'd like one, consider studying sound design, music or film and television production.
Have a look at ScreenSkills' list of recommended courses and select one in unscripted TV. We recognise courses with our ScreenSkills Select award where they offer training in the relevant software, dedicated time to building a portfolio and have strong links with the film and TV industries. 
Get work experience: 
Try to get work experience by writing to local production companies and asking if they offer any. Keep an eye out for work experience opportunities at the BBC, Channel 4, ITV and Sky. 
Work for an equipment hire company:
See if you can find a job or work experience with a company that hires out sound equipment. This will provide you with valuable experience of handling recording equipment.
Look outside the industry: 
There are roles in sound recording available in other media industries, such as radio, music production and advertising. You can gain experience in a role in one of these industries that you can later transfer to a role in unscripted TV.
Take a short course: 
Hone your skills in sound recording by taking a specialist course. The National Film and Television School has a short course in Location Sound Recording. Go to the list of training courses recommended by ScreenSkills to see if there is one in sound recording or sound design.
Network: 
Get to know people in the unscripted TV industry by attending events. Meet professionals and ask them questions about their work, while demonstrating interest in and knowledge of the industry. Offer to provide them with your professional contact details and try to stay in touch with them. Go to how to network well to learn how to do this. 
Network online: 
Create a LinkedIn profile. See if there are Facebook pages or other social media groups for people making unscripted TV in your area. There might even be groups for runners and trainees. Join them. Create a ScreenSkills profile. There are a lot of crewing agencies that will charge you to be on their books. Sign up to the free ones initially. Wales Screen, Northern Ireland Screen and other areas offer free crew databases. Find a film office near you and get connected. If you do sign up to paid sites, make sure they specialise in the areas in which you're interested.
Search for jobs: 
Research unscripted TV production companies that you'd like to work for and watch the programmes that they make. Regularly check their websites to see if they are advertising for sound recordist roles. You can also send in a short speculative letter with your CV to sound professionals with whom you would like to work. StartinTV offers tips on creating your CV and attending interviews, as well as some advice for your first day working in TV.
You might also be interested in…
Being a sound mixer in the film and TV drama industry or being a grams operator in the unscripted TV industry. Alternatively, you could consider being a sound designer in the animation industry or a sound designer in the games industry.
Further resources