Unscripted TV
Logger
Also known as: Rushes logger, Tape logger, Video logger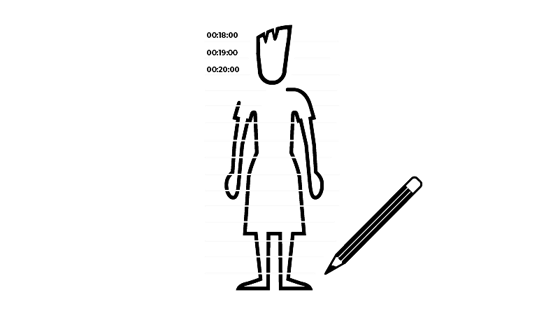 What does a logger do?
If you were about to edit an hour-long unscripted TV show, you might find yourself faced with hours and hours of footage and wonder where on earth to start. Loggers watch all the rushes (raw footage) and create a detailed document describing what footage is on which tape. They 'log' the timecodes as they go, sometimes using specific software to do this. This enables editors to find what they need to cut together a programme.
Loggers make notes of the best footage, key themes and story arcs, sometimes transcribing parts of interviews. They note tone, as well as which bits of footage are usable and which are not.
They can work in production or post-production. During production, loggers record action as it happens. They might use a phone or tablet or take notes using pen and paper. In post-production, loggers work using footage that has already been recorded, often in an edit suite. Loggers sometimes also act as archivists, hunting out existing footage that the programme needs. They deliver these to the post-production team.
Loggers are often employed as freelancers.
What's a logger good at?
Writing: be able to type quickly (50-100 words per minute) using good spelling and grammar
Storytelling: know what makes a good story and use strong journalistic skills to find and present them
Attention to detail: be meticulous in your work and accurate when presenting information, even when dealing with large amounts of data; be able to meet tight post-production deadlines
Editing: have a strong understanding of editing and knowledge of multiple programs, have knowledge of a variety of media formats and computer types
Learning by watching and asking: observe what's happening, take initiative, ask questions at the appropriate time
Tools of the trade
You will need some basic kit when you start working on productions. (Depending on the production, you may be supplied with these by the production manager). Here are some of tools you might use once you are working: 
For live logging (on location on a shoot)
Pen and paper
A phone or tablet
Logging software:
For tape logging (in an edit suite or working from home)
Word and number processing:
Editing and digital asset management software:
Personal laptop or desktop computer if you are working from home
Who does a logger work with?
Loggers work closely with the production team as well as the post-production supervisor.
How do I become a logger?
This is an entry level role, so it can be your first job in the industry. You'll still need to have knowledge of the pre-production, production and post-production processes, so work experience is important. You might have a background in journalism. Or you might transfer to this job from the job of a runner, with the goal of becoming a junior researcher. Sometimes combined runner/logger jobs will be advertised.
At school or college: 
You can take A-levels or Highers in any subjects that interest you, but film studies, media studies, English, history or IT would be relevant.
If you want to go straight into a job or apprenticeship, the following Level 3 vocational qualifications will equip you: 
OCR Technical Diploma in Digital Media (Moving Image and Audio Production)
BTEC National Diploma in Film and Television Production
UAL Diploma / Extended Diploma in Creative Media Production & Technology
Get an apprenticeship: 
Apprenticeships are jobs with training. They're a great opportunity to earn while you learn. Some of the major broadcasters offer apprenticeships. Check out the schemes with the BBC, ITV, Channel 4 and Sky. 
If you can't get an apprenticeship with a broadcaster, it might be worth trying to find one outside the TV industry, where you can develop your skills and your craft. You can then move into TV at a later point. 
These are the relevant apprenticeships that might be available throughout the UK: 
Creative and Digital Media (Level 3, Northern Ireland)
Creative and Digital Media (Level 3, 4, Wales)
Creative (SCQF Level 6/7, Scotland)
Creative and Digital Media (SCQF Level 6/7, Scotland)
Before taking any apprenticeship, check what you'll be learning with your prospective employer and college, so you can be sure it will give you the skills you want. Go to where can I find an apprenticeship? to learn how to find apprenticeships in your region, or approach companies directly. 
Get a degree: 
You don't need a degree to become a logger, but if you want one, a degree in TV production, media, drama, broadcasting or journalism would all be helpful. Have a look at ScreenSkills' list of recommended courses and select one in unscripted TV or search for "production". We recognise courses with our ScreenSkills Select award where they offer training in the relevant software, dedicated time to building a portfolio and have strong links with the unscripted TV industry. 
Get work experience: 
Try to get work experience by writing to local production companies and asking if they offer any. Keep an eye out for work experience opportunities at the BBC, ITV, Channel 4, Sky and the PACT Indie Diversity Training Scheme.
Take a short course: 
It's important to have an understanding of post-production. Hone your skills in editing by taking a specialist course. Go to the list of training courses recommended by ScreenSkills to see if there is one in editing.
Network: 
Get to know people in the unscripted TV industry by attending events. Meet professionals and ask them questions about their work, while demonstrating interest in and knowledge of the industry. Offer to provide them with your professional contact details and try to stay in touch with them. Go to how to network well to learn how to do this.
Network online: 
Create a LinkedIn profile. See if there are Facebook pages or other social media groups for people making unscripted TV in your area. There might even be groups for runners and trainees. Join them. Create a ScreenSkills profile. There are a lot of crewing agencies that will charge you to be on their books. Sign up to the free ones initially. Wales Screen, Northern Ireland Screen and other areas offer free crew databases. Find a film office near you and get connected. If you do sign up to paid sites, make sure they specialise in the areas in which you're interested.
Search for jobs: 
Research unscripted TV production companies that you'd like to work for and watch the programmes that they make. Regularly check their websites and job listings websites to see if they are advertising for roles. You can also send in a short speculative letter with your CV to the head of talent. Register your CV on websites like The Talent Manager, which is used by most broadcasters and independent production companies when looking for staff.
You might also be interested in…
Being a runner or researcher in the unscripted TV industry. You might also be interested in being an edit assistant in the animation industry. Alternatively, you could consider being a post-production runner in the film and TV drama industries or a data capture technician in visual effects (VFX).
Further resources