Unscripted TV
Technical manager
Also known as: technical studio manager, resource manager, engineering manager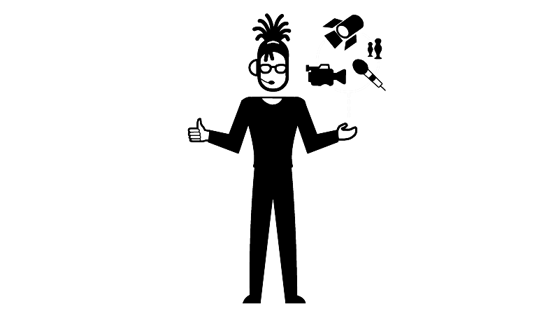 What does a technical manager do?
Technical managers are the most senior technical people in a television studio. They have overall responsibility for all the technical equipment – lights, cameras and sound.

Before the day of recording, they will liaise with the production team to find out what's required and often offer advice on the best equipment for the job. This means they need to keep up to date on all the latest kit. They also need to be a point of contact for the many suppliers who bring specialist equipment into the studio, like rock 'n' roll lighting, a public address system or huge LED screens. It all needs to be checked and tested before it can be used.

In addition, technical managers manage the crew. They make sure the crew work well together and for the correct hours. They need to have excellent people skills, making sure the production team feels welcome and, when they turn up to record their programme, that everything is working and ready to go.
The technical manager has to be very alert to the safety of everyone on the crew – and the audience who might not be used to being in a studio. Everything needs to be safe and secure, as heavy equipment can be slung over the members of the public and large camera cranes will be swooping above their heads.

The engineering manager (EM) is a very closely related job to the technical manager. The difference is that EMs work on outside broadcasts, where they often have to be even more ingenious in their problem solving than they do in a studio.
Both jobs are usually filled by people with a strong technical background, but they're not always engineers. What's most important is understanding the needs of the production team and being able to solve problems calmly.
Technical managers usually work with one particular studio or studios group, and are very often a member of staff. Engineering managers might be freelance or might work for an outside broadcast production company.
Watch
What's a technical manager good at?
Electronic engineering: have good working knowledge of electronic and electrical engineering; have an expert understanding and experience of power, cameras, sound and lighting equipment: how they work, how they connect and how to troubleshoot
Communication: manage a team, ensure everyone knows what they are doing, create a welcoming environment for the production crew, presenters and technical crew alike
Problem solving: come up with solutions to technical problems, overcome difficulties quickly, sometimes in remote locations with no backup
Planning: plan the running order of all the technical aspects of production, ensure the right kit is in the right place at the right time
Health and safety: be aware of the requirements, ensure the welfare of your colleagues and the public before and during productions
Who does a technical manager work with?
A technical manager is the link between the director and the technical departments. This means getting the current status from the camera supervisor, lighting director and sound supervisor and relaying the important information to the director.
How do I become a technical manager?
The role of technical manager is the most senior position among the technical departments, so experience and knowledge are essential. One route is the engineering route, starting out as a broadcast engineer and becoming a technical operator or technical supervisor before going on to be a technical manager. Another route is to start as an assistant in the kit room or in the technical departments like lighting, camera or sound. From there you can get to know people and take on more experience with setting up and managing equipment. Once you have enough expertise, you can take on the responsibility of a higher engineering role like vision guarantee and move up to technical manager.

At school or college:

Take A-levels or Highers in maths and other science or technology subjects, such as computer science, physics or electronics. This will give you a solid basis for applying for new entrant programmes.
The following Level 3 vocational qualifications are also relevant to this role:
BTEC in Engineering with Engineering Maths
Cambridge Technical Extended Certificate in Engineering
BTEC National Foundation Diploma in Engineering
C&G Technical Certificate in Engineering
EAL Technical Diploma/Extended Diploma in Engineering Technologies
BTEC Diploma/Extended Diploma in Electrical and Electronic Engineering
City & Guilds Advanced Technical Diploma in Electrical Installation
EAL Diploma/Advanced Diploma in Electrical Installation
Get an apprenticeship:
Apprenticeships are jobs with training. Search for apprenticeships in broadcast engineering with broadcasters like BBC and Sky. Go to What's an apprenticeship? to find out more about apprenticeships and Find an apprenticeship to find apprenticeships in your region. Alternatively, you can approach companies directly. Take a look at our list of apprenticeships to find the schemes of the main broadcasters. The BBC has a three-year apprenticeship in broadcast engineering that offers experience in all the areas a technical manager must master.

Get a degree:
The technical manager must have many years of practical experience and know all the ins and outs of a production when it comes to equipment and technology. If you want to get a degree, the routes into the roles that will provide that knowledge and experience come from subjects such as electronic engineering or live event technology.

Look outside the industry:
In order to get the experience needed to climb the ranks in a production, look for work that will give you knowledge of and familiarity with equipment. Strengthen your technical abilities and get experience with sound and camera equipment. Contact theatre productions or local music venues that can get you behind the scenes of a production environment. Anything that gives you experience in dealing with equipment in a live environment will be helpful.

Being a technical manager is also a managerial role, so look into roles that provide experience with technical equipment as well as increasing responsibility within a team. For roles that have both technical and managerial aspects, look into smaller film and music video productions.
Get work experience:
Try to get work experience by writing to local production companies and asking if they offer any technical assistant roles. Keep an eye out for work experience opportunities at the BBC, ITV, Channel 4, Sky and the PACT Indie Diversity Training Scheme.
Alternatively, try approaching a rental equipment company that supplies productions with the gear they need. This will enable you to get your hands on equipment, learn more about it and get to know people who work in TV.
Network:
Get to know people in the unscripted TV industry by attending events, such as ScreenSkills' Open Doors. Go to training and opportunities and use the events filter to find out what's on. Meet professionals and ask them questions about their work, while demonstrating interest in and knowledge of the industry. Offer to provide them with your professional contact details and try to stay in touch with them. Go to network well to learn how to do this.

Network online:
Create a LinkedIn profile. See if there are Facebook pages or other social media groups for people making unscripted TV in your area. There might even be groups for runners and trainees. Create a ScreenSkills profile. There are a lot of crewing agencies that will charge you to be on their books. Sign up to the free ones initially. Wales Screen, Northern Ireland Screen and other areas offer free crew databases. Find a film office near you and get connected. If you do sign up to paid sites, make sure they specialise in the areas in which you're interested.

Search for jobs:
Search for jobs as junior broadcast engineers, runners, kit room assistants or camera assistants. Regularly check out the broadcasters' websites. Make use of the ScreenSkills jobs board. You can also send a short speculative letter with your CV to technical managers or vision supervisors.
You might also be interested in...
Being a production manager in the unscripted TV industry. You might also be interested in being an assistant director in the film and TV drama industries.
Further resources