Unscripted TV
Producer director
Also known as: PD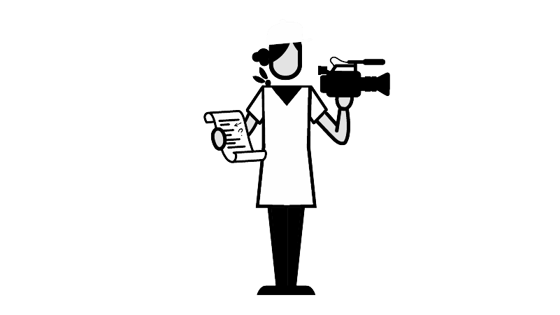 What does a producer director do?
Producer directors do two jobs at once; creating and producing the content while also directing the action. On a high-budget show, they may direct a crew with one or two cameras. On smaller shoots, more often than not they operate the camera themselves. In effect this means they do three jobs at once.
Depending on the production, a producer director may be responsible for making an entire programme, such as a documentary featuring one or two main characters. This is so they can build a trusted relationship with the person or people they are filming and manage the narrative. But often, several producer directors are employed on the same production and are responsible for certain parts of a programme, like making small inserts for the news or several longer films within a consumer show.
Producer directors usually have an assistant producer and a researcher working with them to help find the information, locations, props, archive material and extra people required. The team might assist on the shoot too. Before filming, producer directors write a shooting script, detailing what they intend to film and any script that may need to be delivered by a presenter. If there are no presenters, they may interview people themselves (cutting out their questions in the edit). They will also write a filming schedule, listing what they intend to shoot and when, and the production management team will include this in a final call sheet. Producer directors also sign off health and safety forms to ensure they have considered every possible hazard that could impact on filming, and may consult with company lawyers to ensure their script and intended content is within compliance guidelines.
Some producer directors edit their material too. They are almost always freelance.
Watch
What's a producer director good at?
Creativity: be ambitious making a variety of content, write well and create an appropriate accompanying visual style, have flair and originality
Communication: clearly direct a team on what's needed and a crew on shots, instruct presenters on delivery, produce contributors and put all at ease
Multi-tasking: be able to focus on what people are saying while checking shots and possibly operating the camera, be responsible for everyone's safety
Adaptability: work well in challenging and changeable environments, problem solve on the go, make quick effective decisions and be able to prioritise
Photography: have a good understanding of composition, light, colour, texture, focus and framing, be up-to-date with the latest technology, how to operate it and know the best options for different productions
Who does a producer director work with?
Producer directors work directly to the series producer and, during filming, work with a crew, managing any presenters or contributors. Day-to-day, they manage a team of assistant producers and researchers and liaise with production management regarding scheduling, locations and health and safety.
How do I become a producer director?
Producer directors tend to come up through working in different positions in editorial teams; first working as a researcher, then as an assistant producer before becoming a director producer. To come up through this route, first work as a runner or personal assistant as a point of entry into unscripted TV and gain experience. Screen Scotland has set up a TV Researcher Programme, a 10-month paid training scheme. Alternatively, producer directors may move into this role from being camera operators. In which case, you may want to start working as a kit room assistant, then become a camera assistant and then camera operator. The Guild of British Camera Technicians runs a trainee scheme.
At school or college:
You can take A-levels or Highers in English, media studies or photography. Or you might just want to study whatever interests you most.
If you want to go straight into a job or apprenticeship, the following Level 3 vocational qualifications will equip you:
BTEC National Extended Diploma in Creative Digital Media Production
Aim Awards Diploma in Creative and Digital Media
OCR Technical Diploma in Digital Media (Moving Image and Audio Production)
BTEC National Diploma in Film and Television Production
BTEC National Diploma in Photography OCR Technical Diploma in Digital Media (Moving Image and Audio Production)
UAL Diploma/Extended Diploma in Creative Media Production and Technology
Get an apprenticeship:
An apprenticeship is a job with training, so it's a great opportunity to earn as you learn. It can also be a good way of getting into the TV industry. Go to ScreenSkills information on apprenticeships for the main apprenticeship schemes in television. If you can't find a role in TV, it might be worth finding on in a related industry such as a studio photography, journalism or video production. This will give you skills that you can then transfer into TV at a later point. Check out What's an apprenticeship? to learn more about apprenticeships and find an apprenticeship to learn how to find one in your region, or approach companies directly.

Build a portfolio:
Create a showreel of your work that you can show off to potential collaborators or employers. Go to how to make a showreel to learn how.
Work for an equipment company:
If you would like to become a producer director by working up through the camera route, you can contact an equipment rental company like Panavision, Provision or ARRI Rentals. Ask if you can become a kit room assistant for them. That way you will get to learn more about the kit and build up contacts.
Get a degree:
It may be beneficial to have a degree relating to TV production. Have a look at ScreenSkills' list of recommended courses and select one in unscripted TV or search for "TV production". We recognise courses with our ScreenSkills Select award where they offer training in the relevant software, dedicated time to building a portfolio and have strong links with the unscripted TV industry. You may also consider a degree in broadcasting, communications or journalism.
Get work experience:
Try to get work experience by writing to local production companies and asking if they offer any. Keep an eye out for work experience opportunities at the BBC, ITV, Channel 4, Sky and the PACT Indie Diversity Training Scheme.
Look outside the industry:
Many organisations need people who make videos for websites and social media. If you can't get work in the TV industry straight away, you could try to get work making videos. This will hone your editorial and shooting skills and give you experience with cameras. Get good at that and move into TV at a later point.
Take a short course:
Hone your skills in producing by taking a specialist course. Go to the list of training courses recommended by ScreenSkills to see if there is one in producing or directing.
Network:
Get to know people in the unscripted TV industry by attending events. Meet professionals and ask them questions about their work, while demonstrating interest in and knowledge of the industry. Offer to provide them with your professional contact details and try to stay in touch with them. Go to how to network well to learn how to do this.
Network online:
Create a LinkedIn profile. See if there are Facebook pages or other social media groups for people making unscripted TV in your area. There might even be groups for runners and trainees. Join them. Create a ScreenSkills profile. There are a lot of crewing agencies that will charge you to be on their books. Sign up to the free ones initially. Wales Screen, Northern Ireland Screen and other areas offer free crew databases. Find a film office near you and get connected. If you do sign up to paid sites, make sure they specialise in the areas in which you're interested.
Search for jobs:
Research unscripted TV production companies that you'd like to work for and watch the programmes that they make. Regularly check their websites and job listings websites to see if they are advertising for roles. You can also send in a short speculative letter with your CV to the head of talent. Register your CV on websites like The Talent Manager, which is used by most broadcasters and independent production companies when looking for staff. StartinTV offers tips on creating your CV and attending interviews, as well as some advice for your first day working in TV.
You might also be interested in…
Being a director, producer, specialised producer, series director or series producer in the unscripted TV industry. You might also be interested in being a director, producer or an executive producer in the film and TV drama industries, a games producer in the games industry or a director or producer in the animation industry.
Further resources