Unscripted TV
Vision supervisor
Also known as: Vision control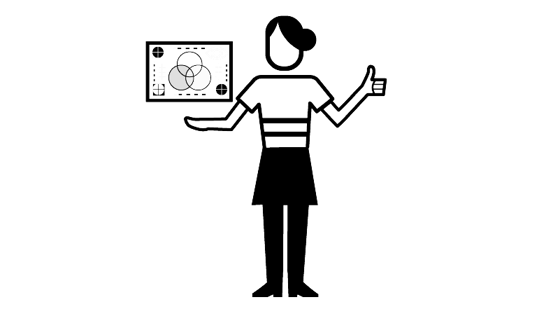 What does the vision supervisor do?
The vision supervisor works closely with the lighting director and vision guarantee to make sure the pictures that are created in a studio, or on an outside broadcast (OB), are as good as they can be. Vision supervisors begin by making sure all the cameras – and there could be as many as 20 or 30 of all types – are correctly exposed and the colours match precisely. This is to make sure that the shots won't be different colours when the director cuts quickly between the different cameras.

In a studio, the vision supervisor could be working with all sorts of different lighting sources. As well as the usual lighting rig, there might be specialist equipment such as neon signs or lasers. All these will need to be carefully exposed and colour-balanced in order to create the best look. The vision supervisor and their team pay particular attention to making sure the flesh tones are accurate so the presenters and programme contributors look natural.

Away from the studio, on an OB, the vision supervisor deals with the added complexity of managing natural light. For example, a football pitch could be half in shadow and half in direct sunlight; as the play moves up and down the field, the vision team needs to work hard to ensure the exposure is correct. If they get it wrong, millions of viewers will struggle to see the ball. At some events, such as a carol concert,  the illumination may be nothing more than candle light; so then the vision supervisor will need to work hard to manage the low level of light and bring out the subtleties of the pictures. 

When working well, the vision supervisor can make a huge difference to a programme: they can bring out the vibrancy of the colours, adding to the enjoyment of events like The Chelsea Flower Show, and accentuate the excitement of a live performance at Glastonbury or in a big entertainment show like Strictly Come Dancing.

Vision supervisors are often freelance. They usually have a technical background and need to keep up to date with the very latest equipment, as cameras are upgraded all the time – from standard definition to high definition and, more recently, ultra-high definition.
Watch
What's a vision supervisor good at?
Understanding imaging: know electronic technology, including lighting, exposure, colour and optics;

have an in-depth understanding of how all camera equipment works, stay up to date with the latest technology

Seeing: have a good eye, be able to spot col

our and light discrepancies easily and know how to correct them

Problem solving: come up with solutions to technical problems. This is particularly important on an outside broadcast in a remote location where spare parts aren't easy to find

Leadership: be able to manage a team, communicate and give instructions effectively, make good judgement calls

Staying calm under pressure: be able to think creatively in a live environment when decisions you make will have an effect on millions of viewers
Who does a vision supervisor work with?
A vision supervisor is a senior role that manages the vision guarantees or broadcast engineers. Vision supervisors also liaise with the lighting director and technical manager to collectively ensure the quality and proper functioning of the broadcast.
How do I become a vision supervisor?
A vision supervisor is the head of the vision department, so they are expected to have many years of experience on the technical and visual side of productions. Many vision supervisors gain their experience working as vision guarantees, having come up through the route of camera assistant, kit room assistant or runner.
At school or college:
Take A-levels or Highers in maths and other science or technology subjects, such as computer science, physics or electronics. This will give you a solid basis for applying for new entrant programmes.
The following Level 3 vocational qualifications are also relevant to this role:
BTEC in Engineering with Engineering Maths
Cambridge Technical Extended Certificate in Engineering
BTEC National Foundation Diploma in Engineering
C&G Technical Certificate in Engineering
EAL Technical Diploma/Extended Diploma in Engineering Technologies
BTEC Diploma/Extended Diploma in Electrical and Electronic Engineering
City & Guilds Advanced Technical Diploma in Electrical Installation
EAL Diploma/Advanced Diploma in Electrical Installation
Get an apprenticeship:
Apprenticeships are jobs with training. Search for apprenticeships in broadcast engineering with broadcasters like BBC and Sky. To find out more, go to what's an apprenticeship?. Go to where can I find an apprenticeship? to learn how to find apprenticeships in your region, or approach companies directly. Take a look at our list of apprenticeships to find the schemes of the main broadcasters. The BBC has a three-year apprenticeship in broadcast engineering that offers experience with all the areas a vision supervisor must master.
Get a degree:
You don't need a degree to get into this role, but if you want one, degrees in electronic engineering or live event technology would be useful. You might even be fortunate enough to get a degree-level apprenticeship.

There is also a postgraduate course in Cameras, Sound and Vision Mixing for Television Production in the NFTS that will give you practical skills and insights into the role.

Look outside the industry: 
Get experience setting up the kit for music events. Volunteer to rig up the lights and sound for amateur theatre. Anything that gives you experience in dealing with equipment in a live environment will be helpful.

Get work experience: 
It's worth trying to get work experience with an equipment rental company.  This will enable you to get your hands on equipment, learn more about it and get to know people who work in TV. They might even have jobs advertised.
Network:
Get to know people in the unscripted TV industry by attending events, such as ScreenSkills' Open Doors. Go to training and opportunities and use the events filter to find out what's on. Meet professionals and ask them questions about their work, while demonstrating interest in and knowledge of the industry. Offer to provide them with your professional contact details and try to stay in touch with them. Go to network well to learn how to do this.

Network online:
Create a LinkedIn profile. See if there are Facebook pages or other social media groups for people making unscripted TV in your area. There might even be groups for runners and trainees. Join them. Create a ScreenSkills profile. There are a lot of crewing agencies that will charge you to be on their books. Sign up to the free ones initially. Wales Screen, Northern Ireland Screen and other areas offer free crew databases. Find a film office near you and get connected. If you do sign up to paid sites, make sure they specialise in the areas in which you're interested.
Search for jobs:
Search for jobs as junior broadcast engineers, runners, kit room assistants or camera assistants. Regularly check out the broadcasters' websites. Make use of the ScreenSkills jobs board. You can also send a short speculative letter with your CV to technical managers or vision supervisors.
You might also be interested in...
Being a camera operator or vision mixer in the unscripted TV industry. You might also be interested in being a director of photography in the film and TV drama industries.
Further resources