Unscripted TV
Runner
Also known as: Location assistant, Studio runner, Office runner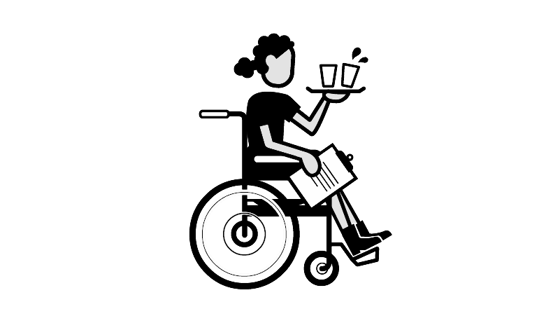 What does a runner do?
We're not talking Mo Farah here. Runners, in the unscripted TV industry, are those on the front line. They're always ready to lend a hand. They go anywhere and everywhere to ensure a production goes from prep to wrap without a problem. A good runner can make or break a shoot. 
Runners are comfortable working in a variety of environments: they might do any number of jobs depending on what part of production they are assigned to. In a studio, they might do jobs like taking guests to make-up or printing and handing out new scripts. Out on a shoot, runners might fetch lunch or extra supplies of batteries, be required to ensure all consent forms are signed or keep an area clear for filming. In a production office, a runner might be filing receipts and paperwork, testing if a new game works or, depending on the production, helping with research. 
From making tea and loading equipment for the crew to shopping for props and chaperoning Hollywood A-listers, runners are always ready and able, responding quickly, efficiently and positively. 
Runners usually work with independent production companies. Sometimes they take on the role of a logger too. Having a valid, clean driving licence is usually an advantage.
Watch and read
What's a runner good at?
Learning quickly: listen and watch carefully, stay calm under pressure, communicate clearly, understand the different production roles and their different requirements
Taking initiative: have common sense, see what needs to be done, offer help without being asked, don't be afraid to ask questions at the appropriate time
Multi-tasking: be organised, prioritise when asked to do different things by different people at the same time, be adaptable
Watching unscripted TV: have a passion for the genre and a love of the industry
Reliability: be punctual, do what's asked promptly and efficiently, have a positive can-do attitude, file and store things securely
Who does a runner work with?
Runners work within different teams and different hierarchies from one production to the next. In a production management office, they report to the line producer or production manager. In editorial, they report to the producer or assistant producer. In a studio, they report to the floor manager. As someone who makes tea and runs errands, they potentially have contact with everyone on the production.
How do I become a runner?
The route into becoming a runner varies according to the role you want ultimately. If you want to be a camera operator, follow that link to go to the camera operator profile and look at the career route to that role. If you want to be a producer, go to the producer profile, etc.
At school or college:
You can take A-levels or Highers in media studies or any subject you're interested in, or that you feel would make for excellent unscripted TV content.
If you want to go straight into a job or apprenticeship, the following Level 3 vocational qualifications will equip you:
BTEC National Extended Diploma in Creative Digital Media Production
Aim Awards Diploma in Creative and Digital Media 
OCR Technical Diploma in Digital Media (Moving Image and Audio Production) 
BTEC National Diploma in Film and Television Production 
UAL Diploma/Extended Diploma in Creative Media Production and Technology 
Get an apprenticeship:
Apprenticeships are jobs with training. They're a great opportunity to earn while you learn. Some of the major broadcasters offer apprenticeships. Check out the schemes with the BBC, ITV, Channel 4, and Sky.
If you can't get an apprenticeship with a broadcaster, it might be worth trying to find one outside the TV industry, where you can develop your skills and your craft. You can then move into TV at a later point.
These are the relevant apprenticeships that might be available throughout the UK:
Before taking any apprenticeship, check what you'll be learning with your prospective employer and college, so you can be sure it will give you the skills you want. Go to where can I find an apprenticeship? to learn how to find apprenticeships in your region, or approach companies directly.
Volunteer:
Entry level positions may still require some experience. Put yourself out there and try to get any experience you can. Make videos for social media. Help create music videos. Gain amateur experience.
Get a degree:
If you decide that university is the right path for you, then don't be afraid to study a subject that you are interested in and feel would make for a great subject of an unscripted TV programme.
If you want to focus on TV production, have a look at ScreenSkills' list of recommended courses and select one in unscripted TV. We recognise courses with our ScreenSkills Select award where they offer training in the relevant software, dedicated time to building a portfolio and have strong links with the unscripted TV industry.
Get work experience:
Try to get work experience by writing to local production companies and asking if they offer any. Keep an eye out for work experience opportunities at the BBC, ITV, Channel 4, Sky and the PACT Indie Diversity Training Scheme.
Network:
Get to know people in the unscripted TV industry by attending events. Meet professionals and ask them questions about their work, while demonstrating interest in and knowledge of the industry. Offer to provide them with your professional contact details and try to stay in touch with them. Go to how to network well to learn how to do this.
Network online:
Create a LinkedIn profile. See if there are Facebook pages or other social media groups for people making unscripted TV in your area. There might even be groups for runners and trainees. Join them. Create a ScreenSkills profile. There are a lot of crewing agencies that will charge you to be on their books. Sign up to the free ones initially. Wales Screen, Northern Ireland Screen and other areas offer free crew databases. Find a film office near you and get connected. If you do sign up to paid sites, make sure they specialise in the areas in which you're interested.
Search for jobs:
Research unscripted TV production companies that you'd like to work for and watch the programmes that they make. Regularly check their websites and job listings websites to see if they are advertising for roles. You can also send in a short speculative letter with your CV to the production manager or talent manager, depending on what kind of role you prefer. Register your CV on websites like The Talent Manager, which is used by most broadcasters and independent production companies when looking for staff. StartinTV offers tips on creating your CV and attending interviews, as well as some advice for your first day working in TV.
You might also be interested in…
Being a logger or personal assistant in the unscripted TV industry. You might also be interested in being a floor runner or production runner in the film and TV drama industries.
Further resources