Unscripted TV
Lighting console operator
Also known as: Lighting operator, Lighting console programmer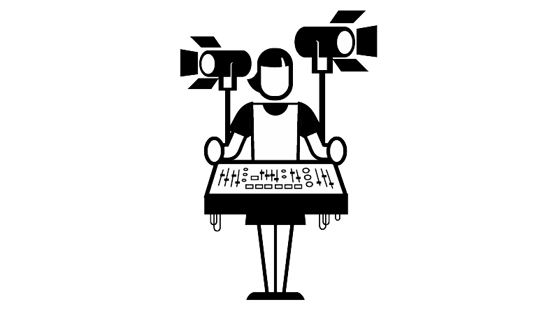 What does a lighting console operator do?
Lighting console operators cue and control the lighting on a TV programme. They normally work on big studio shows that use lots of different lights and are in charge of selecting which lights are used and when. It's down to them to make sure the presenters and on-screen contributors are well-lit and the set is brought to life with the right levels of colour, shade and texture. They also cue any special lighting effects and might be responsible for controlling extra lighting such as LED screens or haze machines to create smoke effects. 
Lighting console operators follow the instructions of the lighting director to implement their plan for the lighting. They help to set up and de-rig the set with lighting equipment, fixtures and cables and are also responsible for the console equipment. They need to troubleshoot any issues as efficiently as possible to make sure the shoot isn't disrupted.
Lighting console operators work on live and pre-recorded shows and tend to be employed in-house.
What's a lighting console operator good at?
Taking direction: communicate well with other crew members and be able to produce the required effects

Work well under pressure: be able to concentrate in a live environment, be precise and exact with the cueing of all lighting

Knowledge of equipment: understand how to operate, clean and repair the relevant equipment and be able to troubleshoot any issues

Understanding of the industry: have a strong understanding of how an unscripted TV programme is made

Health and safety: be knowledgeable about and able to abide by relevant health and safety laws when using electrical equipment
Who does a lighting console operator work with?
Lighting console operators work directly under the lighting director. They also communicate with the director, electricians and the camera department.
How do I become a lighting console operator?
Before you become a lighting console operator, you might start off as a kit room assistant. You need experience working in a technical role, controlling lighting for theatre or events, as well as experience on a TV set.
At school or college: 
You can take A-levels or Highers in photography, art, film studies or IT. 
If you want to go straight into a job or apprenticeship, the following Level 3 vocational qualifications will equip you: 
BTEC Diploma/Extended Diploma in Electrical and Electronic Engineering
City & Guilds Advanced Technical Diploma in Electrical Installation
EAL Diploma/Advanced Diploma in Electrical Installation
Get an apprenticeship:
An apprenticeship is a job with training, so it's a great opportunity to earn while you learn. In the past, it has been challenging to find jobs as an apprentice within production companies, although there is now a creative venue technician apprenticeship standard, with a specific pathway designed for people working as trainee lighting technicians. It might also be worth looking for a job as an apprentice that will give you a qualification as a domestic or commercial electrician.  This will make you handy on film sets at a later point.

Go to ScreenSkills information on apprenticeships for the main apprenticeship schemes in television. Check out What's an apprenticeship? to learn more about apprenticeships and Find an apprenticeship to learn how to find one in your region, or approach companies directly.
Volunteer: 
Volunteer to help with the lighting at any events or local amateur theatrical productions that you can.
Get a degree: 
You don't have to have a degree to get into this role. If you want one, have a look at ScreenSkills' list of recommended courses and select one in unscripted TV or search for 'film and television production'. We recognise courses with our ScreenSkills Select award where they offer training in the relevant software, dedicated time to building a portfolio and have strong links with the unscripted TV industry. 
Get work experience: 
Try to get work experience by writing to local production companies and asking if they offer any. Keep an eye out for work experience opportunities at the BBC, ITV, Channel 4, Sky and the PACT Indie Diversity Training Scheme. 
Look outside the industry: 
Look for jobs in lighting in other industries, such as theatre, photography, events or advertising. This will help you gain experience lighting scenes professionally, which you can later transfer to a career in unscripted TV.
You might consider seeking entry-level work in the film and TV drama industries in order to gain useful experience, such as being a camera trainee, and then turn to the unscripted TV industry to become a lighting console operator.
Take a short course: 
Hone your skills in lighting by taking a specialist course. Go to the list of training courses recommended by ScreenSkills to see if there is one in lighting. 
Network: 
Get to know people in the unscripted TV industry by attending events. Meet professionals and ask them questions about their work, while demonstrating interest in and knowledge of the industry. Offer to provide them with your professional contact details and try to stay in touch with them. Go to Network well to learn how to do this. 
Network online: 
Create a LinkedIn profile. See if there are Facebook pages or other social media groups for people making unscripted TV in your area. There might even be groups for runners and trainees. Join them. Create a ScreenSkills profile. There are a lot of crewing agencies that will charge you to be on their books. Sign up to the free ones initially. Wales Screen, Northern Ireland Screen and other areas offer free crew databases. Find a film office near you and get connected. If you do sign up to paid sites, make sure they specialise in the areas in which you're interested. 
Search for jobs: 
Research unscripted TV production companies that you'd like to work for and watch the programmes that they make. Regularly check their websites and job listings websites to see if they are advertising for roles. You can also send in a short speculative letter with your CV to the production manager. Register your CV on websites like The Talent Manager, which is used by most broadcasters and independent production companies when looking for staff. StartinTV offers tips on creating your CV and attending interviews, as well as some advice for your first day working in TV. 
You might also be interested in...
Being a spark in the unscripted TV industry. You might also be interested in being a gaffer or a lighting trainee in the film and TV drama industry.
Further resources