Unscripted TV
Games producer (Unscripted TV)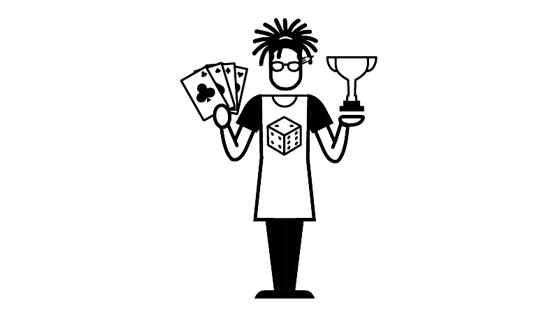 What does a games producer do?
If you were to draw a Venn diagram with overlapping circles of 'sadistic', 'entertaining' and 'legally acceptable', then somewhere in the middle you'd find the mind of a games producer! Games producers ensure that when a celebrity is invited to eat a bug as part of a game, it falls short of torture, won't result in a lawsuit and provides plenty to talk about in a water-cooler moment.
Games producers have a great knowledge and appreciation of previous TV game shows and the current landscape. They are good at forming new ideas for games and finding the right purpose and reward system for them. They have an in-depth understanding of the format of the particular programme they're working on and they ensure the games have the right tone and difficulty level required by the series producer.
Games producers are great all-rounders and creative thinkers. TV games are rarely just about the gameplay and scoring points, the games producer will often have to weave in a variety of secondary elements such as making the audience laugh, heightening tension between competitors or evoking emotion in the contestants.
Before games get anywhere near TV, they are tried, tested and refined. A games producer leads this process, spending a lot of time in the office surrounded by homemade props, trying out games to make them absolutely watertight.
Sometimes they help the art department in the design and sourcing of props. They also create and manage risk assessments to ensure contestants are safe, whether on location or in a studio. When a game's being played in a studio, they might have to tally results quickly during the game while shooting, and liaise with an independent adjudicator to ensure fairness, especially when prizes are involved.
Games producers are usually freelancers.
Read
What's a games producer good at?
Creativity: come up with new ideas from the most obscure briefs, be able to imagine how they will work and test them
Design: make games that look good and entertain visually
Adaptability: meet the varying workload of different programmes with different formats
Objectivity: gauge difficulty based on the programme's brief and knowledge of the audience and contestants, rather than your own ability
Legal knowledge: understand health and safety policies, risk assessments and more
Who does a games producer work with?
Games producers take their brief from the series producer. They often have a team of assistant producers and researchers working under them. They also work closely with the art department, giving clear briefs and working together to make their ideas a physical reality.
How do I become a games producer?
One route into being a games producer is through the editorial department. This would involve being a runner, then a researcher, then an assistant producer and then producer, before specialising. It's also possible to become a games producer through working in the art department, particularly for a game that centres around props.
At school or college:
You can take A-levels or Highers in media studies or any subject that interests you. If you want to become a games producer through the art department route, then A-levels or Highers in art and design would serve you well.
If you want to go straight into a job or apprenticeship, the following Level 3 vocational qualifications will equip you:
NCFE Applied General Certificate in Art and Design
BTEC National Diploma/Extended Diploma in Art and Design
UAL Applied General Diploma/Extended Diploma in Art and Design
OCR Cambridge Technical Diploma in Art and Design (3D Design)
BTEC National Diploma in 3D Design and Crafts
UAL Diploma/Extended Diploma in Art and Design
BTEC National Extended Diploma in Creative Digital Media Production. 
Aim Awards Diploma in Creative and Digital Media 
OCR Technical Diploma in Digital Media (Moving Image and Audio Production) 
BTEC National Diploma in Film and Television Production 
BTEC National Extended Diploma in Creative Digital Media Production 
UAL Diploma/Extended Diploma in Creative Media Production and Technology 
Get an apprenticeship:
An apprenticeship is a job with training, so it's a great opportunity to earn as you learn. It can also be a good way of getting into the TV industry. Go to ScreenSkills information on apprenticeships for the main apprenticeship schemes in television. If you can't find a role in TV, it might be worth finding on in a related industry. It might be worth looking for apprenticeship as a prop technician in theatre or in safety management in the events industry. Either of these would give you useful skills that you can transfer into TV at a later point. Check out What's an apprenticeship?  to learn more about apprenticeships and find an apprenticeship to learn how to find one in your region, or approach companies directly.

Get a degree:
It's not necessary to have a degree to become a games producer, but if you want one, a degree in art or interior design would help equip you for a role in the art department. If you want a more production-focused course, have a look at ScreenSkills' list of recommended courses and select one in unscripted TV or search for "TV production". We recognise courses with our ScreenSkills Select award where they offer training in the relevant software, dedicated time to building a portfolio and have strong links with the unscripted TV industry.
Get work experience:
Try to get work experience by writing to local production companies and asking if they offer any. Keep an eye out for work experience opportunities at the BBC, ITV, Channel 4, Sky and the PACT Indie Diversity Training Scheme.
Watch TV:
Obvious as it may sound, having an awareness of the landscape and having an opinion on what works and what doesn't work is an invaluable starting point, and a habit that will stand you in good stead.
Look outside the industry:
For the role of games producer, there are many avenues to explore outside the industry that could help you gain transferable skills. Event management (be it entertainment-based or charity athletics) could expose you to useful processes regarding risk assessments. You may also find experience in theatre useful, be that in props or stage management.
Take a short course:
There is always a risk that a game might be unsafe, either physically or to a participant's mental health. Hone your skills in production safety by taking a specialist course. Go to the list of training courses recommended by ScreenSkills to see if there is one in production safety or safety management.
Network:
Get to know people in the unscripted TV industry by attending events. Meet professionals and ask them questions about their work, while demonstrating interest in and knowledge of the industry. Offer to provide them with your professional contact details and try to stay in touch with them. Go to how to network well to learn how to do this.
Network online:
Create a LinkedIn profile. See if there are Facebook pages or other social media groups for people making unscripted TV in your area. There might even be groups for runners and trainees. Join them. Create a ScreenSkills profile. There are a lot of crewing agencies that will charge you to be on their books. Sign up to the free ones initially. Wales Screen, Northern Ireland Screen and other areas offer free crew databases. Find a film office near you and get connected. If you do sign up to paid sites, make sure they specialise in the areas in which you're interested.
Search for jobs:
Research unscripted TV production companies that you'd like to work for and watch the programmes that they make. Regularly check their websites and job listings websites to see if they are advertising for roles. You can also send in a short speculative letter with your CV to the head of talent. Register your CV on websites like The Talent Manager, which is used by most broadcasters and independent production companies when looking for staff. StartinTV offers tips on creating your CV and attending interviews, as well as some advice for your first day working in TV.
You might also be interested in…
Being a question producer or production designer in the unscripted TV industry. You might also be interested in being a games producer or lead games designer in the games industry. Alternatively, you could consider being a prop master in the film and TV drama industries.
Further resources