Unscripted TV
Studio manager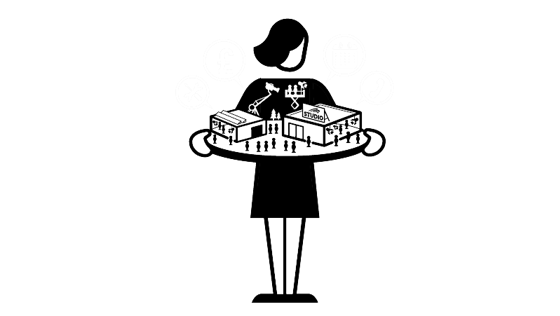 What does the studio manager do?
The studio manager has the responsibility of managing the studio facilities for recording productions. The role will vary greatly depending on the size of the facility. If it's a small independent operation with one or two small studios, the manager may do a whole range of tasks – set the rate card (the daily or hourly cost to hire the studio), secure new clients, ensure each production runs smoothly, recruit staff and oversee health and safety. However, studios are often part of a larger group of companies, in which case the marketing, sales and HR roles may be shared with other people.

Unless the studio is extremely busy, the studio manager will always be keen to find new clients to ensure the business runs as close to capacity as possible. Studios are very expensive to build and operate, so need to be used seven days a week if they are to make a good profit. Once the client has been secured, the studio manager will advise on the number of days needed to build the set and record the programme, and then check availability. Sometimes the studio is 'dry-hired'. That means the production company hiring the studio books nearly all the crew themselves. On other occasions, the studio manager helps supply the camera and sound crew. The studio manager always has a number of other key crafts people to call up on, such as designers, construction crews and special effects teams.

The studio manager doesn't need to have a formal engineering qualification, but the more they understand the technology in the studio, the better they will be able to advise clients and sell the facility. This is particularly important as new technology becomes available as it's always important to stay ahead of the competition. As well as running the studio, the studio manager also needs to plan marketing events, such as studio 'open days' where new production teams can see the facilities on offer.

The hours can be long and the studio manager needs to be ready to sort out the myriad problems that come with running a highly complex facility. However, it can be a great job for someone with excellent entrepreneurial skills, and it offers the chance to work closely with brilliant production teams making excellent programmes.
Read
What's a studio manager good at?
Business: have a keen business sense for marketing the studio, negotiating with clients and taking care of the finances
Problem solving: be flexible and ready to sort out a myriad problems and challenges as they arise
Technology: know about all the equipment, IT systems and facilities in the studio and keep up to date with the available technology
Diplomacy: be polite and patient in the management of studio colleagues and be able to maintain good long-term client relationships
Health and safety: know the legal requirements around keeping a production safe; ensure the wellbeing of those who hire the studio
Who does a studio manager work with?
Studio managers run the TV studio facility, so they need to have good relationships with all their staff, including studio coordinators and studio assistants. It's also essential that they have good relationships with production companies and the key players in the film and TV industries, including crew, in order to run a successful business.
How do I become a studio manager?
To be a studio manager you must have strong knowledge of and experience in both the business and the technical requirements of productions in a studio. Many people work their way up from being a runner to becoming a stage manager or studio coordinator and from there to the role of studio manager. Others may have been production managers for a production company who can use their experience of hiring facilities to give them a good insight into what clients want.  Sometimes studio managers come from outside the television production world, but with a proven track record in sales in a related industry such as hotels, conference and event management or IT. 

At school or college:

If you want to go to university, A-levels or Highers in film studies, media or art and design are relevant. As it's a role that combines understanding film production with project management and accounting, subjects that develop your skills in that way are useful too. Combine film studies with business or business studies and maths for a well-rounded skill set. Or you might want to take the following Level 3 vocational qualifications:
OCR Technical Diploma/Extended Diploma in Business
BTEC National Diploma/Extended Diploma in Business
BTEC National Diploma/Extended Diploma in Enterprise and Entrepreneurship
If you want to go straight into a job or apprenticeship, the following Level 3 vocational qualifications will equip you:
AQA Foundation Technical Level Business: Marketing Communications
AQA Technical Level Business: Marketing
NCFE Diploma in Skills for Business: Sales and Marketing
Get an apprenticeship:
Apprenticeships are jobs with training, so they are a good opportunity to earn as you learn.  Check out the websites of film and TV studios. The British Film Commission has a list of UK studios. See what apprenticeships they offer. This will get you into the studio and you can find your way into studio management from there.
Alternatively, you might be interested in finding out more about the industry by getting an apprenticeship with a broadcaster. These won't be in studio management as such, but an apprenticeship in production management or as a live event technician could set you up well to transfer into a studio at a later point. Alternatively, you could take an apprenticeship in business or marketing outside the industry, become an expert in that area and then move into a film or TV studio.
To find out more, go to what's an apprenticeship?. Go to where can I find an apprenticeship? to learn how to find apprenticeships in your region, or approach companies directly. Take a look at our list of apprenticeships to find the schemes of the main broadcasters.

Get a degree:
You don't need a degree to get into this role, but if you're interested in having one, take one you enjoy. You might want to take look at ScreenSkills' list of recommended courses and select one in film and television production. We recognise courses with our ScreenSkills Select award where they offer training in the relevant software, dedicated time to building a portfolio and have strong links with the unscripted TV industry. Courses in accounting, business or finance may also be helpful.

Get work experience: 
Try to get work experience by writing to film and TV studios. Alternatively, try to get work experience with broadcasters such the BBC, ITV, Channel 4 and Sky. It's also worth contacting production companies to see if they offer any.
 
Look outside the industry: 
Get experience in event management and coordination of venues. A strong transferable skill set is having experience of managing different projects at a fixed location and gaining the skills to communicate and sell that service. Volunteer at festivals to help coordinate the setup of stages and sound equipment. Other work experience that gives you a proven track record in sales in a related industry, such as hotels, conferences and IT, is useful.

Network:
Get to know people in the unscripted TV industry by attending events, such as ScreenSkills' Open Doors. Go to training and opportunities and use the events filter to find out what's on. Meet professionals and ask them questions about their work, while demonstrating interest in and knowledge of the industry. Offer to provide them with your professional contact details and try to stay in touch with them. Go to network well to learn how to do this.

Network online:
Create a LinkedIn profile. See if there are Facebook pages or other social media groups for people making unscripted TV in your area. There might even be groups for runners and trainees. Join them. Create a ScreenSkills profile. There are a lot of crewing agencies that will charge you to be on their books. Sign up to the free ones initially. Wales Screen, Northern Ireland Screen and other areas offer free crew databases. Find a film office near you and get connected. If you do sign up to paid websites, make sure they specialise in the areas in which you're interested.

Search for jobs:
Research film and TV studios that you'd like to work for. Regularly check their websites and job listings websites to see if they are advertising for roles. Make use of the ScreenSkills jobs board. You can also send in a short speculative letter with your CV to the studio. StartinTV offers tips on creating your CV and attending interviews, as well as some advice for your first day working in TV.
You might also be interested in...
Being a technical manager, production manager, series producer or a production buyer in the unscripted TV industry. You might also be interested in being a line producer in the film and TV drama industries.
Futher resources