Unscripted TV
Floor runner (Unscripted TV)
Also known as: Runner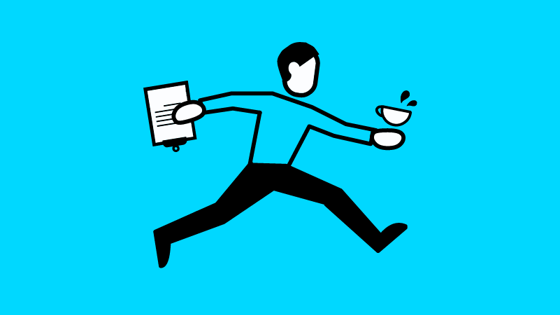 What does a floor runner do?
Floor runners are the most junior members of the floor management team.

The term 'floor' often means a studio floor, but the term can also be used to describe a football stadium, a field or a cathedral – any location from which there is an outside broadcast.

The day for the floor runner often begins before rehearsals start and ends well after everyone else has gone home. Floor runners meet and greet the presenters, helping them with their bags and showing them to make-up or costume.

On a large production, like a big Saturday night entertainment show, there's a small army of floor runners making sure everyone is in place. Each is assigned to one or two contributors to make sure they have everything they need, like a copy of the script or coffees and sandwiches.

The runners also help the production team and crew and often visit the production gallery to see if anyone needs help, a coffee or some water. This might sound like the simplest job, but picking the right moment is essential. You need to be sensitive to the atmosphere: to ask in a loud voice if the team would like a coffee isn't a great approach ten seconds from going live. But if you judge it right, a nice cuppa will be hugely appreciated by the production team or presenter who have been working for several hours without a break.

Most floor runners are freelance. It's one of the best places in which to learn: You find out who does what, where the decisions are made, how producers work with presenters, how long it takes to rehearse a sequence, how many cameras you need to cover a pop band, and so much more. It can be genuinely exciting being back-stage at a rock festival or international football match – although being a floor runner should not be seen as a chance to meet famous people, and 'selfies' are discouraged. It's a place to behave professionally with everyone you meet whoever they may be; then you are remembered and hopefully invited on to the next job.
Watch and Read
What's a floor runner good at?
• Taking initiative: have common sense, see what needs to be done, offer help without being asked, don't be afraid to ask questions at the appropriate time
• Reliability: be punctual, do what's asked promptly and efficiently, have a positive can-do attitude, file and store things securely
• Learning quickly: listen and watch carefully, stay calm under pressure, communicate clearly, understand the different production roles and their different requirements
• Tact: judge situations and the right time to offer help, know when and where it's appropriate to carry out the job in the moment, be able to put people at ease
• Watching telly: have a passion for unscripted TV and a love of the industry
Tools of the trade
Be prepared for your first day on set. Not all of this kit will be relevant for every type of production, so adapt it according to whether you are in a studio or on an outside broadcast.
• Pen with four colours. Used for note-taking on call-sheets
• Highlighter
• Notepad
• Screwdriver
• Corkscrew
• Scissors
• Leatherman or multi tool (not essential but helpful)
• Gaffer tape
• In-ear convert (so you don't have to wear one that has been used by someone else)
• Walking boots or other waterproof footwear
• Waterproof trousers and coat
• Thermal and extra layers of clothing
• Set bag (backpack) to put them in
• Reusable water bottle and snacks
Who does a floor runner work with?
Runners work within different teams and different hierarchies from one production to the next. In the studio or on an outside broadcast, they report to floor assistants and floor managers, but they will also be on hand to help anyone on a production, from directors to caterers, who requires something.
How do I become a floor runner?
It's not essential to have a degree to become a floor runner; it's more about having a passion for TV, being ready to learn and getting to know people in the industry.

At school or college:
You can take A-levels or Highers in any subject you're interested in.  If you want to go straight into a job or apprenticeship, the following Level 3 vocational qualifications will equip you:
BTEC National Extended Diploma in Creative Digital Media Production
Aim Awards Diploma in Creative and Digital Media 
OCR Technical Diploma in Digital Media (Moving Image and Audio Production) 
BTEC National Diploma in Film and Television Production 
UAL Diploma/Extended Diploma in Creative Media Production and Technology 

Get an apprenticeship:

Apprenticeships are jobs with training. They're a great opportunity to earn while you learn. You're unlikely to find an apprenticeship in floor management as such, but you might be able to find one that gets you into broadcasting or production. To find out more, go to  what's an apprenticeship?. Go to where can I find an apprenticeship? to learn how to find apprenticeships in your region, or approach companies directly. Find the major broadcaster schemes using the  apprenticeships  filter in information and resources.  

Volunteer:
Floor runner is an entry-level position, but it may still require some experience. Put yourself out there and try to get any experience you can. Make videos for social media, volunteer to be a stage manager with amateur theatre companies or work backstage at a festival.

Get a degree:
You don't need to go to university to become a floor runner, but if you want to go then don't be afraid to study a subject you're interested in and feel would make a great subject for an unscripted TV programme.
If you want to focus on TV production, have a look at ScreenSkills' list of recommended courses and select one in unscripted TV. We recognise courses with our ScreenSkills Select award where they offer training in the relevant software, dedicated time to building a portfolio and have strong links with the unscripted TV industry.
Get work experience:
Try to get work experience by writing to local production companies and asking if they offer any. Keep an eye out for work experience opportunities at the BBC, ITV, Channel 4, Sky and the PACT Indie Diversity Training Scheme.
Network:
Get to know people in the unscripted TV industry by attending events. Meet professionals and ask them questions about their work, while demonstrating interest in and knowledge of the industry. Offer to provide them with your professional contact details and try to stay in touch with them. Go to how to network well to learn how to do this.
Network online:
Create a LinkedIn profile. See if there are Facebook pages or other social media groups for people making unscripted TV in your area. There might even be groups for runners and trainees. Join them. Create a ScreenSkills profile. There are a lot of crewing agencies that will charge you to be on their books. Sign up to the free ones initially. Wales Screen, Northern Ireland Screen and other areas offer free crew databases. Find a film office near you and get connected. If you do sign up to paid sites, make sure they specialise in the areas in which you're interested.
Search for jobs:
Research unscripted TV production companies that you'd like to work for and watch the programmes that they make. Regularly check their websites and job listings websites to see if they are advertising for roles. You can also send in a short speculative letter with your CV to the production manager or talent manager, depending on what kind of role you prefer. Register your CV on websites like The Talent Manager, which is used by most broadcasters and independent production companies when looking for staff. StartinTV offers tips on creating your CV and attending interviews, as well as some advice for your first day working in TV.
You might also be interested in…
Being a logger or personal assistant in the unscripted TV industry. You might also be interested in being a floor runner or production runner in the film and TV drama industries.
Further resources
• IMDb