Unscripted TV
Director (Unscripted TV)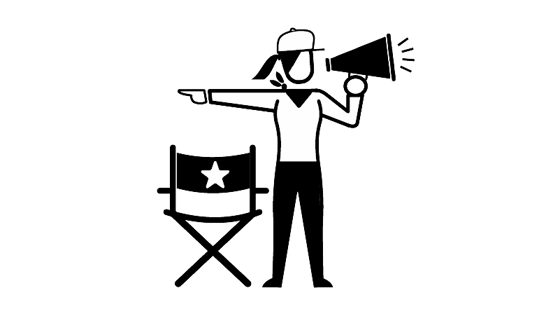 What does a director do?
Directors are responsible for telling a story visually. In unscripted TV, they work mainly on single camera shoots, capturing the content and creating the right visuals to complement and enhance it. They may also be required to direct two or three cameras simultaneously or to operate a camera and shoot the material themselves.
Directors usually work in tandem with a producer. The director directs the camera operator and technical crew, while the producer focuses on the editorial (story). (More often than not, this role is merged, and one person does both jobs, known as producer director.) Depending on the type and size of the production, directors may work alongside one producer to make an entire show, or they may work with a number of producers on a variety of shoots within one programme or series. They also work with assistant producers and researchers who gather all the information, props, permissions and anything else the director may require.
In pre-production, directors visit a location to assess its suitability and whether any external factors could have an impact on filming, such as being under a flight path or near a busy train line. They may meet potential contributors to build a relationship and ensure they are clear about the filming process before it gets under way. Then they carry out a risk assessment and create a filming schedule detailing what needs to be shot and when.
On a shoot, the director is responsible for communicating what they want to achieve with the camera operators and crew, instructing presenters and contributors and ensuring they are all aware of what's happening and when. They are responsible for creating a good working environment and time management, keeping on top of what needs to be shot, how long it will take and building in contingency to ensure they don't over-run.
Some directors go into an edit to edit their material. Directors are almost always freelance, unless working for a very long-term production, and often specialise in certain genres, such as entertainment or documentary.
Watch and read
What's a director good at?
Photography: have a good eye for and understanding of composition, light, colour, texture, focus and framing; be up to date with the latest technology, how to operate it and know the best options for different productions
Creativity: be quick to understand content and create an appropriate visual style, introduce flair and originality and be able to direct in different styles
Communication: explain clearly to camera operators the shots they want, instruct presenters on delivery and put contributors at ease when filming
Time management: work well in challenging, changeable environments, achieve what's needed in the time available, build contingency, problem solve and prioritise
Health and safety: be aware of those around you and the environment you are working in when filming, take responsibility for the wellbeing of those involved
Who does a director work with?
Directors work with a producer on a shoot and instruct the camera operator and any additional crew, presenters or contributors. They work directly to the series producer and with assistant producers and researchers and liaise with production management regarding scheduling, locations and health and safety.
How do I become a director?
There are several routes into the unscripted TV director role. Some come up through the editorial route, starting as a runner, then becoming a researcher, then an assistant producer, then a shooting assistant producer and then a director. Others come through the technical route, starting off as a camera assistant and then becoming a camera operator.
At school or college: 
If you want to go to university, A-levels or Highers in English, film studies or media studies are useful. Or you might want to take a Level 3 vocational qualification such as:
BTEC National Extended Diploma in Creative Digital Media Production
Aim Awards Diploma in Creative and Digital Media
OCR Technical Diploma in Digital Media (Moving Image and Audio Production)
BTEC National Diploma in Film and Television Production
UAL Diploma/Extended Diploma in Creative Media Production and Technology
Get an apprenticeship:
An apprenticeship is a job with training, so it's a great opportunity to earn as you learn. It can also be a good way of getting into the TV industry. Go to ScreenSkills information on apprenticeships for the main apprenticeship schemes in television. If you can't find a role in TV, it might be worth finding on in a related industry such as a studio photography, journalism or video production. This will give you skills that you can then transfer into TV at a later point. Check out What's an apprenticeship? to learn more about apprenticeships and find an apprenticeship to learn how to find one in your region, or approach companies directly.

Build a portfolio: 
Direct your own short documentaries, maybe using your phone camera. Learn how to use a range of cameras and editing software. Start creating work that you can show off to tutors and employers. This is a helpful process. Go to how to make a showreel to learn more.
Get a degree: 
You don't need a degree to be a director, but you might like one. If you want a degree that is particularly related to the TV, have a look at ScreenSkills' list of recommended courses and select one in unscripted TV or search for "directing unscripted". We recognise courses with our ScreenSkills Select award where they offer training in the relevant software, dedicated time to building a portfolio and have strong links with the unscripted TV industry. 
Get work experience: 
Try to get work experience by writing to local production companies and asking if they offer any. Keep an eye out for work experience opportunities at the BBC, ITV, Channel 4 and Sky.  
More specifically, you may wish to consider: 
Look outside the industry:
If you can't find roles within TV, try to find work making videos in advertising or for companies with strong social media teams. You will develop skills you can transfer into unscripted TV at a later point. 
Take a short course: 
Hone your skills in directing by taking a specialist course. Go to the list of training courses recommended by ScreenSkills to see if there is one in self shooting or editing. 
Network: 
Get to know people in the unscripted TV industry by attending events. Meet professionals and ask them questions about their work, while demonstrating interest in and knowledge of the industry. Offer to provide them with your professional contact details and try to stay in touch with them. Go to how to network well to learn how to do this.
Network online: 
Create a LinkedIn profile. See if there are Facebook pages or other social media groups for people making unscripted TV in your area. There might even be groups for runners and trainees. Join them.  Create a ScreenSkills profile. There are a lot of crewing agencies that will charge you to be on their books. Sign up to the free ones initially. Wales Screen, Northern Ireland Screen and other areas offer free crew databases. Find a film office near you and get connected. If you do sign up to paid sites, make sure they specialise in the areas in which you're interested. 
Search for jobs: 
Research unscripted TV production companies that you'd like to work for and watch the programmes that they make. Regularly check their websites and job listings websites to see if they are advertising for roles. You can also send in a short speculative letter with your CV to the head of talent. Register your CV on websites like The Talent Manager, which is used by most broadcasters and independent production companies when looking for staff. StartinTV offers tips on creating your CV and attending interviews, as well as some advice for your first day working in TV. 
You might also be interested in...
Being a producer director in the unscripted TV industry. You might also be interested in being a director in the film and TV drama industries. Alternatively, you could consider being a director in animation.
Further resources