Film and TV drama
Deliverables producer (Film and TV drama)
Also known as: Quicktime producer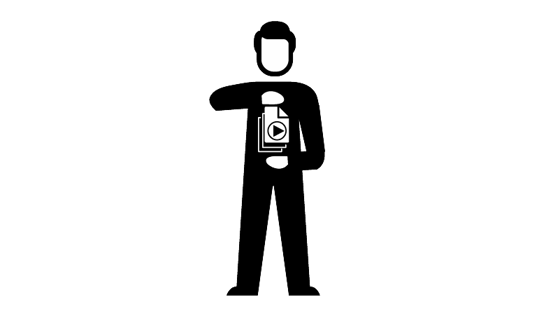 What does a deliverables producer do?
When a film or TV drama is made, it has to be made in a variety of different formats; DCP (for cinema), IMF (for streaming platforms) or conventional file or DVD mastering. Part of the work of production is to create these and Quicktime files for reviewing and sharing the film and further sales.
The deliverables producer oversees that process. They work with the film's post production supervisor to decide the schedule for producing the picture and sound deliverables and what additional material will be included in the delivery, such as bits of footage that weren't used for the final film. They work with their team to encode video and audio into file-based formats in the most effective way possible. They make sure that the assets are tested and delivered within the agreed budget and on time.
What's a deliverables producer good at?
Programming: be able to programme in several languages (common ones include Visual Basic, VB NET, Java, J2EE, C, C++, C#, ASP, ASP.NET, Peri, JavaScript, Web Services, XML, PHP, Cold Fusion, .NET, Framework, HTML and Python)
Knowledge of file-based and DVD technologies: stay up-to-date with the latest authoring tools
Organisation: schedule, work to time and within budget
Attention to detail: have an interest in minutiae and the ability to deal with repetitive tasks
Problem-solving:  take initiative and figure out solutions to problems as they arise
Communication: work with film and TV drama producers, share the information with the rest of the team
Who does a deliverables producer work with?
The post-production supervisor will have a close working relationship with the deliverables producer to make sure all formats replicate the master and delivered to relevant distribution companies. The deliverables producer also works with the following:
Quicktime author
Quicktime authors import subtitles and put in the chapter points. They create multi-story or multi-angle links and design various menus and buttons.
Quicktime compressionist
Compressionists encode and verify the video and audio materials. They use a variety of encoding equipment and software and know the best tools for the job. They will often repeat an encoding process several times to maximise the quality of the image while controlling the size of the specific file that is produced.
Quality control (QC)
QC are responsible for the thorough testing and checking of the final file contents, including video, audio, graphics and subtitles. This work can be split into two: the integrity of the encoded audio and video material has to be checked (this is called AV, QC or runtime QC). Then the navigation and programming of the finished file must be thoroughly tested.
How do I become a deliverables producer?
Most deliverables producers will have a background in computer sciences, web design, programming or IT. They generally start their careers as post-production runners, tech assistants or conform editors. Have a look at our post-production runner profile for full details of how to get in.
At school or college:
If you want to go to university, A-levels or Highers in computer science, maths, further maths or physics are useful. Or you might want to take the following Level 3 vocational qualifications:
BTEC National Diploma in Computing
BTEC National Extended Diploma in Creative Digital Media Production
If you want to go straight into a job or apprenticeship, the following Level 3 vocational qualifications will equip you:
Aim Awards Diploma in Creative and Digital Media
AQA Technical Level IT: Programming
OCR Technical Diploma in Digital Media (Digital Content for Interactive Media)
OCR Technical Diploma in Digital Media (Moving Image and Audio Production)
OCR Technical Diploma in IT (Digital Software Practitioner)
BTEC National Diploma in Computing for Creative Industries
UAL Diploma/Extended Diploma in Creative Media Production and Technology
Get an apprenticeship:
Apprenticeships are jobs with training, so they're a great opportunity to earn as you learn. These are the apprenticeships that might be relevant to the deliverables producer role.
Digital Applications (SCQF Level 6, Scotland)
IT and Telecommunications (SCQF Level 5, Scotland)
Cloud and Application Development (Level 4, Northern Ireland)
IT and Telecoms Professional (Level 3, Northern Ireland)
Computing (Level 4, Northern Ireland)
Software Development (Level 4, Northern Ireland)
Information Technology Solutions Development and Support (Level 5, Wales)
IT Solutions Development and Support (Level 3, 4, Wales)
IT, Software, Web and Telecoms Professionals (Level 2, 3, 4, Wales)
You might be able to find the following degree-level apprenticeships:
Creative (SCQF Level 6/7, Scotland)
Creative and Digital Media (SCQF Level 6/7, Scotland)
Design (SCQF Level 5, 6/7, Scotland)
IT and Software Development (SCQF Level 10, Scotland
IT and Telecommunications (SCQF Level 6/7, 8/9, Scotland)
Digital Degree Apprenticeship (Level 6, Wales)
Before taking any apprenticeship, check what you'll be learning with your prospective employer and college, so you can be sure it will be giving you the skills you want. Go to how to become an apprentice to learn how to find apprenticeships in your region or approach companies directly.
Get a degree:
It's not essential, but you might want one in physics, computer programming or advanced mathematics. Have a look at ScreenSkills' list of recommended courses in film and TV. We recognise courses with our ScreenSkills Select award where they offer training in the relevant software, dedicated time to building a portfolio and have strong links with the film and TV industries.
Become a trainee:
Apply for ScreenSkills' Trainee Finder scheme as a post-production trainee.
You might also be interested in…
Working as a video assist operator on a film set.
Further resources