Film and TV drama
Costume trainee
Also known as: Wardrobe trainee, Costume assistant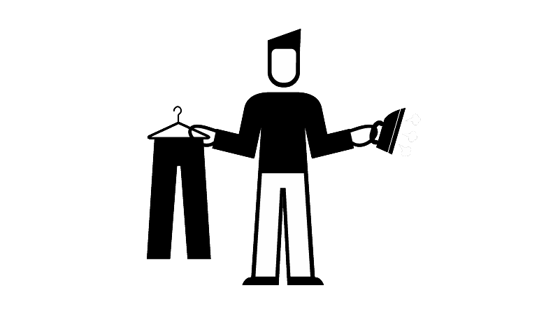 What does a costume trainee do?
Costume trainees are at the ready with a needle, a cup of tea, an iron and a notepad. Their tasks vary depending on the scale of the production. They might carry out research for the costume designer or work with a costume assistant to detail requirements, photograph garments and note changes in the continuity book.
They are likely to help with setting up workrooms, ordering supplies and may help with pattern cutting or the ageing and distressing of costumes. They may be given specific responsibility for crowd fittings or packing costumes for overseas shipment to other locations or units.
During the shoot, they make sure the outfits are ready for the actors and help the standbys by making simple alternations. Or they might be asked to collect garments and supplies, clean and iron them or do returns for the designer.
Watch and read
What's a costume trainee good at?
Sewing: measure, cut fabrics, sew by hand and with a sewing machine
Costume history: know period costume and contemporary fashion, be able to research using books, museums, the internet
Watching film and TV drama: have a passion for the genre and a love of the industry
Learning by watching and asking: be able to observe what's happening and ask questions at the appropriate moments
Reliability: get to set on time and do what's asked
Communication: put actors at their ease while in fittings or on set, listen to and explain to crew members
Tools of the trade
You will need some basic kit when you start working on a film set:
Bum bag or small across body bag
Needles
Black and white is a good start
Pins and safety pins
Tape measure
Small scissors
Sharpie
Notepad and pen
Teams often communicate by WhatsApp
Camera with digital card or phone with a good camera
Waterproof jacket and trousers
Walking boots or wellies
Thermal clothes and lots of layers
Who does a costume trainee work with?
Costume trainees work with the whole costume team, including costume assistants on set, on costume trucks or at base. They might also be working with actors in crowd scenes.
How do I become a costume trainee?
Start by becoming a skilled garment maker. If you can cut fabric and sew, you will have something to offer the costume team. Once you've developed your skills, you need to get experience, make contacts and find your way into the industry. Get onto ScreenSkills' Trainee Finder scheme. This will help you make the contacts and build up the industry knowledge to get work in the art department of a film or TV drama.
At school or college:
If you want to go to university, A-levels or Highers in art and design, fashion, textiles, theatre, graphic design or graphic communication are useful. Or you might want to take the following Level 3 vocational qualifications:
NCFE Applied General Certificate in Art and Design
BTEC National Diploma/Extended Diploma in Art and Design
UAL Applied General Diploma/Extended Diploma in Art and Design
If you want to go straight into a job or apprenticeship, the following Level 3 vocational qualifications will equip you:
OCR Cambridge Technical Diploma in Art and Design (3D Design)
OCR Cambridge Technical Diploma in Art and Design (Graphic Design)
OCR Cambridge Technical Diploma in Art and Design (Photography)
BTEC National Diploma in 3D Design and Crafts
BTEC National Diploma in Fashion Design and Production
BTEC National Diploma in Photography
UAL Diploma/Extended Diploma in Art and Design
Get an apprenticeship:
An apprenticeship is a job with training, so it's a great opportunity to earn as you learn. In the past, it has been challenging to find jobs as an apprentice within production companies, although there is now a Costume performance technician apprenticeship standard specifically designed for people working in theatre or film and TV. It might be worth looking for a job as an apprentice in an industry that uses similar skills, such as being a tailor for a clothing designer or tailoring company. Try to hone your skills through an apprenticeship in fashion and textiles or costume and wardrobe. You can then transfer into television at a later point so long as you create a portfolio, keep up your interest and develop your contacts. Check out What's an apprenticeship?  to learn more about apprenticeships and find an apprenticeship to learn how to find one in your region, or approach companies directly. Go to ScreenSkills information on apprenticeships for the main apprenticeship schemes in television.
Get experience:
Volunteer to do the costumes for student films or amateur theatre productions.
Build a portfolio:
This is essential. Go to Build your costume portfolio for specific advice on ways of impressing admissions tutors and costume designers.  
Work at a costume rental firm:
This will help you to learn how to handle costumes and make contacts in the industry.
Get a degree:
It's by no means essential. But if you want one, have a look at ScreenSkills' list of recommended courses in film and TV. We recognise courses with our ScreenSkills Select award where they offer training in the relevant software, dedicated time to building a portfolio and have strong links with the film and TV industries.
Network:
Go to ScreenSkills' events like Open Doors to meet people working in costume. Show them your portfolio and give them your number.
Network online:
Create a LinkedIn profile. See if there's a Facebook page or other social media group for people making films or videos in your area. Join it. Create a ScreenSkills profile.
Become a trainee:
Get onto ScreenSkills' Trainee Finder scheme. Get the skills, make contacts and start working in a costume department.
You might also be interested in…
Being a costume assistant in unscripted TV. Working in studio shows and entertainment is different from working on the film set of a large period drama. Look at the job role to see which you think you might prefer.
Further resources