Film and TV drama
Set decorator
Also known as: Set dec, Set dresser, Set designer (theatre), Stylist (commercials)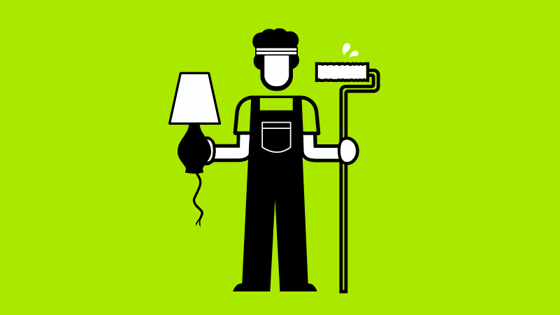 What does a set decorator do?
Set decorators are storytellers. They create the background of the action, explaining the context, adding mood and visual interest as the drama unfolds. While prop masters deal with the placing of objects an actor holds, set decorators are concerned with the walls, floors, vehicles and furniture.
Before filming begins, set decorators work with the director, art director, props master and production buyers to go through the script and work out what sets are needed. They make a list and a plan for the props master to follow. Then they buy or hire the items and get in props makers to make furniture.
The day before shooting set decorators arrive early to begin dressing the set. After the director and director of photography have checked it, the set decorators move on to the next scene.  Once a scene has been shot, they are responsible for striking (taking apart) each set.
Watch
What's a set decorator good at?
Understanding film: be able to pick up the director's vision, know how a background can tell a story
Style: have a good eye for decoration, a sense of colour and form, precise attention to detail
Historical knowledge: research different eras and dress a set authentically
Communication: work closely with the production designer and other departments, share the vision with the team
Organisation: break down a script for set requirements, manage staff, budgets, complex schedules and transport
Who does a set decorator work with?
In larger productions, set decorators will have a team made up of assistant set decorators, buyers, set dressers, set decoration coordinators, drapers, cabinet makers, sculptors and so on. They report to the production designer and work closely with the art director and props master.
How do I become a set decorator?
There is no standard career path to be a set decorator. Often, they will have experience working as a production buyer or an assistant set decorator. They have usually worked in the art department for several years or in set design in the theatre. One route in would be to apply to be a ScreenSkills' art department trainee. This will help you make the contacts and build up the industry knowledge to get work in the art department of a film or TV drama.
At school or college:
If you want to go to university, A-levels or Highers in art and design, architecture, photography, theatre, graphic design or graphic communication are useful. Or you might want to take the following Level 3 vocational qualifications:
NCFE Applied General Certificate in Art and Design
BTEC National Diploma/Extended Diploma in Art and Design
UAL Applied General Diploma/Extended Diploma in Art and Design
If you want to go straight into a job or apprenticeship, the following Level 3 vocational qualifications will equip you:
OCR Cambridge Technical Diploma in Art and Design (3D Design)
OCR Cambridge Technical Diploma in Art and Design (Graphic Design)
OCR Cambridge Technical Diploma in Art and Design (Photography)
BTEC National Diploma in 3D Design and Crafts
BTEC National Diploma in Photography
UAL Diploma/Extended Diploma in Art and Design
Get an apprenticeship:
It can be challenging to find jobs as an apprentice with production companies as many are not able to take on people for a whole year, which is an apprenticeship requirement at the moment. However, it might be worth looking for a job as an apprentice in an industry that uses similar skills, such as being a furniture maker, an illustrator in publishing or a graphic artist in advertising. This could help you develop your craft and create a body of work for a portfolio that you can use to find your way into film and TV drama at a later point.
These are the standards and frameworks through which relevant apprenticeships might be available throughout the UK:
Props technician (Film and TV drama) (Level 3, England)
Design (SCQF, Level 5, Scotland)
Furniture, Furnishings and Interiors (SCQF, Level 5, 6, Scotland)
Design (Level 3, Northern Ireland)
Design (Level 2, 3, Wales)
Design Practice (Level 5, Wales)
Furniture and Furnishings (Level 2, 3, Wales)
In Scotland, you might be able to find degree-level apprenticeships through the following frameworks:
Design (SCQF Level 6/7, Scotland)
Architecture (degree) (Level 7, Scotland)
Design (SCQF Level 6/7, Scotland)
Before taking any apprenticeship, check what you'll be learning with your prospective employer and college, so you can be sure it will be giving you the skills you want. Go to how to become an apprentice to learn how to find apprenticeships in your region or approach companies directly.
Get experience:
Volunteer to do set decorating for student videos. Or decorate stage sets in amateur theatre productions.
Get a degree: 
It's by no means essential, but if you want one, have a look at ScreenSkills' list of recommended courses in film and TV. We recognise courses with our ScreenSkills Select award where they offer training in the relevant software, dedicated time to building a portfolio and have strong links with the film and TV industries.
Meet people in the industry:
Got to ScreenSkills' events like Open Doors to people in the art department. Show them your portfolio and give them your number.
Network online:
Create a LinkedIn profile. See if there's a Facebook page or other social media group for people making films or videos in your area. Join it and take part. Create a ScreenSkills profile. 
Become a trainee:
Get onto ScreenSkills' Trainee Finder scheme. Get the skills, make contacts and start working in an art department.
You might also be interested in…
Many set decorators work on commercials, where they are known as stylists. There, the set decorator must think about where the advertised product is placed. Or you could work as a theatre set designer.
Further resources