Post-production
Dubbing mixer
Also known as: Re-recording mixer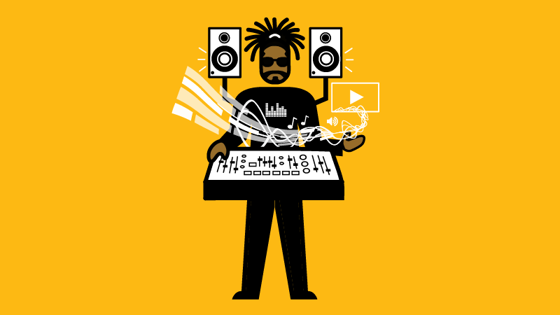 What does a dubbing mixer do?
A dubbing mixer brings together all the different sound elements of a production to create the final mix.  The 'dub' takes place when the picture editor has finished the programme or film. This is a stage known as 'picture locked'.

Dubbing mixers bring together the dialogue, music, specially created sound effects and, if needed, the commentary or voiceover. Blending these elements together requires great skill and good ears: if the effects are too loud you might not be able to understand the dialogue; if they are too quiet the film may lose much of the excitement. Similar judgements are made about the music: some scenes are ruined with too much music, while others need it subtly placed to increase the tension or emotion. 
The dubbing mixer prepares for the mix by listening to all the audio tracks individually, checking for things like distortion or unintelligible dialogue and deciding how best to treat them. Usually, the picture editor has laid some of the tracks and a sound editor has added some more in a process called track laying. The dubbing mixer works their way through the film, adjusting the levels of all the audio tracks relative to each other, creating a mix for each section and then, finally, listening to the project as a whole. They are guided by the director and producer, who may want the effects in the final scenes to be increasingly powerful as, say, a battle comes to a climax or, conversely, for nearly all the music and effects to be held down to create a sense of alienation and disorientation.  
The dubbing mixer also needs to make sure the rough edges of the sound are removed; for example, by smoothing the join between dialogue captured on location and dialogue recorded in the studio. If there is commentary, such as in a natural history film, then the dub is a good place to check if the narration feels overcrowded. If it does, the mixer can space the sentences – and even individual words – in the recording to help them breathe or cut an unnecessary phrase. 
What makes the dubbing mixer's job more challenging is that a film or programme will be viewed in many different settings. If a film is to be seen in a modern cinema with Dolby Atmos, they will approach the mix differently to that of a soap opera, which will be viewed mainly on home televisions with tiny speakers. Often there will be different mixes of the same programme to suit different listening environments and formats, so a film sold on a DVD, which offers surround sound, will have a different mix to the television version.  
The dubbing mixer also has to consider the audience's needs. A TV series about gardening, for example, is likely to have an older audience than a programme about K-Pop, so it's important to take into account the viewers' less sensitive hearing and make sure any dialogue is clear. 
 Dubbing mixers have a very creative and satisfying job. They can make an enormous difference to a feature film or TV production. Most are freelance but in some instances, they are employed by post-production or audio post-production houses. 
Watch and read
What's a dubbing mixer good at?
Listening: have a good ear, know what sounds good, be able to hear sounds that shouldn't be there 

Creativity: be able to tell a story, have a fine appreciation of the way sound contributes to narrative, have excellent artistic judgement 

Using audio software: record sound, use editing software, understand how sound is made, keep up to date with it 

Collaboration: be able to interpret the director's vision, work closely with the director, producers and actors
Attention to detail: be patient, attend to the smallest sounds, often under pressure in the final mix stage 
Who does a dubbing mixer work with?
Dubbing mixers have to be able to work long hours on their own, but also be able to collaborate with a range of people. They work closely with the director and interpret the director's vision of the film in sound. They also work with the producer, who knows the audience and the deliverables, and with the production coordinator who might be organising the actors for the ADR (additional dialogue recording).


How do I become a dubbing mixer?
Most dubbing mixers are trained in sound, either on location or in dubbing theatres or recording studios. They build a career by taking on bigger and bigger projects. They often specialise in areas such as entertainment, drama or documentaries and tend to work in either cinema or television, but not usually in both. Any entry-level role in sound is a good way in. As your first step, consider being a sound assistant in unscripted TV, a sound trainee or a runner in post-production. 

At school or college: 
If you want to go to university, A-levels or Highers in computer science, music, film studies, English, maths, further maths, media studies or physics are useful. If you can, it's handy to combine arts and science, so you have knowledge of storytelling as well as technology and the way sound is made.  
If you want to go straight into a job, then the following Level 3 vocational qualifications will equip you: 
Aim Awards Diploma in Creative and Digital Media 
AQA Technical Level IT: Programming 
OCR Technical Diploma in Digital Media (Digital Content for Interactive Media) 
OCR Technical Diploma in Digital Media (Moving Image and Audio Production) 
OCR Technical Diploma in IT (Digital Software Practitioner) 
BTEC National Diploma/Extended Diploma in Music Technology 
BTEC National Diploma in Computing for Creative Industries 
BTEC National Diploma in Sound Production 
BTEC National Extended Certificate in Sound Engineering 
BTEC National Extended Diploma in Electrical and Electronic Engineering 
RSL Subsidiary Diploma for Music Practitioners (Technology) 
UAL Diploma/Extended Diploma in Creative Media Production and Technology


Get a degree: 
You don't need a degree to be a dubbing mixer, but you might want one.  It can help with personal development and give you time to learn some necessary skills. A degree in music, sound recording ('tonmeister'), electronics, maths or sound technology would be useful. Some dubbing mixers have taken degrees in maths or an arts subject and then gone on to do a post-graduate course in sound. Have a look at ScreenSkills' list of recommended courses in film and TV. Choose one that will teach you about sound editing and give you access to post-production facilities. We recognise courses with our ScreenSkills Select award where they offer training in the relevant software, dedicated time to building a portfolio and have strong links with the film and TV industries. 

Make films: 
Do the sound on student productions. Make a showreel of your work and build your sound portfolio. This is evidence of your practical skills and creativity that you can show to admissions tutors and employers. 
Network:
Go to ScreenSkills' events like Open Doors to meet people working in sound. Go to Training, information and resources and click on "events" to see what's happening in your area. Show the people you meet there your portfolio and give them your contact details.

Network online: 
Create a LinkedIn profile. Find the Facebook pages or other social media groups for people working in sound in film, TV and games. Join them and take part in the conversation. Create a ScreenSkills profile. 

Search for jobs: 
Research post-production and audio post-production houses. Regularly check their websites to see if they are advertising for junior roles. Check out ScreenSkills Jobs Board and Animation UK job vacancies. Send in your CV and ask if they're recruiting. 
You might also be interested in…
Being a supervising sound editor or music editor in film and TV. Or perhaps a sound designer or an audio programmer in the games industry.
Further resources