Post-production
Music Editor (Post-production)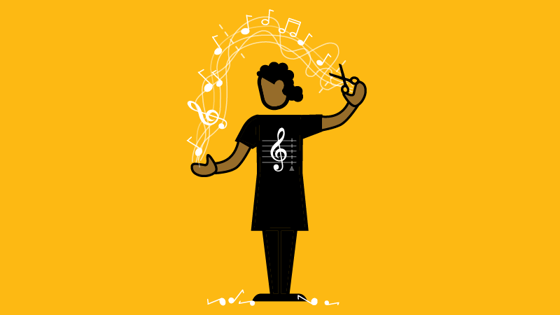 What does a sound assistant do?
Music editors are responsible for all the music in a film, TV or video production. The extent of their role varies considerably depending on the type of production concerned, but they have overall responsibility for the soundtrack and any music created by the composer.
On a medium-budget production, they usually start work while the film or programme is being edited. They work with the director to decide on the purpose of the music, find a style to suit the story and mark the points in the film where music is required (spotting).  They then develop the temp (temporary) score or guide track that is meant to guide the composer in creating original musical pieces for the film or programme.
Music editors then work closely with the composer, who is usually appointed by the director, to compose the music using the temp score or guide track as a template. The temp score is also used by the film editors to achieve the right tempo with the cut. Music editors often act as a bridge between the sound and picture teams.
They attend all recording sessions, helping with any revisions, and design a 'click track' that is used to help the musicians achieve synchronisation with the movie.  Working with a specialist music mixer, they create different mixes, lay down the tracks and fit them exactly to the picture, ready for the final mix or dub.
One of the final tasks for music editors on films and programmes is preparing the cue sheet - a detailed breakdown of all the music featured on the soundtracks. This is sent to the Performing Rights Society and all exhibitors so that royalties can be paid every time the film or programme is screened.
Watch and read
What's a music editor good at?
Music: know the history and construction of music, be able to compose in different styles and genres, improvise, read scores, create themes quickly under the pressure of deadlines
Understanding film production: appreciate the process and techniques of making films, know how music affects images and adds drama, have a passion for the industry
Collaboration: listen to the director, translate the vision into music, be flexible, communicate the vision with the editor, composer and other musicians
Using software: produce electronic scores using technology such as ProTools, use editing and mixing software
Business: know people in the music, film and TV industries, build up contacts, understand contracts and copyright clearances, organise, communicate and negotiate
Who does a music editor work with?
Within the post-production house, music editors work closely with the supervising sound editor. They also work closely with the composer and music agents.
How do I become a music editor?
Music editors are usually graduates in sound technology or music. After graduating, they may work their way up in the post-production sound department, starting as runners, training as assistants and progressing to re-recording mixers or sound editors. 
At school or college:
If you want to go to university, A-levels or Highers in music, film studies, media studies or English are useful. Or you might want to take a Level 3 OCR Cambridge Technical Diploma/Extended Diploma in Performing Arts.
If you don't want to go to university, the following Level 3 vocational qualifications are relevant to the role:
Aim Awards Diploma in Creative and Digital Media
BTEC National Diploma/Extended Diploma in Music Technology
BTEC Level 3 National Diploma in Film and Television Production
BTEC Level 3 National Diploma in Music
BTEC Level 3 National Diploma in Sound Production
RSL Subsidiary Diploma for Music Practitioners (Composition)
RSL Subsidiary Diploma for Music Practitioners (Technology)
UAL Diploma/Extended Diploma in Creative Media Production and Technology
UAL Diploma/Extended Diploma in Music Performance and Production
Start composing and recording:
Write your own original compositions. This is essential. Collaborate with friends making videos and write the score. Create soundtracks for videos for voluntary groups or student productions. Go to build your music portfolio for information about software and to learn how to put your work together in a way that will impress admissions tutors and employers.
Get an apprenticeship:
Apprenticeships are work with training, so can be a great opportunity to earn as you learn. You might find an apprenticeship as a post-production technical operator in a post-production company.  This could give you good experience of managing files and provide you with useful contacts in the post-production industry.  If you continue composing and learning about music alongside this role, it's possible you could build up to the position of music editor.
Check out What's an apprenticeship? to learn more about apprenticeships and find an apprenticeship to find one in your region, or approach companies directly. Go to ScreenSkills information on apprenticeships for the main apprenticeship schemes in screen.
Get a degree:
Degrees in music, sound technology or sound engineering would all equip you for this role. Have a look at ScreenSkills' list of recommended courses in film and TV to see if there are any in music composition or editing. We recognise courses with our ScreenSkills Select award where they offer training in the relevant software, dedicated time to building a portfolio and have strong links with the film and TV industries.
Network:
Go to ScreenSkills events, especially Open Doors where you can meet people who work in the industry. Give people in post-production your details and ask if you can do work experience.
Network online:
Create a LinkedIn profile. Find the Facebook groups or other social media communities for people composing music in the screen industries. Join them and join the conversations. Create a ScreenSkills profile.
Search for jobs:
Research post-production houses. Regularly check their websites to see if they are advertising for junior roles. Check out ScreenSkills job boards and Animation UK job vacancies. Send your CV and ask if they're recruiting.
You might also be interested in...
Being a music composer in post-production or a music composer in the games industry.
Further resources