Post-production
ADR editor (Post-production)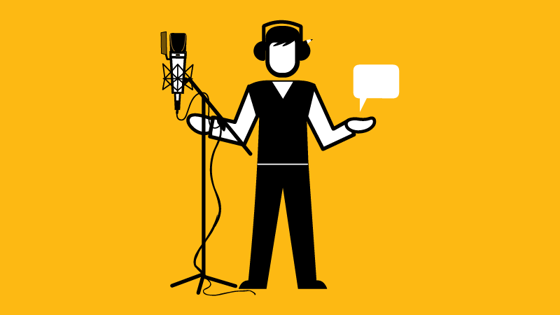 What does an ADR editor do?
An ADR editor records the additional dialogue needed to complete a feature film, television drama, and, sometimes, a documentary. ADR stands for 'automated dialogue replacement' and is also referred to as 'post-synching'. It's essentially recording extra dialogue in the studio after the film has been captured. 
There are lots of reasons why you might need to re-record dialogue or record new dialogue. It could be because it was impossible to capture on location due to too much background noise. Or it might be because the script needs to be changed to improve the story or fill in a gap when a scene has been cut.  Or it could be because the actor made an error or failed to deliver the lines clearly.  
The technique for re-recording the dialogue requires a specially equipped studio where the ADR editor can loop the sequence that needs the new dialogue. This means a short sequence can be played over and over again on a screen and the actor can precisely match their original performance, both in terms of character and lip-synch. ADR sessions are usually attended by the director who can advise the actor and make sure the performance is correct. 
New dialogue may be recorded for a number of other reasons, too. For example, it could be that the language is too explicit for TV, so a child-friendly or pre-watershed version needs to be created. Sometimes it's necessary to replace all the dialogue in a film in order to create a foreign- language version. Another scenario is that a musical performance recorded on location by an actor has to be replaced in ADR by a first-class singer.  
An ADR recordist is most likely to be freelance, but occasionally they are on the staff of a large film studio or post-production house. They are part of the sound family and they may go on to work as dubbing mixers or location recordists.  
Watch and read
What's an ADR editor good at?
Understanding sound: know how acoustics work, create a close match between sound on location and the sound in the studio
Using audio software: have an in-depth knowledge of digital sound recording software
Using audio hardware: understand the different types of microphones, be able to select the best one for the effect being created
Diplomacy: be able to work with actors who might be nervous or frustrated by what can be a long, painstaking process
Collaboration: support the director in trying to get the best performance from the actors
Who does an ADR editor work with?
An ADR editor works very closely with the directors and actors.
How do I become an ADR editor?
There are no set routes to becoming an ADR editor, but many people work their way up from being runners in a post-production or audio post-production house.

At school or college:
To study a sound-related course at university, it's useful to have A-levels or Highers in maths, physics, electronics and music.
If want to go straight into a job or apprenticeship, then the following Level 3 vocational qualifications are relevant:
BTEC Diploma/Extended Diploma in Electrical and Electronic Engineering
BTEC National Diploma/Extended Diploma in Music Technology
BTEC National Diploma in Film and Television Production
BTEC National Diploma in Music
BTEC National Diploma in Sound Production
BTEC National Extended Certificate in Sound Engineering
BTEC National Extended Diploma in Electrical and Electronic Engineering
RSL Subsidiary Diploma for Music Practitioners (Technology)
OCR Technical Diploma in Digital Media (Moving Image & Audio Production)
UAL Diploma/Extended Diploma in Music Performance and Production
Volunteer:
Take part in drama productions. Learn about performance and acting. Record sound for student videos.

Build a portfolio:
Make your own sound. Create a body of work that you can show off to employers. Go to build your sound portfolio to learn how.

Get an apprenticeship:
Apprenticeships are work with training, so they can be a great opportunity to earn as you learn. You might find an apprenticeship as a post-production technical operator in a post-production company.  This could give you good experience of managing files, as well as useful contacts in the post-production industry.  If you continue to compose and learn about music, it's possible you could build up to the role of music editor.
Check out What's an apprenticeship? to learn more about apprenticeships and find an apprenticeship to find one in your region, or approach companies directly. Go to ScreenSkills information on apprenticeships for the main apprenticeship schemes in screen.

Get a degree:
It's not necessary to have a degree to be an ADR editor, but you might want one in sound engineering. A degree could help you go on to higher-grade jobs such as supervising sound editor. You might also do a first degree in another subject, like maths or music, and then specialise in sound at post-graduate level. Have a look at ScreenSkills' list of recommended courses in film and TV. We recognise courses with our ScreenSkills Select award where they offer training in the relevant software, dedicated time to building a portfolio and have strong links with the film and TV industries.

Take a short course:
Take the National Film and Television School's short course in Location Sound Recording. Go to the list of training courses recommended by ScreenSkills and search for 'sound'.

Network:
Go to ScreenSkills events, especially Open Doors where you can meet people who work in the industry. Give people in post-production your details and ask if you can do work experience.

Network online:
Create a LinkedIn profile. Find the Facebook groups or other social media communities for people working in sound in the screen industries. Join them and join the conversations. Create a ScreenSkills profile.

Search for jobs:
Research post-production houses. Regularly check their websites to see if they are advertising for junior roles. Check out ScreenSkills job boards and Animation UK job vacancies. Send in your CV and ask if they're recruiting.
You might also be interested in...
Being a sound recordist in unscripted TV. There are also openings in commercials and corporate and music videos. Or you might want to be a sound editor in post-production.
Further resources