Post-production
Grading assistant (Post-production)
Also known as: Assistant colourist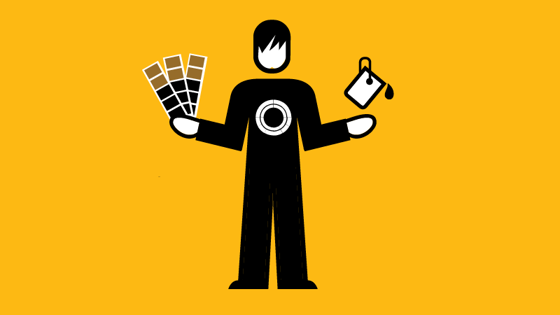 What does a grading assistant do?
A grading assistant, as the name suggests, assists the grader or colourist on a film, programme or commercial. Often, the grader or colourist works on their own, but if the project is complex enough, and has a big enough budget, they may hire an assistant.
The grading assistant supports the colourist in many ways: they might ensure the correct files are loaded before they arrive so that work can begin quickly; they might check through the files' metadata – notes that might have been added by the director of photography, picture editor or production assistant – to see if there is anything the colourist should be aware of. The grading assistant will also make sure the grading suite is ready for when the production team arrives. As the grade is part of the final-post process, it's not unusual for the director, producer, perhaps one or two executive producers and maybe the VFX supervisor to attend the grade, all keen to check the finished project, and they need to be made welcome and feel comfortable, ideally with a coffee.

When the work is done, the completed files need to clearly labelled, as it's not unusual for there to be several different versions of a film or programme, depending on where in the world it will be released or transmitted.
The grading assistant is in a fantastic position to see the work of the colourist first-hand: they can watch the decisions they make and hear the discussions between the director and producer as to the effect they are aiming to achieve.
Watch and read
What's a grading assistant good at?
Appreciation of colour: understand how colour enhances a story, appreciate the psychological effect of colour, have a good eye, know what look fits the style of the drama or documentary
Learning to use software: have an interest in the technical aspects of the edit, enjoy new tools and finding out how to use them
Learning by watching and asking: observe the colourist, know when to listen and when to ask
Attention to detail: be patient, work with tiny changes in colour and tone, keep attending to detail when under pressure
Communication: be able to work well with the colourist, take direction, explain issues that arise, keep all the people you work with in the loop
How do I become a grading assistant?
There are few productions that have a budget for a grading assistant, so this position is quite rare – but keep an eye out for job advertisements for the role, nonetheless.  If you can't find a way into the role straightaway, apply for post-production runner positions and make your way up from there.
At school or college:
If you want to go to university, A-levels or Highers in art and design, photography, graphic design, graphic communication, physics, psychology or computing science are useful. Or you might want to take the following Level 3 vocational qualifications:
NCFE Applied General Certificate in Art and Design

BTEC National Diploma/Extended Diploma in Art and Design

BTEC National Extended Diploma in Creative Digital Media Production

UAL Applied General Diploma/Extended Diploma in Art and Design
If you want to go straight into a job or apprenticeship, the following Level 3 vocational qualifications will equip you:
Aim Awards Diploma in Creative and Digital Media

OCR Cambridge Technical Diploma in Art and Design (3D Design)

OCR Cambridge Technical Diploma in Art and Design (Graphic Design)

OCR Cambridge Technical Diploma in Art and Design (Photography)

OCR Technical Diploma in Digital Media (Moving Image and Audio Production)

BTEC National Diploma in Film and Television Production

BTEC National Diploma in Film and Television Visual Effects

BTEC National Diploma in Graphics

BTEC National Diploma in Photography

UAL Diploma/Extended Diploma in Art and Design

UAL Diploma/Extended Diploma in Creative Media Production and Technology
Get an apprenticeship:
Apprenticeships are work with training, so they can be a great opportunity to earn as you learn. You might find an apprenticeship as a post-production technical operator in a post-production company.  This could give you good experience in managing files and provide useful contacts in the post-production industry. From there you can make your way into being a colourist.

Check out What's an apprenticeship? to learn more about apprenticeships and find an apprenticeship to find one in your region, or approach companies directly. Go to ScreenSkills information on apprenticeships for the main apprenticeship schemes in screen.

Build a portfolio:
This is useful for impressing admissions tutors and people in the post-production industry. Just as importantly, it's the best way to learn about colour grading, seeing what works and what doesn't. Volunteer to do the colour on student films. Shoot your own films and pay particular attention to the grading. Keep doing it. Go to build your portfolio to learn how.
Get a degree:
A degree isn't essential, but if you want one then choose a subject you really enjoy. You might want to add a Masters degree in editing or post-production, depending on where your interests lie. Or have a look at ScreenSkills' list of recommended courses in film and TV. We recognise courses with our ScreenSkills Select award where they offer training in the relevant software, dedicated time to building a portfolio and have strong links with the film and TV industries.
Take a short course:
Go to the list of training courses recommended by ScreenSkills to see if there is one in grading.
Network:
Go to ScreenSkills events, especially Open Doors where you can meet people who work in the industry. Give people in post-production your details and ask if you can do work experience. 
Network online:
Create a LinkedIn profile. Find the Facebook groups or other social media communities for people working in grading. Join them and join the conversations. Create a ScreenSkills profile.
Search for jobs:
Research the post-production houses that you'd like to work for and watch the programmes that they make. Regularly check their websites to see if they are advertising for runner roles. Check out ScreenSkills job boards and Animation UK job vacancies. If they're not recruiting, send in your CV anyway and ask them to keep it on file.
You might also be interested in...
Being a production designer in film and TV drama.
Further resources