Post-production
Foley artist
Also known as: Spot-effects artist, Foley editor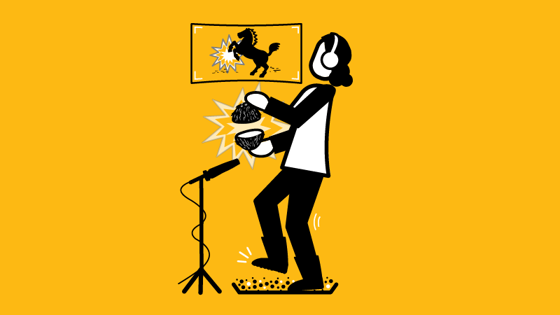 What does a foley artist do?
Foley artists create the physical sound effects on films, TV programmes, animation, video and games. 

Sound effects come from many different sources. Some are recorded on location specially for a production, while some general background sounds – such as birdsong, distant heavy traffic or an aircraft taking off – can be found in off-the-shelf recordings libraries.  But many specific sound effects, like footsteps or a door slamming, need to be very precisely timed and performed in a way that exactly matches the action on film. Sometimes, these effects aren't recorded on location but added in post-production – which is where the Foley artist comes in.  The Foley artist re-creates these sounds in a studio with a vast collection of objects designed to make just the right effects.  

Footsteps are a big part of the job, so the Foley artist – also sometimes known as a Foley walker – will have shoes of many different types and a wide range of floor surfaces, such as gravel, paving stones and floorboards, to walk on. They need to be something of an actor as they will have to match many different walking styles: is the film actor slow and overweight? Have they just been badly injured in a fight? Are they trying to remain silent by being on tiptoe? All these elements need to be considered when creating the sound effect and have to be precisely synchronised to the footsteps on screen. A Foley artist might also make sounds off-screen such as that of a door slamming. Again, they will need to reflect the mood of the character – should the door be slammed in anger or closed gently so as not to disturb anyone? 

Every Foley artist will know how to create sounds that can't easily be recorded in real life – like a head being guillotined, which can be achieved by slicing a cabbage, the breaking of bones by snapping celery and skulls being crushed by smashing pistachio nuts! Often the sound is then pitch-shifted, layered with other sounds and enhanced to give the effect more impact. 

The name Foley comes from the sound effects pioneer Jack Foley who worked on many films including Stanley Kubrick's Spartacus.

Many Foley artists are freelance but some might be on the staff of a large studio or post-production house.
Watch and read
What's a Foley artist good at?
Understanding sound: know how acoustics work, create a close match between sound on location and sound in the studio 

Acting: be able to get inside a character well enough to be able to create the noise – shutting a door or running away – just as the screen actor has done 

Creativity: imagine new ways of creating sounds using available materials 

Recording sound: understand the different types of microphones, be able to select the best one for the effect being created, be able to use audio software

Collaboration: work with the sound recordist and sound editor to make the sound effects fit the pictures 
Who does a Foley artist work with?
Foley artists often work as part of a team with other Foley artists. They work closely with the sound recordists and report to the supervising sound editor. 
How do I become a foley artist?
There are no set routes to becoming a Foley artist, but many people work their way up from being runners in a post-production or audio post-production house. A background in sound recording is useful. 

At school or college: 
To study a sound-related course at university, it's useful to have A-levels or Highers in maths, physics, electronics and music. 
If want to go straight into a job or apprenticeship, then the following Level 3 vocational qualifications are relevant:
BTEC Diploma/Extended Diploma in Electrical and Electronic Engineering 

BTEC National Diploma/Extended Diploma in Music Technology 

BTEC National Diploma in Film and Television Production 

BTEC National Diploma in Music 

BTEC National Diploma in Sound Production 

BTEC National Extended Certificate in Sound Engineering 

BTEC National Extended Diploma in Electrical and Electronic Engineering 

RSL Subsidiary Diploma for Music Practitioners (Technology) 

OCR Technical Diploma in Digital Media (Moving Image & Audio Production) 

UAL Diploma/Extended Diploma in Music Performance and Production
Volunteer: 
Take part in drama productions. Learn about performance and acting. Record sound for student videos.

Build a portfolio: 
Make your own sound. Create a body of work that you can show off to employers. Go to build your sound portfolio to learn how.

Get an apprenticeship: 
Apprenticeships are work with training, so they can be a great opportunity to earn as you learn. You might find an apprenticeship as a post-production technical operator in a post-production company.  This could give you good experience of managing files as well as useful contacts in the post-production industry.  If you continue to compose and learn about music, it's possible to build up to the role of music editor. 
Check out What's an apprenticeship? to learn more about apprenticeships and find an apprenticeship to find one in your region, or approach companies directly. Go to ScreenSkills information and resources and click on "apprenticeship" to see what schemes are available in screen. 

Get a degree: 
It's not necessary to have a degree to be Foley artist, but you might want one in sound engineering. A degree could help you get into higher-grade jobs such as supervising sound editor. You could also do a first degree in another subject, like maths or music, and then specialise in sound at post-graduate level. Have a look at ScreenSkills' list of recommended courses in film and TV. We recognise courses with our ScreenSkills Select award where they offer training in the relevant software, dedicated time to building a portfolio and have strong links with the film and TV industries. 
Network: 
Go to Training, events and opportunities and click on events to see what's coming up, especially Open Doors where you can meet people who work in the industry. Give people in post-production your details and ask if you can do work experience.  

Network online: 
Create a LinkedIn profile. Find the Facebook groups or other social media communities for people working in sound in the screen industries. Join them and join the conversations. Create a ScreenSkills profile. 

Search for jobs: 
Research post-production houses. Regularly check their websites to see if they are advertising for junior roles. Check out ScreenSkills job boards and Animation UK job vacancies. Send in your CV and ask if they're recruiting. 
You might also be interested in...
Being a sound recordist in unscripted TV. There are also openings in commercials and corporate and music videos. Or you might want to be a sound designer or track-layer in post-production.
Further resources